Meghan Markle Troll Makes Over $3k a Month Trashing Her on YouTube
A Meghan Markle YouTube troll makes an estimated $3,300 a month providing regular hate videos to 45,000 subscribers, a screenshot from one video appears to reveal.
Yankee Wally has posted more than 500 videos to the app, owned by Google, with titles including "Proof of what a Manipulative Evil Conniving Plotting Controlling Narcissist Meghan Markle REALLY is" and "Meghan Markle cannot make me like her. The more she pushes, the more I dig my heels in!"
Many are made by recording her phone screen as she examines and analyzes things that have been in the news.
However, in a December video about Meghan's court victory over The Mail on Sunday, she enters split screen mode and momentarily reveals a YouTube Studio profile containing what appears to be her estimated monthly revenue.
The information was spotted by Christopher Bouzy, founder of data analysis firm Bot Sentinel, which tracks troll and bot networks on social media.
Bouzy wrote: "In Yankee Wallys video titled, 'MeghanMarkle has won a silly copyright claim, but she is now known WORLDWIDE as a big fat liar,' around 9:19 in, she inadvertently shows her YouTube Studio estimated monthly revenue. She earns* over £2500 per month or approximately $3,316.50."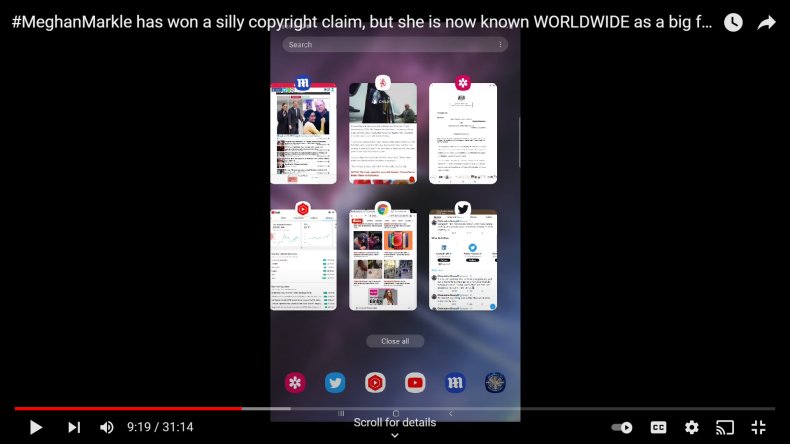 The figures would give her an annual income of around £30,000 ($40,000) a year, more than an officer cadet at the Royal Military Academy Sandhurst, where Prince Harry did his officer training.
A graduate from that course going (like the Duke of Sussex) into the Household Cavalry would only earn a few thousand more, £33,436, as a serving officer.
In addition to advertising revenue, Yankee Wally also posts details of her PayPal, adding: "Any odd dollars gratefully accepted."
Yankee Wally told Newsweek: "Every year I have to fill in a tax return for USA. Failure to do so results in deduction of 40 percent. I always complete mine so I pay 20 percent. 41 percent of all ad revenue goes to YouTube, I'm 65 and retired, not on any government benefits.
"The income varies greatly. I've earned as little as $700 a month. Now that Bouzy has continued to use his twitter account to say I'm a 'hate' account, I'm feeling less inclined to make videos at all.
"Regarding Meghan Markle; hate is too strong an emotion to waste on someone that I just don't like."
It comes after Newsweek revealed in October that Meghan hate accounts were monetizing their content through YouTube and merchandise.
We revealed one, Murky Meg, had adverts for human rights charity Amnesty International placed on her content despite the charity selecting an advertising package with YouTube that was supposed to exclude sensational or hateful posts.
Our research was picked up by Safiya Umoja Noble, author of Algorithms of Oppression, in an article New York magazine's The Cut.
Noble, who partners with Meghan and Prince Harry's Archewell Foundation, wrote: "In 2018, Amnesty International reported that while all women are targets of online abuse and violence, women of color were 34 percent more likely to be mentioned in 'abusive or problematic' tweets than white women.
"Further, Black women were 84 percent more likely than white women to be mentioned in such tweets."
Bouzy also recently revealed one Twitter troll account was "blackfishing," or posing as a black person using an anonymous account.
He wrote: "This person isn't a Black woman, She is a middle-aged White woman pretending to be Black. Eventually, we will release a report on digital black face."
The account replied: "Bahahahahaha I can't omg bro middle aged lol last time im I checked I was born a Black woman lol.
"This man right hea im loving this dude, a middle aged what now lol aye bruh please remain seated but thanks for the shout out Christopher Bouzy."
The account was suspended by Twitter along with another owned by the same person.