Now that Oprah Winfrey's big interview with Prince Harry and Duchess Meghan Markle is in the rearview mirror—including charges from the royal couple that they've been targeted by racists—it's apparently time for the inevitable political divide among pundits.
President Joe Biden, through spokesperson Jen Psaki, was quick to congratulate the pair, especially Markle, for her "courage" to tell her "personal story" of mental health issues, though conservatives pounced on her accusation that someone she would not name was worried about how dark her son's skin may be, given that Markle's mother is Black.
"Why not (play the race card)?" Ann Coulter told Newsweek. "It's fun and easy and makes her a hero with our new woke overlords."
Donald Trump Jr. agreed in a video he posted to Rumble where he compares Harry to "a guy in a hostage interview" who has been "brainwashed into some sort of woke reality."
Markle, a former Hollywood actress, and her husband Harry mentioned at least a half-dozen times during Sunday's two-hour interview that racism has been privately hurled at them.
"She played the race card because she could. If you had a race card you would too," said Adam Carolla, who made a movie with radio host Dennis Prager called No Safe Spaces that explores wokeness, political correctness, censorship and cancel culture.
"Last I checked, the United States is 'systemically racist,' so why did you come back here?" the comedian, filmmaker and podcaster asked Markle via an interview with Newsweek.
Before her son Archie was born, there "were concerns and conversations about how dark his skin might be," Markle told Winfrey. "That was related to me from Harry. Those were conversations family had with him."
Like Carolla, Prager also told Newsweek that Markle leveled her racism charge "because it works. Even if true, we do not know who made the one statement she cited. So no one can respond. In the meantime, the entire royal family was tarred."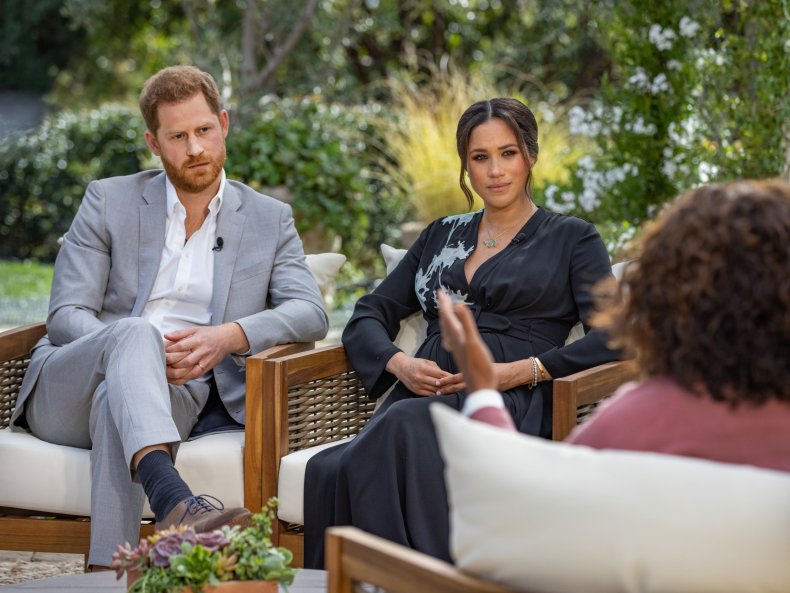 Buckingham Palace, though, did respond in a statement to the press reading, in part:
"The whole family is saddened to learn the full extent of how challenging the last few years have been for Harry and Meghan. The issues raised, particularly that of race, are concerning. While some recollections may vary, they are taken very seriously and will be addressed by the family privately."
Several conservatives weighed in on their podcasts, such as Daily Wire founder Ben Shapiro who said of the "dark skin" comment, "I don't think it happened ... no one says anything like that ... How dark is your son's skin going to be? Beyond like, the racism of it, the actual stupidity—like the human stupidity of asking that question."
Shapiro tweeted—much to the chagrin of the progressive group Media Matters for America—"We told you not to screw with us, George III. And now we've unleashed our most dangerous resource: B-rate TV actresses wielding wokeness."
He also tweeted: "Imagine being Prince Philip, fighting Nazis, helping preside over the UK during the Cold War and the economic struggles of the 1970s, and now watching your spoiled grandson basically call the institution to which you have silently devoted your life a vile repository of bigotry."
And Charlie Kirk, on his conservative radio show, suggested that Markle invented her story of racism.
"I don't think anyone said it," he said of her claim someone complained about a baby's skin color. "I think she's making it up, like Jussie Smollett," he said, comparing the duchess to the actor who allegedly faked a racist attack.
Brendan O'Neill, the Republican editor of Spiked, wrote that Harry and Meghan's purpose was to "position themselves as the king and queen of victim politics." Of the racism claims, he wrote, "We have no idea whatsoever if this was an innocent, curious comment or an openly racist one. I suspect very much it was the former." He also complained that Harry and Meghan are "being witlessly cheered on by the left."
Conservative writer Todd Starnes wrote, "Like a good woke American, Ms. Markle charged that the royal family was bothered by the skin color of her son. When you don't have a legitimate grievance, you always play the race card ... For Prince Harry to allow his wife to make such a scandalous charge without naming names is cowardly. But it's also very telling—I suspect the Mrs. was spewing fake news."