Meghan McCain spoke out against prominent Republican lawmakers who have targeted Rep. Liz Cheney since the U.S. House of Representatives voted to impeach Donald Trump, for a second time, last month.
During Monday's episode of The View, McCain, one of the series' co-hosts, specifically addressed House Minority Leader Kevin McCarthy's reported suggestion that Cheney, chairwoman of the House Republican Conference, apologize for her vote in favor of the impeachment article's passage.
"It's interesting to know that it's the leader of the caucus that asked her to do that," McCain said Monday. "I am concerned about the fact that the leader of Republicans in Congress seems to think that, if you're for impeachment, you have something to apologize and atone for. And I, too, think that's a losing strategy."
Cheney, one of the House's top-ranking Republicans, reportedly told colleagues that she refused to oblige any instruction to apologize during a closed-door GOP conference meeting last week.
"I won't apologize for the vote," the Wyoming congresswoman reportedly said, referencing "several members" of the GOP caucus who previously approached her with requests to do so.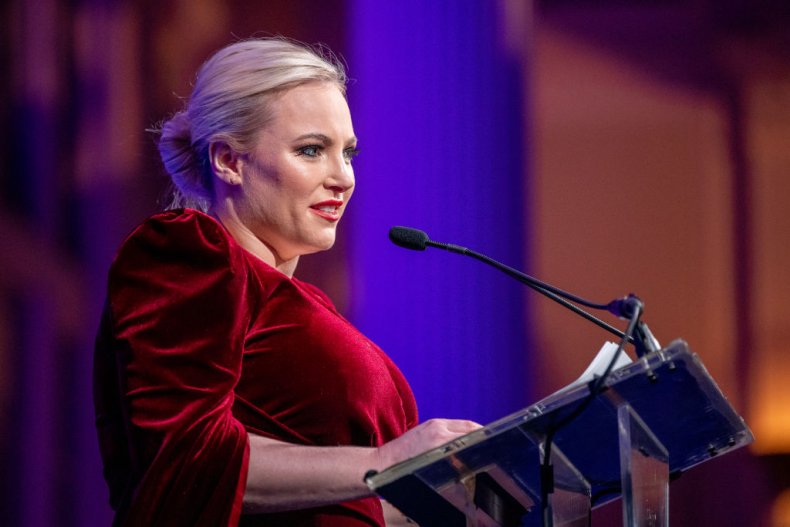 Cheney was one of 10 House Republicans who voted for Trump's impeachment in January, about one week after a mob of the former president's supporters stormed the U.S. Capitol during a violent siege. House Democrats introduced an impeachment article that charged him with "incitement of insurrection" for his conduct surrounding the riot, which caused five deaths and dozens of injuries. Although Trump is no longer in office, his impeachment trial will begin in the Senate on Tuesday.
Following the House vote, Cheney faced significant backlash from others within the Republican caucus, as well as GOP figures in Wyoming. A group of House Republicans attempted to strip Cheney of her leadership role in the congressional chamber as consequence for supporting the impeachment. Although the caucus eventually voted to keep her in the position, the Wyoming Republican Party later voted to censure Cheney over the weekend.
Cheney has defended her position regarding Trump's impeachment several times, both ahead of and since the House floor vote. In a statement issued before it took place, she cited the former president's failure to intervene while his supporters breached the Capitol complex.
The uprising occurred as Trump and his proponent's sought to overturn the general election's outcome, despite no evidence to indicate that President Joe Biden's victory came as a result of illegitimate proceedings. It immediately followed Trump's "Save America" rally in Washington, D.C., where he continued to push baseless voter fraud claims in speaking to a large crowd of attendees.
"Much more will become clear in the coming days and weeks, but what we know now is enough," Cheney's statement read. "The President of the United States summoned this mob, assembled the mob, and lit the flame of this attack. Everything that followed was his doing. None of this would have happened without the President."
Newsweek reached out to Cheney's office for comment but did not receive a reply in time for publication.