Meghan McCain Says Republicans Will Be in a 'Dark Place To Rebuild' in Post-Trump America
In an upcoming interview on PBS' Firing Line with Margaret Hoover, Meghan McCain, The View co-host and daughter of former Senator John McCain, told Hoover that "Post-Trump America, for the [Republican] Party is going to be a very, very dark place to rebuild." In the episode, host Margaret Hoover sat down with McCain and her mother, Cindy, to discuss the future of the GOP as well as Senator McCain's 2012 presidential campaign, President Donald Trump, and the 2020 elections.
In the interview clip, McCain addressed the Republican Party's dwindling appeal among the new generation of voters. When Hoover asked if she "thinks the party is going to resonate with people [her] age and younger," McCain responds that she "really worries about it."
Cindy McCain also addressed the shifting face of the Republican Party, referring to her home state of Arizona, "where the party has simply left, what we would call 'normal' Republicans behind." She also stated, "Until our party goes back to what we were best at—and that was an open system, an open tent—we invited everybody in..."
The former senator's widow also criticized Trump's actions and the lack of disciplinary action that's been taken against him so far. She told Hoover, "President Trump has done some things that have been controversial. They've been different from what any other president has done and not in good ways." She remarked, "Nobody scolds him for what really was bad manners." Her daughter chimed in stating that she doesn't believe anyone's scolded him due to fear of losing power. McCain later stated that if the Senator were still alive, he'd stand up to Trump—as he did before his death, famously appearing for a midnight vote on health care shortly after undergoing surgery for brain cancer—and offer assistance to other Republicans who wanted to as well.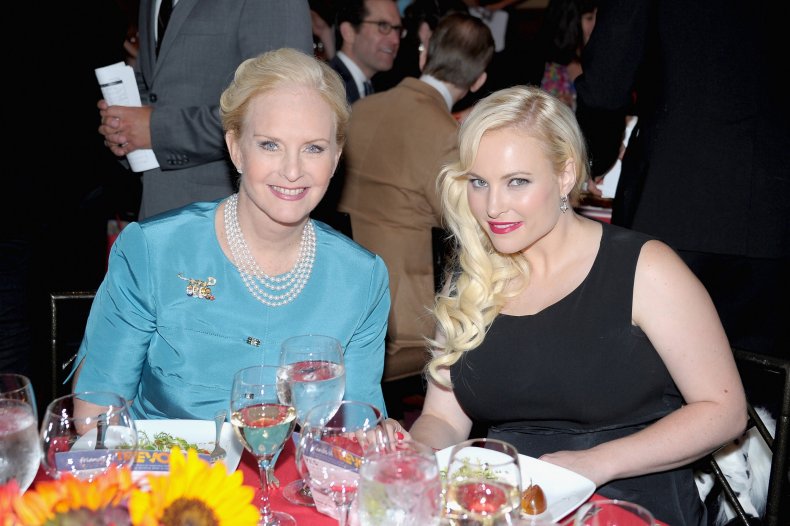 In another clip, mother and daughter shared their feelings about the current Democratic candidates invocation of McCain's memory, expressing very different attitudes. Cindy McCain said that McCain would've "had a real chuckle over" Democrat's praise for his legacy, adding that "I respect them, and that's very nice that they would relay their experiences that they had with him." Meghan McCain said while she appreciated the respect, she also felt that "maybe if you hadn't demonized him so much and demonized Mitt Romney so much," during their elections against President Barack Obama, "maybe it wouldn't have bred the feeding ground for Trump."
The McCains opened up to Hoover about their relationship with the Biden family in another preview, and while they both praised former Vice President Joe Biden as a friend, Meghan McCain couldn't say definitely whether she'd vote for him. "I still hope for the moderate bipartisan Joe," she said, but added the caveat that her decision "depends how he runs." She also stated that she'd "probably end up writing in Paul Ryan or something."
The full interview will air Friday at 8:30 p.m. ET on PBS.