Trump Rages at Republicans as John McCain Kills Obamacare Repeal Bill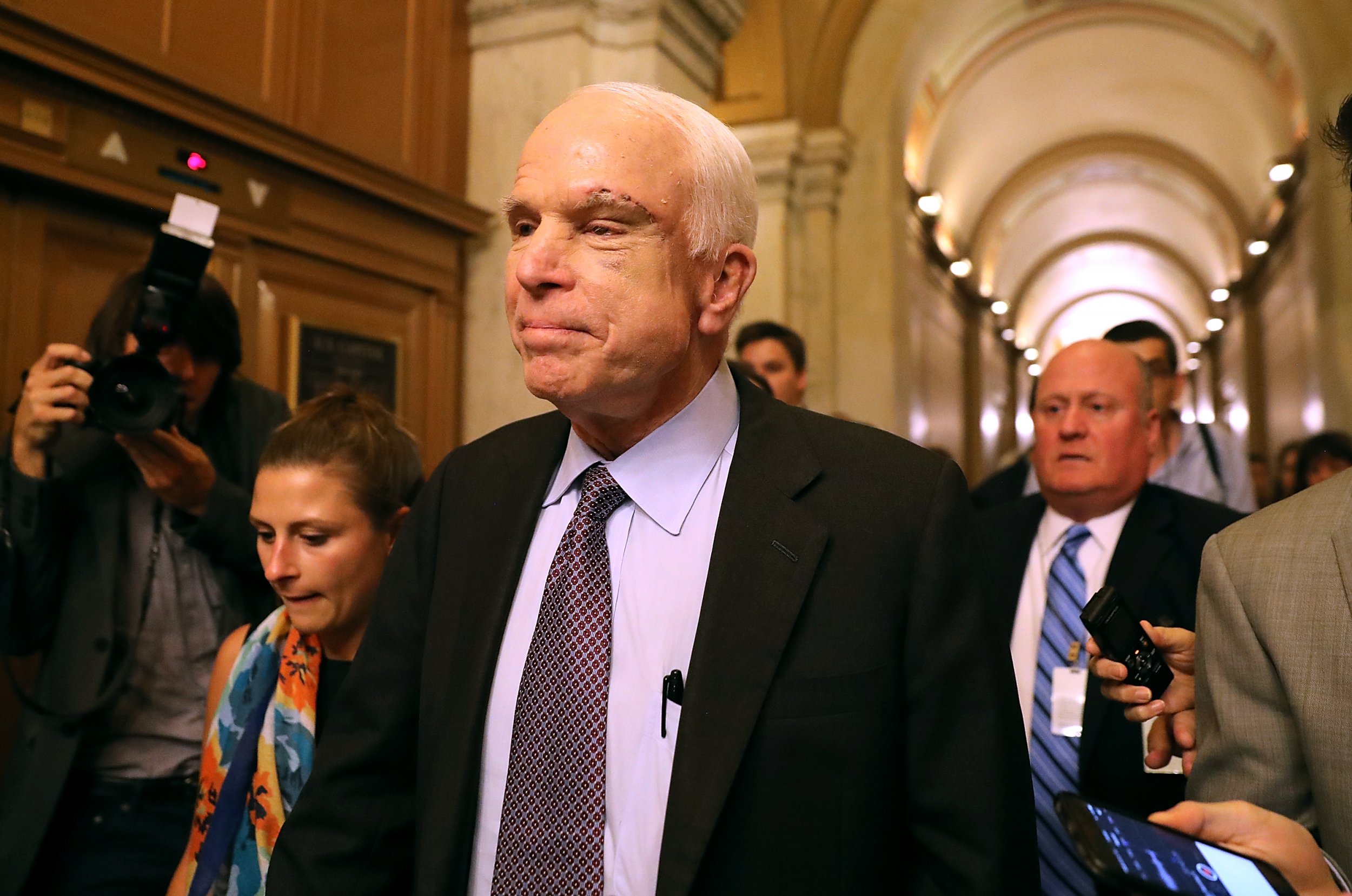 President Donald Trump raged that three Republicans and 48 Democrats had "let the American people down" after a dramatic late-night vote saw a slimmed-down attempt to repeal aspects of the Affordable Care Act fail.
Three Republican senators—Susan Collins, Lisa Murkowski, and John McCain—voted against the so-called "skinny" repeal, which aimed at scaling back some of the more controversial provisions of Obamacare.
McCain, who has an ongoing war of words with Trump and revealed last week that he was suffering from brain cancer, cast the decisive vote against the bill. In total, 51 senators—the three rogue Republicans, plus all 48 Democratic senators—voted against the repeal, while 49 Republicans voted in favor.
The bill constituted Trump's third failed attempt to repeal even part of Obamacare. In the early hours of Friday morning, the president tweeted his anger at the failure and said he would now "let Obamacare implode."
The "skinny" repeal —an eight-page Senate bill titled the Health Care Freedom Act—would have eliminated the individual mandate for all Americans to have health insurance coverage. It would have increased the number of uninsured people by 15 million next year and insurance premiums for people buying insurance on their own would have increased by roughly a fifth, according to the Congressional Budget Office.
Read more: The GOP's bid to repeal Obamacare is over, probably for good
Among other measures, it would also have cut federal funding to Planned Parenthood for one year and would have gotten rid of funding provided for a variety of public health programs.
Vice-President Mike Pence—who would have cast the decisive vote had the bill been tied—was seen talking to McCain for more than 20 minutes ahead of the vote, the BBC reported. But McCain then approached a group of Democrats before voting the bill down.
McCain said after the vote that he was not convinced that the "shell of a bill" would have meaningfully replaced Obamacare. "While the amendment would have repealed some of Obamacare's most burdensome regulations, it offered no replacement to actually reform our health care system and deliver affordable, quality health care to our citizens," said the Arizona senator.
But McCain also re-emphasized his desire to see Obamacare repealed and criticized the way it was passed in the first place.
McCain, a veteran of the Vietnam War, has been an outspoken critic of Trump's administration, recently saying that American leadership was worse under Trump than former President Barack Obama.
While he was a presidential candidate, Trump said that McCain was "not a war hero" since he was captured and tortured by the North Vietnamese. "I like people who weren't captured," said Trump at a 2015 event in Iowa.
But Trump recently changed his tone and praised McCain for returning to the Senate to start the debate on health care legislation after his cancer diagnosis. Trump said on Tuesday that McCain was an "American hero."
The repeal and replacement of Obamacare was a key promise made by Trump during the presidential campaign. Earlier this week, the Senate voted down a proposal to replace Obamacare and another to repeal parts of it.