Meghan McCain Slams Marilyn Monroe Biopic 'Blonde'—'Absolute Garbage'
Meghan McCain has slammed the newly-released Marilyn Monroe biopic Blonde, calling the Netflix project "absolute garbage."
Ana de Armas portrays the late Hollywood screen icon in the film, which is directed by Andrew Dominik and based on Joyce Carol Oates' 2000 novel of the same name. The book and the film tell fictionalized versions of events from Monroe's life.
However, since the film's release on September 28, it has received tepid reviews from critics and viewers alike, with some branding it sexist and exploitative.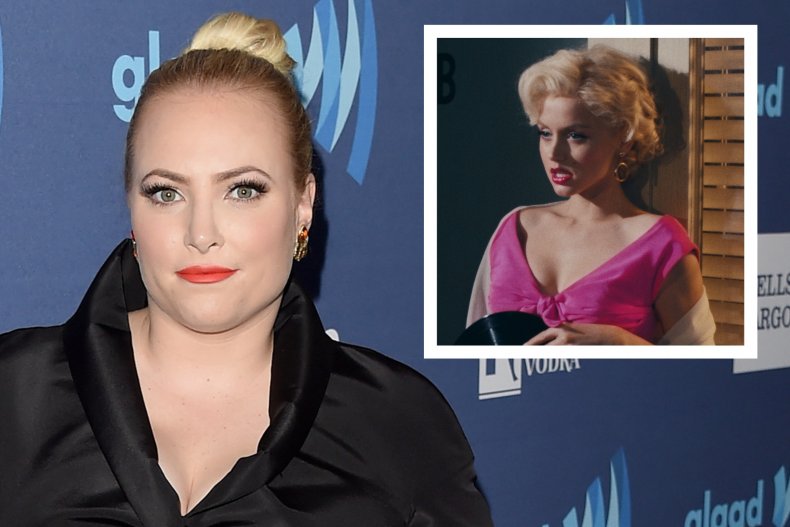 Conservative columnist McCain made it clear that she was among Blonde's detractors on Friday, when she took to Twitter to share her distaste for the movie.
"Could not get through #BlondeNetflix last night—turned it off after the JFK scene," she wrote, alongside a vomiting emoji. "Absolute garbage."
"Really a disgrace to the nuanced, intelligent and yes sexy American icon Marilyn Monroe," former The View co-host McCain went on. "There were clearly no women in production or direction involved."
The TV personality's opinion on Blonde aligns with that of a number of film critics, who slammed the film en masse following its release.
In her tweet, McCain appeared to be referring to a scene toward the end of the film, where Armas' Monroe is shown to be drugged as she's taken to a character called "the president," portrayed by Caspar Phillipson.
The character bears a striking resemblance to late President John F. Kennedy, with whom Monroe has long been rumored to have had an affair, though this has never been confirmed. Phillipson previously played Kennedy in the 2016 film Jackie.
While "the president" denies sexual assault allegations while speaking on the phone, he is shown forcing Monroe to perform a sex act on him, while a voiceover depicts the Gentlemen Prefer Blondes star as trying to disassociate from the situation.
Australian director Dominik recently said that he is "not interested in reality" but is "interested in the images" when discussing the film adaptation.
"The book is like a shattered mirror—there are all these little shards and it circles around, returning to certain memories," Dominik said in an interview with the British Film Institute. "It's the feeling of being inside somebody's anxious thought process."
The filmmaker—whose other directorial credits include The Assassination of Jesse James and Chopper—went on to say that basing his film on Oates' novel meant he had to "play fast and loose with the truth in order to have a certain narrative drive."
"Joyce is trying to understand how it expresses a certain female experience or a certain human experience," he explained.
"There are a lot of psychological processes that are dramatized in Blonde, a lot of Lacanian and Freudian ideas," he went on, adding that no one can ever really know how Monroe felt about things.
"For me, it was just the scenes I found compelling. I went with my instinct and wrote it pretty quick. And I didn't change it that much, even though it was sitting around for 14 years.
"I know the ways in which this is different from what people seem to agree happened. Not that everyone's sure. Nobody really knows what the f*** happened. So it's all fiction anyway, in my opinion."
Newsweek has reached out to representatives of Netflix for comment.