How Marilyn Monroe Remains Magnet for Controversy 60 Years After Her Death
Marilyn Monroe remains a controversial figure in 2022, 60 years after her death.
The late actress recently made headlines, first when Kim Kardashian wore and allegedly damaged one of Monroe's most famous dresses, the one the late actress wore in 1962 to sing "Happy Birthday Mr. President" to John F. Kennedy, to this year's Met Gala, then with backlash surrounding the new Netflix biopic Blonde.
MJ Corey, who runs the Kardashian Kolloquium social media sites, calls Monroe a "prevailing American icon," telling Newsweek that the singer is still "a beloved and global figure."
Corey, who is also a contributor to Vogue, explained what makes an icon an icon, suggesting the answer may be "a figure's ability to be effectively reproduced by evolving forms of media."
"We see Marilyn in [Andy] Warhol's work, on T-shirts, embodied by impersonators out on the Hollywood Walk of Fame," she said. "We hear Marilyn referenced in TV shows and songs to this day."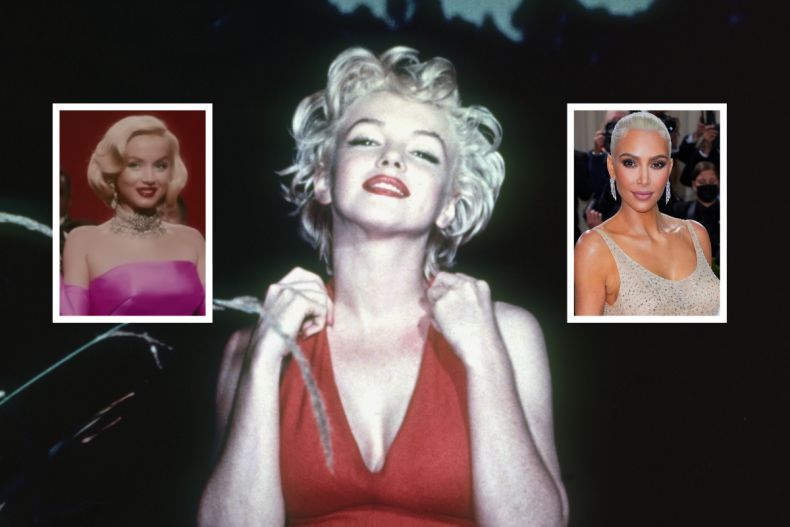 The Kardashians star, 41, wore one of Monroe's most iconic garments to the 2022 Met Gala in May. The mom of four—who shares kids North, 9, Saint, 6, Chicago, 4, and Chi, 3, with estranged husband Kanye West, 45—walked the red carpet at the event in the $4.8 million crystal-covered, nude silk gown Monroe had on to serenade Kennedy on his 45th birthday.
Ripley's Believe It or Not, who bought the dress at auction in 2016, was widely-criticized at the time for allowing Kardashian to wear the fragile dress. Following reports that the gown was damaged, the museum released a statement shutting down those claims.
"From the bottom of the Met steps, where Kim got into the dress, to the top where it was returned, the dress was in the same condition it started in," Amanda Joiner, Ripley's vice-president of publishing and licensing, said.
Kardashian, who lost 16 pounds to fit into the dress, insisted she wore it for a matter of minutes before changing into a replica for the remainder of the evening.
"I'm extremely respectful to the dress and what it means to American history," Kardashian said ahead of her appearance in Monroe's dres. "I would never want to sit in it or eat in it or have any risk of any damage to it, and I won't be wearing the kind of body makeup I usually do."
Corey, who is also a psychotherapist, explained why many were angry after seeing photos from the evening.
"Americans—culture consumers in general—seem pretty invested in maintaining the myths of their favorite icons," she said. "Kim's self-conscious alignment with Marilyn's importance really upset people."
Months later, Blonde, an upcoming Netflix drama about Monroe's life, sparked controversy over Ana de Armas' portrayal of the starlet. Fans criticized the actress' accent following the release of the trailer on July 28.
"They rly made that whole ass Marilyn Monroe movie and didn't hire Ana De Armas an accent coach," one person wrote on Twitter.
Another, meanwhile, added that they were "disappointed" with the her "off-putting" accent, though "it looks good besides that."
Marc Rosen, president of entertainment at Authentic Brands Group (ABG)—which owns the Marilyn Monroe estate—stood by de Armas in a statement.
"Marilyn Monroe is a singular Hollywood and pop culture icon that transcends generations and history," he told Variety. "Any actor that steps into that role knows they have big shoes to fill. Based on the trailer alone, it looks like Ana was a great casting choice as she captures Marilyn's glamour, humanity and vulnerability. We can't wait to see the film in its entirety!"
Brad Pitt also praised de Armas. "She is phenomenal in it," he told Entertainment Tonight. "That's a tough dress to fill."
Monroe, herself, proved to be quite controversial throughout her life. Despite her blonde bombshell image, she was a voracious reader of political literature and was once warned to not be seen by studio executives reading the radical books. She supported the civil rights movement and was a founding member of the Hollywood branch of the National Committee for a Sane Nuclear Policy.
Monroe was married three times, to playwright Arthur Miller (1956–1961), baseball player Joe DiMaggio (1954–1955) and police officer James Dougherty (1942–1946).
She died on August 4, 1962, and her body was found in the early hours of August 5. Her cause of death was labeled a barbiturate overdose, though questions surrounding her passing still remain to this day.
Newsweek reached out to Kardashian and de Armas' representatives for comment.