Meghan McCain has spoken out about the "toxicity" she has experienced on Twitter while discussing Elon Musk's bid to take over the social media platform.
The Wall Street Journal reported on Monday that Twitter and Musk "could finalize a deal as soon as this week," some 10 days after the Tesla and SpaceX CEO unveiled his $43 billion bid for the micro-blogging platform.
While the news has sent Twitter shares soaring—with a jump of about 5 percent to just over $51 in premarket trading—former The View co-host McCain has told Newsweek that while she likes Musk, she questions how this affects Twitter users.
Citing her career as a media personality, McCain explained that "it's not really an option not to be on social media, as long as you're still working in media or journalism, it's sort of required of you. I don't, you know, I don't make the rules. It's just sort of how it comes."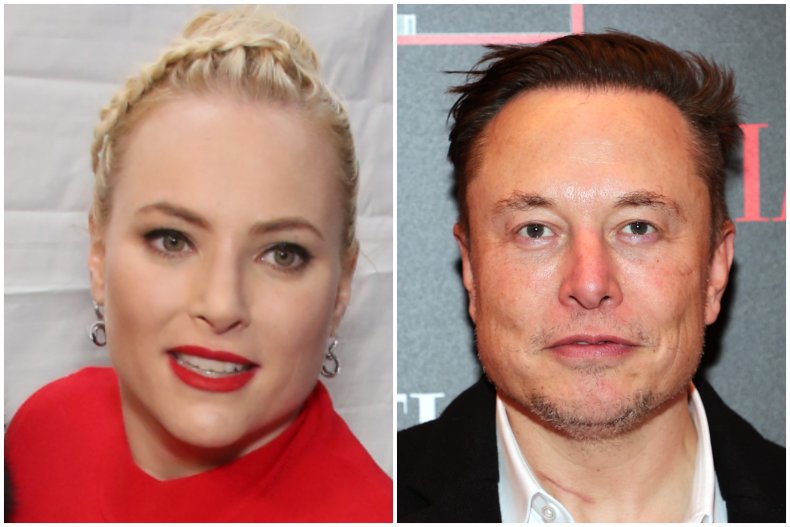 However, she added: "There's a lot of abuse and a lot of toxicity. And everyone experiences it no matter who you are, sadly."
McCain had this sentiment on April 14, when she reacted to a tweet from The Washington Post columnist Max Boot, who expressed his concerns about Twitter becoming a space where "anything goes."
"I am frightened by the impact on society and politics if Elon Musk acquires Twitter," Boot wrote. "He seems to believe that on social media anything goes. For democracy to survive, we need more content moderation, not less."
Responding, McCain stated that the threats and abuse she has faced in the years since she's been on Twitter that the platform's founder and former CEO, Jack Dorsey, personally contacted her about it.
"I've been on this platform 12 years & basically not a day goes by someone doesn't threaten to kill or rape me," she tweeted. "It's so bad @jack personally called me about it. Women deserve better than what's allowed to take place here - and the woke liberals in Silicon Valley don't give a s***."
Despite this, McCain told Newsweek that she found the prospect of Musk's takeover "interesting."
"I like Elon Musk," she said. "I think it's an interesting idea to make Twitter a less censored, you know, more free space."
Musk's potential takeover has prompted excitement among a number of conservative figures, who have claimed that there has been a bias against them when it comes to accounts that have been banned.
"I'm told that there's like a lot of shadow banning and censorship that goes on with conservatives," McCain said. "I know people's accounts who have been suspended or canceled over things that I don't completely understand.
"Doesn't Ayatollah Khamenei still have a [Twitter account]?I think that's the question. It's just where's the line and the line continues to sort of be nebulous."
Musk's takeover has also raised hopes of former President Donald Trump's Twitter account being reinstated. The real estate mogul's account was shut down in January 2021 to curtail the risk of "further incitement of violence," per the company, following the Capitol riot on January 6 of that year.
Still, McCain, who spoke with Newsweek while promoting the hardcopy release of her book Bad Republican, admitted that there are positives in using Twitter—with the platform facilitating one of her most important milestones to date.
"Look, it's great for promoting this book, promoting your work, my column, whatever," she said. "It's great for networking and coordinating with people.
"I met my husband [Ben Domenech] on Twitter. I saw him on Bill Maher and followed him. He followed me back and he DMed me and asked me out to dinner and now I had his social media too. You know, it's like there's great things as well.
"I don't like to just like s*** all over social media as a whole, because there's really a lot of amazing things that come from it. Obviously, it's a double-edged sword."