Meghan McCain's Qualifications Questioned As 'The View' Representation Remarks Go Viral
The View co-host Meghan McCain discussed affirmative action on the show this week, with the conservative commentator claiming that "we're going to a place where...race and gender is more important than your skill qualifications" in getting into college or finding a job.
In a clip that has been widely shared online, McCain says: "If you have someone more qualified who happens to be a white straight person who has more experience in whatever field they're being nominated for than a minority with less experience, are we in a place where this matters?
"We're going to a place where even if people need money, even if people are qualified to get into Ivy Leagues, race and gender is more important than your skill qualifications, the content of your character. It is not what Martin Luther King Jr. preached. I think this is a very, very slippery slope."
She added: "The View is 25 years old next year. We've only had one Asian American host, co-host this show [Lisa Ling, from 1999 to 2002]. So does that mean that one of us should be leaving at some point, because there's not enough representation?
"We're talking about, is identity politics more important than qualifications of the job, and I think that's a question going forward that the progressive left is going to have to reconcile."
This statement led many people to ask how McCain, daughter of the late Senator John McCain got her job on the ABC show. Among those to criticize her was New York Times opinion columnist Jamelle Bouie, who tweeted: "If I owed my career to my last name, I simply would not talk about anyone's qualifications."
Other Twitter users made similar criticisms. One wrote: "Irony is Meghan McCain talking about 'qualifications for the job' when her only qualification for being a co-host on #TheView was being John McCain's daughter."
Another posted: "White woman who got her job because of who her daddy was now has concerns about the 'qualifications' of non-white people seeking the same job." One user tweeted: "Meghan McCain is LITERALLY only successful because of nepotism."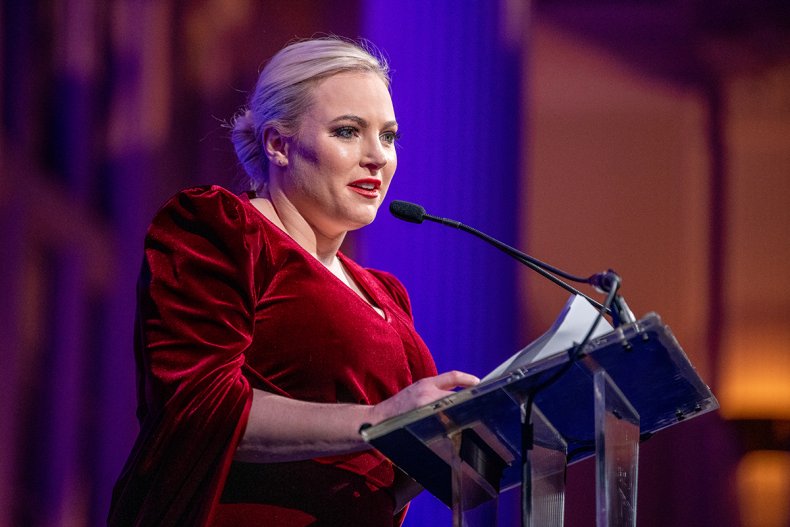 Per GQ, McCain initially wanted to be a music journalist and interned at both Newsweek and Saturday Night Live. However, she first came to public attention thanks to her blog about her father's 2008 presidential campaign, McCain Blogette, which she began when she was 23.
She went on to write a children's book, My Dad, John McCain, and two books about politics, as well as articles for The Daily Beast.
She became an analyst for MSNBC in November 2011 and hosted two TV shows for the cable channel Pivot in 2013 and 2014. The following year, she became a Fox News contributor and co-host of that channel's daytime talk show, Outnumbered. She joined The View in October 2017 after guest hosting in 2008 and 2010.
McCain has previously admitted that got her job on The View without doing the usual "chemistry tests' to find out how potential presenters would work with co-hosts. On a May 2020 edition of the show, she said: "When I was originally offered the job on this show, they wanted to test me with a bunch of the ladies, and I said, 'No. You see what I can do.' Fast forward to a few years later, I again refused a chemistry test and I ended up getting hired anyway."
Of the regular View co-hosts, McCain has had the shortest media career. Joy Behar began as a Good Morning America producer in the 1980s; Whoopi Goldberg shot to fame for her role in the 1985 film The Color Purple; Sara Haines began her TV career as a Today production co-ordinator in 2002; and Sunny Hostin joined Court TV as a commentator in 2006.