Meghan Markle Has 'Been Through a Lot,' Says Namesake Meghan Trainor
Meghan Trainor says she's happy to play second fiddle to Meghan Markle when it comes to celebrities who share her name.
Trainor has had an eventful week after announcing her second pregnancy to the world. She's also embarking on a new ad campaign with Quaker Rice Cakes that draws on her past music.
In a wide-ranging interview with Newsweek, Trainor touched on her pregnancy, her new music and her misgivings about her name.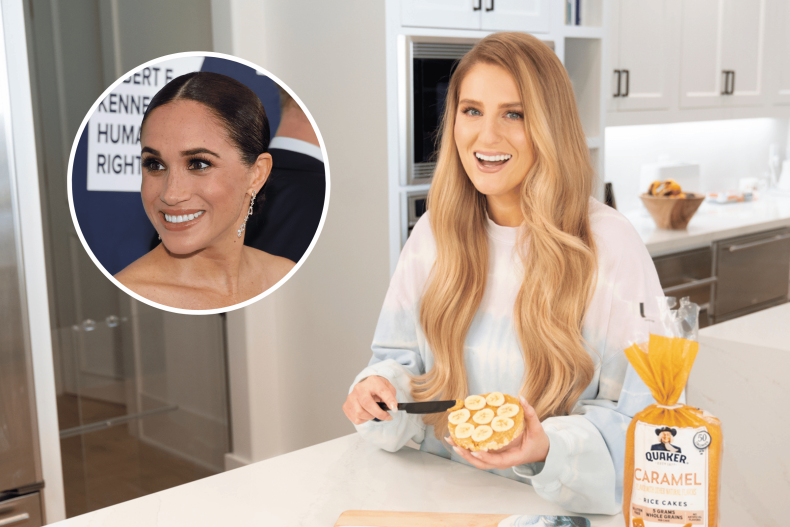 When Trainor first broke into the mainstream with her hit "All About That Bass" in 2014, she was arguably the most famous Meghan (with an H) in the world. However, in recent years, Meghan Markle has definitely taken over that crown.
Since leaving the U.K. and starting a new life in America, Markle and Prince Harry have conducted a number of interviews, and in December they released the revealing documentary series, titled Harry & Meghan.
"Oh, I watched it all," Trainor told Newsweek, her eyes lighting up. "I love her. I think she's been through a lot, and I think she's fantastic. She can own the name [Meghan] that's fine. I don't love my name, but she can be the most famous Meghan, that's quite alright."
Despite Meghan becoming a household name with her hits "Dear Future Husband," "Marvin Gaye" and her recent hit single "Made You Look," she's not liked the sound of her name since she was a child.
"You know when you hear someone call your name, you go 'am I in trouble?' You know? I still get like a little kid. I never got in trouble, but it was my biggest fear. Or when the principal or someone calls you on the intercom. They're like, 'can Meghan come to...' I'm like, 'oh my god' so yeah, I get triggered."
Her siblings and Seth MacFarlane also played a part in ruining the name for Trainor. "Also Family Guy made it really tough to be me. My brothers were like, 'Who let you back in the house, Meg,' and I'm like 'stop it'" she jokes pretending to cry. "When people try to give me a nickname to like, 'Hey, girl, hey, Meg' I'm like, don't do that. Don't f****** do that," she laughed.
Ironically Trainor went on to collaborate with the creator of Family Guy, MacFarlane, as he appeared on her 2020 Christmas album, duetting on "White Christmas."
Trainor was speaking to Newsweek in advance of another upcoming collaboration, this time with the snack brand Quaker Rice Cakes. With a couple of packs conveniently placed behind her, Trainor explained what was to come.
"They came to me and they're like, 'we want to do an "All About That Bass" thing with you.' And I was like, 'That's my thing. I am all about that bass.'"
The bass in the song title will be changed for promotional purposes in this case to "All About That Base," as Trainor shares her favorite snacks creations that you can put on top of your Quaker Rice Cakes.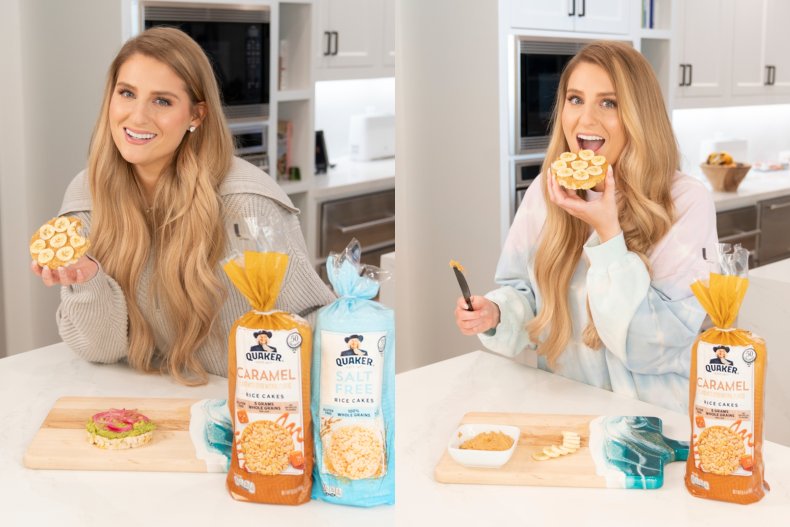 "It's the best base for all your toppings. You can get creative with these snacks. And I was raised on these snacks. My mom is obsessed with rice cakes. We love a crunchy snack."
Trainor has already shot a number of TikTok videos of her making her snack creations, which she's banked and will be posting to her social media videos in the coming weeks.
"With the caramel bass, I put the peanut butter on top with some bananas. And my savory version of that is a light salted rice cake with avocado on top. So it's like avocado toast moment. But yeah, you could just do so many things with this 'bass' you know? So I'm trying to promote it and show everyone how delicious this is," Trainor explained.
When the campaign starts later in February, Trainor wants fans to share their own Quaker Rice Cake concoctions and says she'll come find them, and learn from their ways.