After Vladimir Putin and Alex Jones, Megyn Kelly's Interview With J.D. Vance Must Have Come as a Relief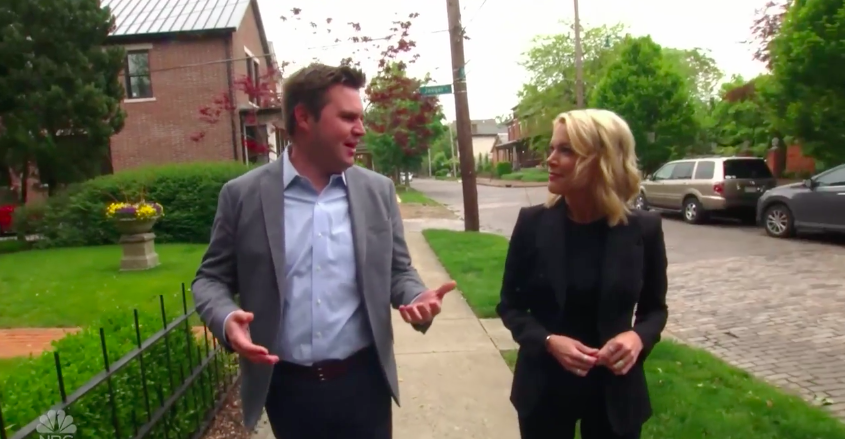 For once, Megyn Kelly had an easy Sunday night. This time around, there were no glum despots to contend with (Vladimir Putin, for her NBC stepping-out last month), nor hard-edged conspiracy theorists (Alex Jones, last week's bracing case study in right-wing paranoia). Instead, Sunday saw a pleasant and personal conversation between Kelly and J.D. Vance, the affable 32-year-old Ohioan whose prescriptions for working-class whites have made his book Hillbilly Elegy an unlikely bestseller.
In some ways, the Vance interview distilled both the promise of Kelly's nascent career as a mainstream journalist and the challenges she faces, now that she is no longer at Fox News, where she usually met the low bar for civility and dignity.
Seemingly for the first time on Sunday, Kelly seemed comfortable in her new role, which is why she did something she hasn't had much reason to do: smile. Having put Vance at ease, she led him into discussing the harrowing details of his childhood, significantly the arrest of his drug-addicted mother, which a 12-year-old Vance witnessed. Later, there is a lighter moment, in which Vance recalls the more than a dozen guns owned by his grandmother, "Mamaw," who raised him. The guns, tallied upon her passing, were all loaded.
All the same, Kelly lingered too long on Vance's story of personal triumph—Ohio State, followed by Yale Law and a job with Peter Thiel's investment firm in San Francisco, which he recently left to return to Ohio, possibly to run for political office—and too little on the substance of Hillbilly Elegy. That may be because she is expected to move into a morning slot on NBC, where content will understandably be lighter, tending far more to the sappy than the serious.
Still, viewers on Sunday shouldn't have been treated as mere placeholders until more lucrative viewers come along. Tuning in for presumably serious television, they had the right, for one, to hear more of the criticisms Vance has received, including charges that he condescends to poor whites and that his gospel of personal responsibility lacks substance. Kelly read a single line of criticism to Vance, allowing him to dismiss it with a laugh. There were no follow-up questions, of the kind a veteran interviewer would have had ready.
Still, the episode must have felt like a reprieve for NBC executives, who may be getting tired of defending Kelly, often from attacks that are unfair and seem related to her gender. Oliver Stone, the bloated filmmaker, suggested that Kelly was "attractive" but uninformed in her exchanges with Putin, even though Stone's own Putin Interviews, which aired on Showtime, have been widely derided as embarrassing quasi-propaganda.
Far more disturbing were the attacks from Jones and the far right, which quickly descended into the kind of lurid paranoia that is the hallmark of his site Infowars.
Others, meanwhile, thought Kelly was wrong to give Jones a national forum in the first place. The furor over the interview occluded the interview itself, which Kelly executed with subdued journalistic diligence, damning Jones with his own words. "Short of waterboarding him, I don't know what more Kelly could have done," quipped Jack Shafer in Politico.
For all that, Kelly's ratings have been unremarkable (and falling), for reasons that remain unclear. Whatever the case, the right is rejoicing, clearly thrilled by the prospect of Kelly's failure. "Liberals No Longer Want Megyn Kelly," ran a recent headline in The Daily Caller, with the ensuing article making the argument that she "was only liked because she served as a dividing force at Fox." Meanwhile, outlets like Breitbart News and Newsmax—both favorites of the Trump crowd — have eagerly picked up on negative reviews and rumors that Kelly would be fired, hardly disguising their attempts to turn her early struggles into a narrative of creeping doom.
The animus towards Kelly surely has to do with her years working just a couple blocks away from her current Rockefeller Center address, at the Fox News headquarters. The right won't forgive her for leaving, while the left won't forgive her for having worked there in the first place.
The grievances of the right run especially deep, especially when it comes to self-styled "qlpha males" like Jones. She challenged Trump for his misogyny at the first presidential primary debate in 2015 and continued to stand firm against the classless assaults that ensued. And she was one of several women at Fox News who helped depose the channel's mastermind, Roger Ailes, who stood accused of multiple counts of sexual predation. These are, in the minds of some, unforgivable sins.
Kelly's interviews with Putin (perversely, a Soviet apparatchik championed by Republicans) and Jones (even more perversely, a madman championed as a truth-teller, including by President Trump himself) have brought out her most ferocious critics, from both sides. Once the clamor subsided, she will at least have the chance to calmly perform her job. It may yet turn out that she is incapable of fulfilling the expectations of NBC News, but any such speculation is almost silly at this early stage.
Sunday night went off calmly, even quietly. That may not be the road to ratings glory, but for Megyn Kelly, it must have felt like a relief.