Megyn Kelly Calls Colin Kaepernick 'Racist' After His NFL-Slavery Comparison
Megyn Kelly has slammed Colin Kaepernick after he compared the NFL Draft process to slavery in his new Netflix limited series, Colin in Black & White.
The former NFL quarterback's six-part show debuted on the streaming platform on October 29, and attention was quickly drawn to his slavery comparison comments.
"What they don't want you to understand is what's being established is a power dynamic," Kaepernick said in the show. "Before they put you on the field, teams poke, prod, and examine you. Searching for any defect that might affect your performance. No boundary respected. No dignity left intact."
Following his statement, a group of actors portraying NFL prospects were then shown standing on a football field, before it blended into shackled, enslaved men being examined by prospective slave owners.
The comparison has drawn criticism from a number of high-profile figures, including Adam Carolla and former NFL player Jack Brewer, who said in reaction that Kaepernick "has an evil, anti-American spirit."
Kelly has now added her name to the list of detractors, calling the sportsman "racist" during a segment on her SiriusXM show, shared on YouTube on Tuesday.
"Colin Kaepernick... he's insane," the broadcaster said on The Megyn Kelly Show. "This is a racist guy. He really is a racist guy and he hates our country. He hates America.
"It's just another day that Netflix gives this guy his own special," she went on. "And I'm like 'well I guess it's going to be about how racist America is.' Turns out it's how racist Colin Kaepernick is.
"Who made him show up to the NFL Combine?" the former Fox News host added. "To compare that willing and usually dream come true moment for an NFL football player to slavery? How does this wind up on Netflix?"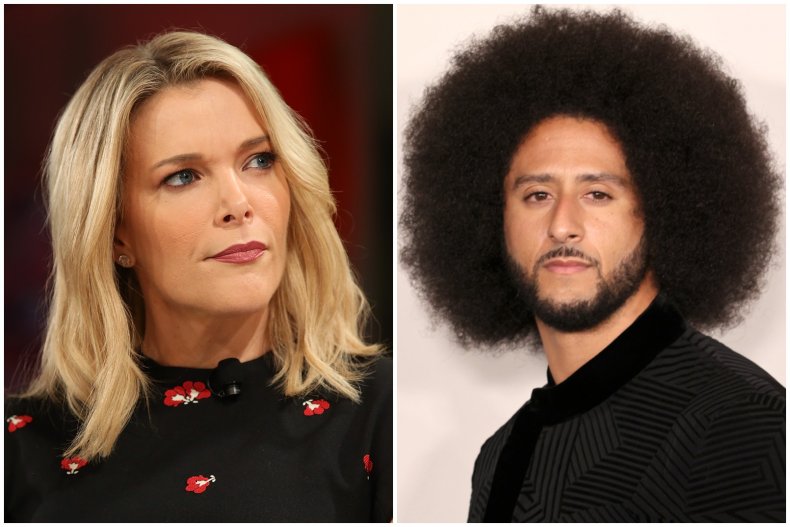 Addressing Kaepernick's comment about players being searched "for any defect that might affect your performance," Kelly said: "Well duh. Isn't that important to know? If there is a defect?"
Referring to Kaepernick's reported earnings during his NFL career, Kelly went on to state that comparing "$43 million to being a slave is a real F-you America moment and I think it's an F-you Colin Kaepernick moment.
"I can't believe somebody at Netflix didn't get up and walk their asses out over this bulls*** propaganda about our country, the NFL, white people in general. This is outrageous."
Newsweek has contacted a representative of Kaepernick for comment.
Kaepernick, who was drafted by the San Francisco 49ers in the second round of the 2011 NFL Draft, started to kneel during the national anthem before games in protest of social and racial injustice.
The protest, which started in the 2016 pre-season, saw his NFL career cut short. He hasn't played for the league since 2016.
In 2019, The Wall Street Journal reported that Kaepernick was paid under $10 million to settle a lawsuit against the league over allegations that franchises had colluded with the NFL to shut him out after his protests.
Colin in Black & White, which was co-created by Kaepernick and Ava DuVernay, features Jaden Michael as Kaepernick and Mary-Louise Parker and Nick Offerman as his adoptive parents.