'F**k You, Dr. Fauci': Megyn Kelly Backs Calls for COVID Origins Subpoena
Megyn Kelly didn't mince words when she addressed Dr. Anthony Fauci directly during a monologue on the Wednesday episode of her podcast.
The Megyn Kelly Show host took umbrage with the outgoing National Institute for Allergy and Infectious Diseases (NIAID) director saying he'd "consider" testifying before Congress if Republicans subpoena him after November's midterm elections.
"He sounds like he's been invited to afternoon tea at one of our houses," Kelly said. "'I'll consider it.' F**k you, Dr. Fauci. You don't get to say whether you go. You get a congressional subpoena, you show up or you get the Steve Bannon treatment."
Kelly was referring to the former White House strategist under the Trump administration who was recently found guilty of contempt of Congress for refusing to testify before the House committee investigating the January 6, 2021, attack on the U.S. Capitol.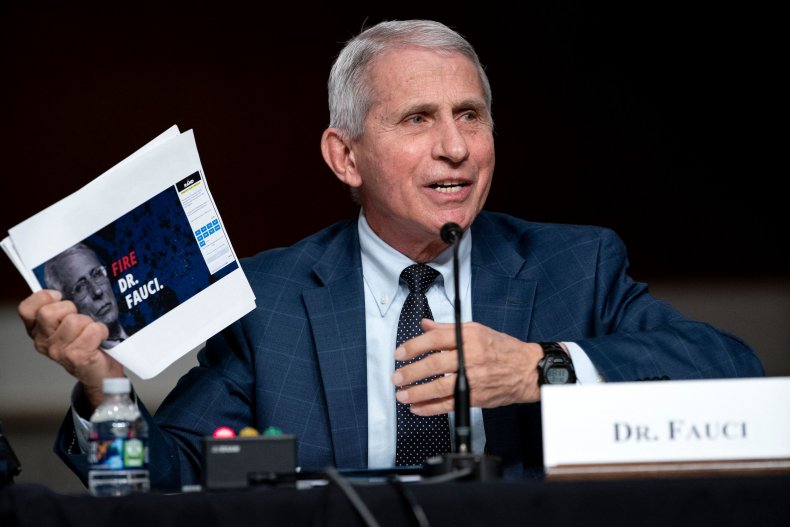 Fauci announced on Monday that he would retire from his post as director of the NIAID at the end of the year. Republican representatives have said Fauci's retirement won't prevent an investigation into his actions regarding the origin of COVID-19.
He faced criticism throughout the pandemic for his response to COVID-19, the latest of which came from Kelly in her 20-minute monologue Wednesday. Kelly started her show by saying, "Good riddance, Anthony Fauci" and went on to examine some of the criticisms the White House doctor has taken since the pandemic began.
The former Fox News host slammed Fauci's approach to masks and vaccines, saying he had conflicting views on the importance of masks at different points in the pandemic. Kelly also expressed her thoughts on Fauci's changing recommendation for vaccination levels needed to reach herd immunity.
"First, Dr. Fauci said we needed to get up to around 70 percent," Kelly said. "Then he upped it later to 80, 85. Why? Because the science evolved? That's not what he said. He said he changed the number when he thought the public would tolerate a greater percentage, another lie he admitted to."
She then showed an old clip of Fauci talking about the flu on C-SPAN.
"The most potent vaccination is getting infected yourself," Fauci had said.
Kelly said that as of October, 5 percent of unvaccinated Americans lost a job due to their vaccination status or lack thereof. Those who lost their job consisted of truckers, who largely work alone, and health care workers who had "already been infected" and therefore didn't need the vaccination, according to Fauci's logic in the C-SPAN interview, Kelly argued.
Kelly also said Fauci's "biggest lie" occurred under oath when he told Congress his group at the National Institutes of Health (NIH) never funded gain-of-function research at a lab in Wuhan, China.
Kelly showed a clip of Republican Senator Rand Paul telling Fauci there would be responsibility taken against those who funded the Wuhan lab, including Fauci. Fauci denied the accusations, but Kelly said the NIH later admitted in a letter to Congress that it did indeed fund gain-of-function research in Wuhan.