Mel B Voices Amber Heard Trial Fears After Prince William MBE
Spice Girls member, Melanie "Mel B" Brown, has voiced her concerns that the public nature of the legal proceedings between Amber Heard and Johnny Depp could prevent male and female victims of domestic abuse from coming forward and seeking help.
In an interview with Piers Morgan on his new TalkTV show titled Piers Morgan Uncensored on Monday, Brown said that "to look at this case as entertainment is damaging."
Brown's comments follow her being awarded an MBE by Prince William earlier this month for charitable services and vulnerable women. The pop star is a patron of Women's Aid and has been a vocal advocate for women suffering mental and physical abuse at the hands of their partners.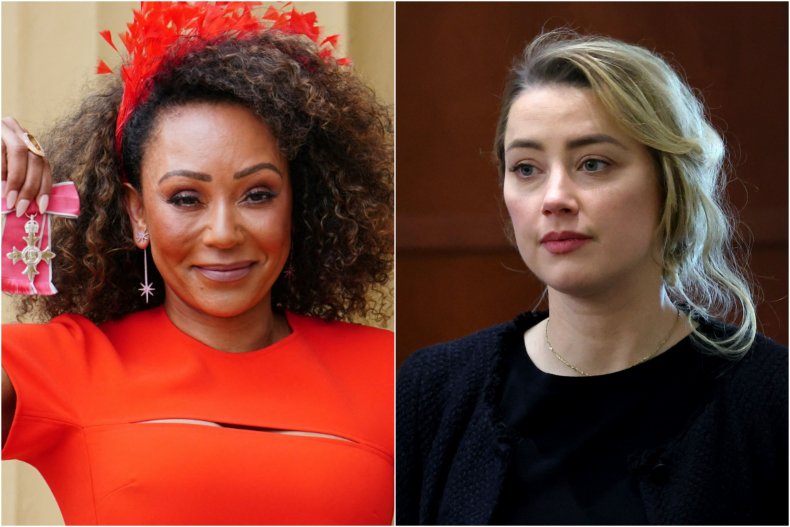 In her 2018 memoir Brutally Honest, Brown revealed allegations that she herself had suffered years of torment and physical abuse at the hands of her husband of ten years, Stephen Belafonte. The pair divorced in 2017 and Belafonte has since denied the claims made against him.
Speaking to Morgan about the ongoing defamation trial between Amber Heard and Johnny Depp, of which domestic abuse and violence are central themes, Brown said: "This is such a very sensitive topic for me because it's so personal—but to me this case is so not entertainment for me. What I worry about is that it's going to damage future men, women from coming forward and making their own claims, or the justice system having doubt or not believing.
"At the end of the day we can't get away from the fact that two women get killed every week in this country by their former partner or their current partner as opposed to twelve men a year.
"So I have to remind myself that I'm glad that people are aware of the situation which is an epidemic of domestic violence and coercive control and any form of abuse, but I also think that to look at this case as entertainment is damaging."
Seeing Heard and Depp's trial play out so publicly in the media caused Brown to have a "lump" in her throat, she claims, as it reminded her of her own legal proceedings during her separation from Belafonte.
"It made me have like a lump in my throat to think that this was televised because I know that when I went through all my stuff in the U.S. I actually had to file court papers to have a closed courtroom because otherwise TMZ were going to be allowed in," she told Morgan.
Brown received an MBE (Member of the British Empire) honor from Prince William in a ceremony at Buckingham Palace last week for her work advocating for women and being a vocal force for ending the stigma around victims of domestic violence.
During the ceremony, Brown told Morgan that she and William had a "long conversation" as he presented her with the honor. As a member of the Spice Girls, Brown has had a long association with William as well as Prince Harry through the band working with Prince Charles' charity The Princes Trust.
"He had such a long conversation with me, I got a bit embarrassed," the singer said.
"He was really kind of taken aback how, you know, I'm a Spice Girl but yet I'm getting the MBE for raising awareness of domestic violence and women that are in vulnerable situations.
"He just kept asking me about my book, about how long I was in the abusive relationship for—he really went in quite deep... he was so sweet and so polite and respectful."
Speaking to the Press Association after her investiture, Brown dedicated her award to sufferers of domestic violence, saying: "I never thought I would be here getting this MBE for the work I've been doing. It's amazing to have but it's not just for me—it's for all those other women.
"Especially because of COVID, there's been such an epidemic of domestic violence, that's been completely on the rise, and you know I've got an army of women behind me that need help and need to be heard.
"I don't take it as it's my award because it's our award because we've survived," she concluded.