Melania Trump Breaks Silence on 2024 Campaign
Former first lady Melania Trump has broken her silence on her husband's third bid for the White House, saying he has her full support for another presidential term.
"My husband achieved tremendous success in his first administration, and he can lead us toward greatness and prosperity once again," Melania told Fox News Digital on Tuesday, adding that she and former President Donald Trump "look forward to restoring hope for the future and leading America with love and strength" during a second term.
Melania had not publicly addressed her husband's 2024 campaign since he announced he'd run for the presidency back in November. She had also been noticeably absent from her husband's various public appearances in recent months and remained hushed on his historic indictment in Manhattan.
When the former president addressed his arraignment in April, he thanked all his children by name, but there was no mention of his wife. Because Melania had often been seen by her husband's side throughout his 2016 presidential campaign and during his time in office, her recent public role led some to speculate whether or not she supported a third presidential bid.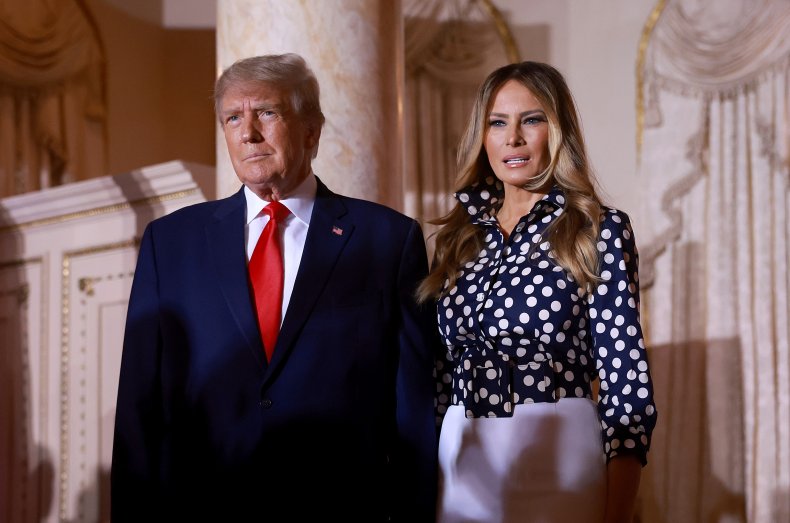 Last month, People reported that Melania had no plans to participate in her husband's political campaign as those events were "not comfortable for her." A source told the magazine, "At this stage of her life she does not want to be in the spotlight."
Melania would not have been the first Trump family member to take a step back from the 2024 campaign.
Shortly after Trump announced he'd run for the Republican nomination, his eldest daughter and former senior adviser Ivanka Trump said she does "not plan to be involved in politics" and that she was focusing on her family instead of joining her father's campaign. Trump later said he specifically asked Ivanka to refrain from participating because his campaign would be "too mean and nasty."
However, Melania's latest comments suggest that she's prepared to resume an active role in the Trump administration should her husband be re-elected. On Tuesday, she said she would continue to prioritize her initiatives focused on the well-being and development of children.
"Since leaving Washington D.C., my commitment to the foster community has grown stronger," she said, adding that if she were to be the first lady again, her "focus would continue to be creating a safe and nurturing space for children to learn, grow, and thrive."
Newsweek reached out to Melania via email for comment.
Trump is currently the frontrunner in the Republican primaries. Polls show that he has a sizable lead over the GOP pack and is still ahead of his most formidable challenger, Florida Governor Ron DeSantis, who has not yet announced his 2024 bid.
A new poll released by Morning Consult on Tuesday showed ahead of DeSantis by 41 points among Republican voters in his largest lead over the GOP field yet. Sixty percent said they'd support Trump, compared with 19 percent who backed DeSantis. No other candidate surpassed five percent of support.