Melania Trump Defended by White House for Removing Mask at Children's Hospital
The White House defended Melania Trump following a backlash after she broke a children's hospital's COVID-19 policy by taking off her mask to read to patients.
Trump made her fourth and final holiday visit as first lady to the Children's National Hospital in Washington on Tuesday, despite soaring coronavirus cases.
And while the first lady arrived in the hospital's main atrium wearing a mask, she removed it when she took her seat in front of a Christmas tree to read "Oliver the Ornament Meets Marley & Joan and Abbey" by Todd Zimmerman.
Due to coronavirus concerns, most children watched the reading over a livestream, but two patients—6-year-old Riley Whitney and 8-year-old Sofia Martinez—sat with pillows on a red carpet in front of Trump.
The hospital's policy states that "everyone must wear a mask at all times while in any Children's National facility to prevent the spread of COVID-19." This includes "wearing a mask when entering any Children's National building, as mandated by area officials" and "all public places, such as the hallway and cafeteria."
The first lady's removal of her mask prompted an outcry on social media. "So you're reading to sick children during a pandemic without a mask? That is criminal," one woman tweeted.
A White House readout issued later said the visit had followed Washington health guidance and that the first lady had maintained social distancing at all times.
"Due to the ongoing coronavirus pandemic, the event was limited in numbers of in-person participants and all guests were required to wear face masks and adhere to social distancing," the White House readout said.
"The visit followed the hospital's mask protocols for public speakers, based on the District of Columbia health guidance, that wearing a mask is not required when a person is giving a speech for broadcast or an audience, provided no one is within six feet of the speaker.
"Throughout the holiday program, the First Lady was more than twelve feet away from others in the four-story atrium. Today's visit, broadcast to 325 inpatient hospital rooms, followed these guidelines."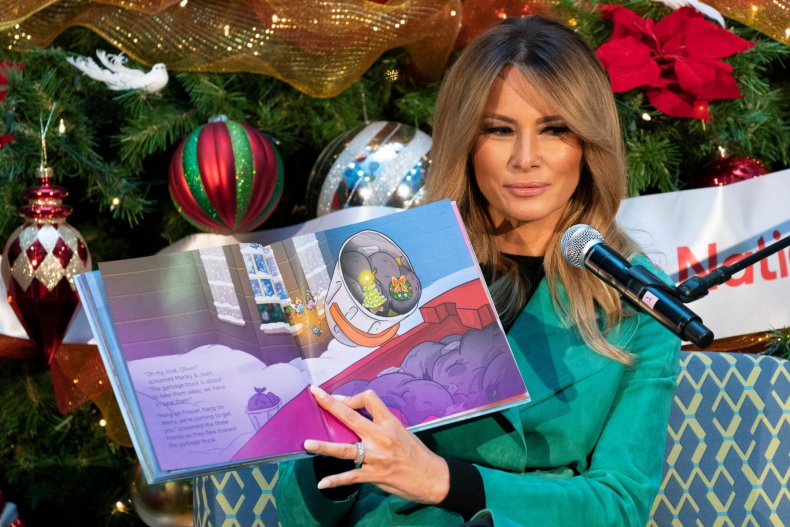 In a statement to Newsweek, a spokeswoman for the Children's National Hospital also cited the city's health guidance.
"Our number one priority at Children's National Hospital is the safety of our patients, families and employees," the statement said.
Noting the hospital's website does not include the mask policy for people who come to the hospital to give a speech, it added: "The First Lady did follow our mask protocols for public speakers, which is based on DC Health guidance, which states that wearing a mask is not required when a person is giving a speech for broadcast or an audience, provided no one is within six feet of the speaker."
It added that "when the First Lady did remove her mask while she read a story, she was more than twelve feet away from others in our four-story atrium. This space was closed off from hospital visitors and the small group of people in that space were wearing all wearing masks. For the remainder of the First Lady's visit, she wore a mask and did not visit any patient care areas."
The first lady's office has been contacted for comment.
The visit took place months after the first lady, along with President Donald Trump, were diagnosed with COVID-19 in early October. Their 14-year-old son Barron was also infected, the first lady later revealed.
Experts say it's not clear how long antibodies offer protection and recommend that those who have recovered from the disease still wear masks.
"Even though the president himself was infected and he has likely antibodies that likely would be protective, we're not sure how long that protection lasts," Dr. Anthony Fauci, the nation's top infectious diseases expert, told ABC's Good Morning America this week.
The White House has been criticized over a coronavirus outbreak that has infected more than 40 people in the president's administration, campaign and inner circle since late September.
Many fell ill following a Rose Garden ceremony where few wore masks and little social distancing was maintained. Several more tested positive after attending an election night party at the White House.
This article has been updated with a statement from Children's National Hospital.