Rudy Giuliani is at Least 40th Person in Trump White House, Inner Circle to Contract COVID
Rudy Giuliani is the latest member of President Donald Trump's inner circle to contract the coronavirus, joining at least 40 others in the president's administration, campaign and family to become infected in recent months.
Trump announced his personal attorney had tested positive for the virus in a tweet on Sunday afternoon. "Get better soon Rudy, we will carry on!!!" Trump wrote. At least 40 people close to Trump have been infected with the virus since late September, according to The New York Times.
The president was hospitalized with coronavirus in early October several days after a Rose Garden ceremony and indoor reception to celebrate Amy Coney Barrett's nomination to the Supreme Court, where there was little social distancing and most went without masks.
First Lady Melania Trump and other top aides, including Trump campaign manager Bill Stepian, adviser Hope Hicks and press secretary Kayleigh McEnany, also tested positive around the same time.
Trump continued to downplay the threat of the virus even as he recovered from his own infection and insisted the end of the pandemic was near, even as cases and deaths continued to spike across the country.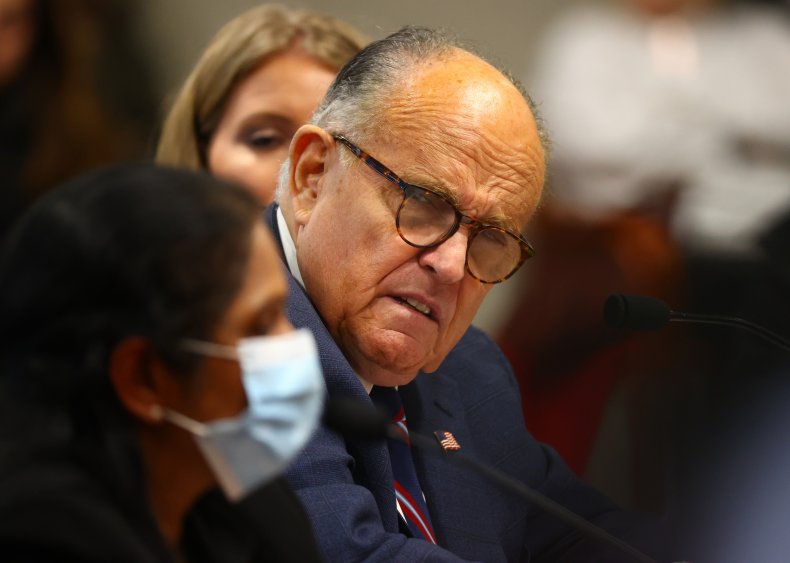 Social distancing rules were flouted at an election night party where hundreds of people gathered without masks. Mark Meadows, the White House chief of staff, Trump campaign adviser Corey Lewandowski and Ben Carson, the Secretary of Housing and Urban Development (HUD), were among those who tested positive after attending.
Several others close to Trump tested positive in November, including the president's son Donald Trump Jr. and Giuliani's son Andrew Giuliani, who is a White House official.
Rudy Giuliani was admitted to Georgetown University Medical Center in Washington on Sunday, the Associated Press reported.
The 76-year-old had traveled extensively and held numerous press events in recent weeks in a bid to help overturn the result of the 2020 presidential election. He has met with officials for long periods without a mask on and appeared maskless at an election hearing in Michigan last week.
The Trump legal team has sought to downplay fears that the former New York mayor may have exposed people to the virus.
"Mayor Giuliani tested negative twice immediately preceding his trip to Arizona, Michigan and Georgia," the team said in a statement posted on twitter by Trump attorney Jenna Ellis. "The Mayor did not experience any symptoms or test positive for COVID-19 until more than 48 hours after his return."
Giuliani on Sunday evening retweeted the president's announcement of his coronavirus diagnosis.
Early Monday, he wrote in a tweet: "Thank you to all my friends and followers for all the prayers and kind wishes. I'm getting great care and feeling good. Recovering quickly and keeping up with everything."
On Sunday, White House coronavirus task force coordinator Dr. Deborah Birx indirectly criticized Trump's attitude to the virus during an appearance on NBC's Meet the Press.
Asked about Trump and other officials flouting public health guidance to avoid gathering in large numbers indoors and wear masks, Birx replied that some leaders are "parroting" myths about the virus.
"I hear community members parroting back those situations, parroting back that masks don't work, parroting back that we should work toward herd immunity, parroting back that gatherings don't result in super-spreading events," she said.
"And I think our job is to constantly say those are myths, they are wrong, and you can see the evidence base."
The White House has been contacted for additional comment. Meanwhile, coronavirus cases in the U.S. are nearing 15 million, according to a running tally kept by Johns Hopkins University. There have been at least 282,000 COVID-19 deaths in the country.