Melania Trump Greeted With 'Not a Shithole' Sign as a 'Welcome to Malawi'
First lady Melania Trump's motorcade in Malawi on Thursday reportedly passed by a sign reading "not a shithole," a reference to President Donald Trump's alleged derogatory remark earlier this year about African nations.
Two white people on the roadside held the sign stating "Welcome to Malawi #notashithole!" according to Bloomberg News White House reporter Jennifer Jacobs.
The president drew widespread criticism in January when The Washington Post reported that he had referred to nations in Africa, and Haiti and El Salvador as "shithole countries" during an immigration meeting in the Oval Office with lawmakers.
"Why are we having all these people from shithole countries come here?" Donald Trump reportedly said, and also asked why more "people from countries like Norway" did not enter the United States instead.
The African Union, representing countries on the continent, denounced the president and called on him to retract his remark and apologize. He denied uttering it.
About seven months later, Melania Trump announced that her first major trip abroad without her husband would be to Africa, a move that many have interpreted as an effort to repair the damage caused by her husband's reported remarks.
In Ghana on Wednesday, she visited a palace hall named after her husband's predecessor Barack Obama as well as a former slave trading fort. During her five-day tour, which will also take her to Kenya and Egypt, the first lady is promoting her "Be Best" initiative for children's well-being, as well as education, health care, conservation and tourism.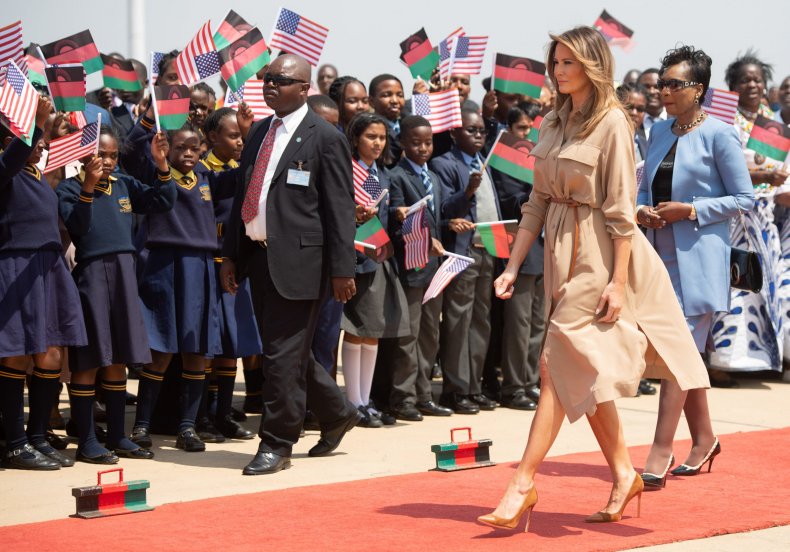 On Thursday, the first lady read to children and pushed to keep girls in school. She also made her first public mention of her husband.
"I'm sure it can be difficult to be away from the states for an extended period of time," she told U.S. Embassy staff, according to Jacobs. "My husband and I appreciate all that you do."
From back in the U.S., the president tweeted praise for his wife on Thursday morning.
"Our country's great First Lady, Melania, is doing really well in Africa," he tweeted. "The people love her, and she loves them! It is a beautiful thing to see."
The first lady has kept a low profile and her silence after most of her husband's controversial comments, including those about African countries.
Her motorcade was also greeted by a white woman who held a sign reading, "Melania Me Too," according to Jacobs. The sign likely referred to the #MeToo movement against sexual assault and misconduct, which has entangled several prominent men in allegations, including the president.