Melania Trump Silent on Stormy Daniels, Unlike Hillary Clinton Who Defended Husband Bill Over Monica Lewinsky
First Lady Melania Trump's silence as the alleged sexual affair between her husband and a porn star makes further headlines is a stark contrast to how former First Lady Hillary Clinton reacted when reports broke out that her husband, then-President Bill Clinton, engaged in a sexual relationship with Monica Lewinsky.
Related: Bannon on Melania Trump's 'Suffragette White' Pantsuit: 'Suck on That'
Hillary Clinton spoke out days after allegations of the scandal surfaced. Yet more than a month and a half after the first report that her husband's lawyer paid adult film actress Stormy Daniels, real name Stephanie Clifford, $130,000 to cover up the alleged 2006 sexual encounter, Melania Trump has not spoken a word about the episode in public.
The episode took a further dramatic turn on Tuesday when Clifford sued the president, claiming the non-disclosure agreement his lawyer compelled her to sign was null and void because it did not include Donald Trump's signature. Still, the first lady remained hushed.
There have, though, been multiple incidents since the story broke that have been interpreted as Melania Trump subtly shunning her husband. In early February, she arrived on her own to his State of the Union address. Later that month, when a story of another alleged affair involving her husband emerged, the first lady drove solo to an air base instead of walking alongside him on the South Lawn as is the tradition.
A White House spokesman for Melania Trump did not respond to a request for comment from Newsweek.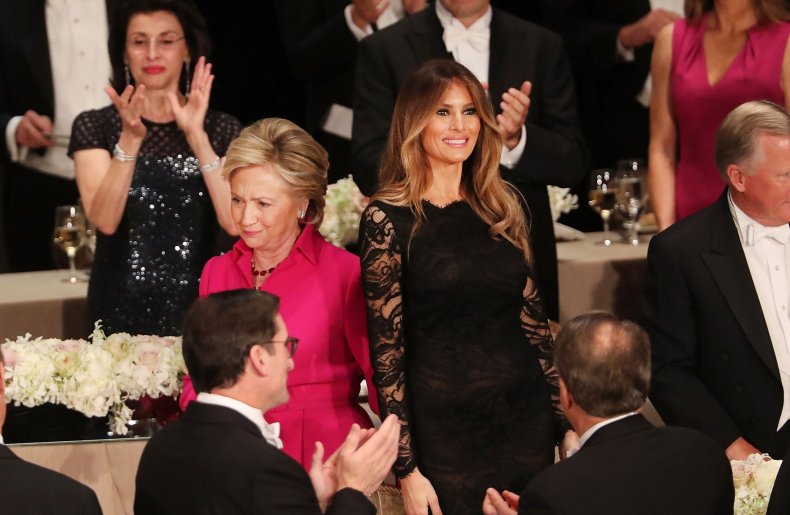 Hillary Clinton, meanwhile, initially stood firmly by her husband when reports emerged in January 1998 that he had a sexual relationship with Lewinsky, a White House intern. A week after the first allegations, on January 27, Hillary Clinton sat down for an interview with NBC News to launch a full-throated defense of her husband, calling the charges a "vast right-wing conspiracy."
Asked whether her husband had described the precise nature of his relationship with Lewinsky, Clinton replied: "Well, we've talked at great length, and I think as this matter unfolds, the entire country will have more information.''
A few weeks later, on February 11, Hillary Clinton predicted that the allegations would "slowly dissipate over time under the weight of its own insubstantiality." Unlike Melania Trump, who seemingly distanced herself in public from her husband, Hillary Clinton supported husband Bill and said he was holding up well.
Clinton apparently continued to stand by her husband at the height of the scandal that resulted in his impeachment in the House of Representatives. "She says to his credit he tried to break it off, tried to pull away, tried to manage someone who was clearly a 'narcissistic loony toon,' but it was beyond control," Diane Blair, a friend and confidant to the former first lady, wrote about a conversation they had in September 1998.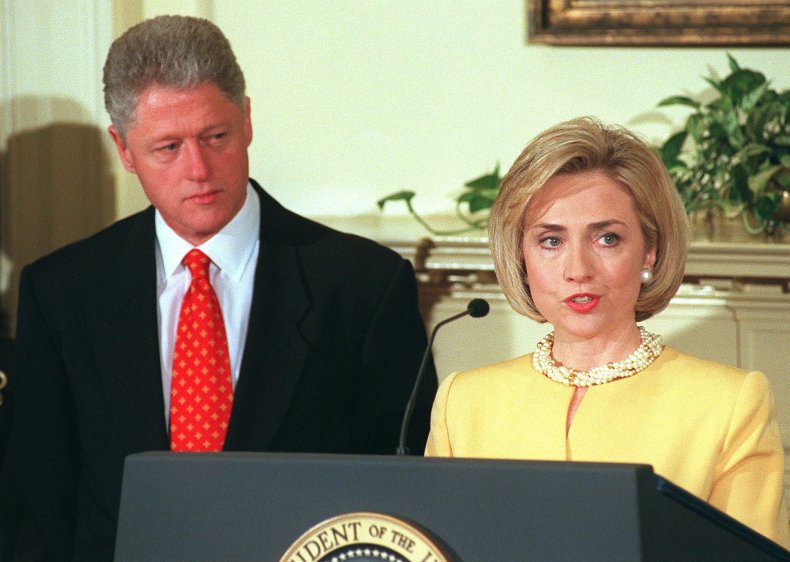 In private, though, Clinton in her memoir, Living History, confessed that she was "dumbfounded, heartbroken and outraged."
"Gulping for air, I started crying and yelling at him," she wrote. "'What do you mean? What are you saying? Why did you lie to me?'"
Two people close to the current first couple told The New York Times that Melania Trump was blindsided and furious at the president upon hearing reports of the payoff, but unlike Hillary Clinton, she hasn't stated anything herself.