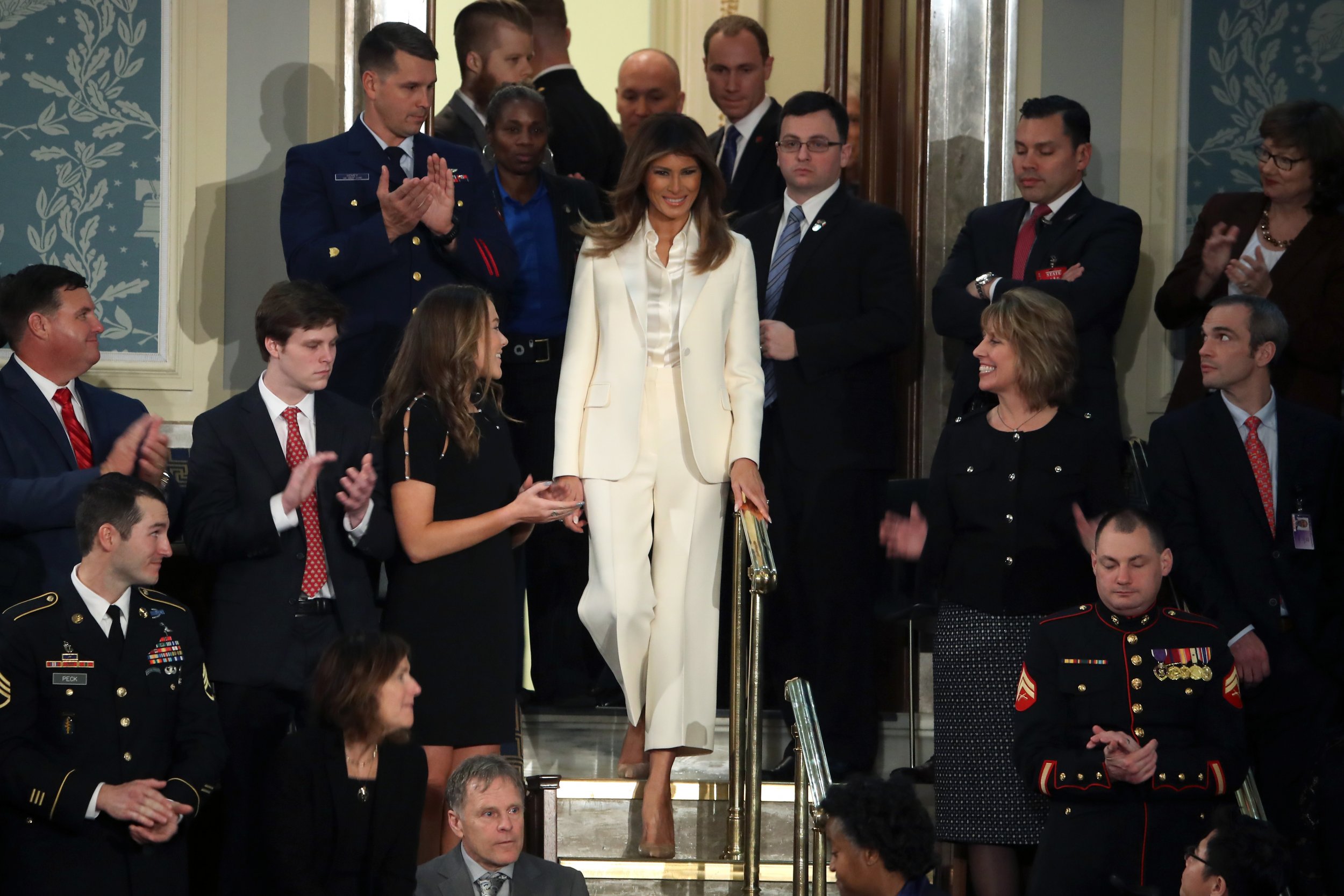 Ousted White House chief strategist Steve Bannon reportedly made a cutting remark about a white pantsuit worn by Melania Trump. The first lady donned all white to her husband's State of the Union address, drawing comparisons to outfits worn by Hillary Clinton.
Related: Melania Trump started following Barack Obama on Twitter before Stormy Daniels controversy
"She's wearing suffragette white. Suck on that," Bannon said as the first lady entered the House chamber without the president, according to Bloomberg columnist Michael Lewis, who watched the address with him.
Bannon seems to have interpreted the outfit as a slight against President Donald Trump. The first lady wore the pantsuit to her first public appearance at a political event involving her husband following reports that Trump's lawyer paid porn star Stormy Daniels to cover up an alleged affair.
The white pantsuit look has been linked to Clinton after she wore variations of it for significant events, including the night she became the first woman to accept a major political party's nomination for president.
The white pantsuit is also understood to be a clear reference to the women's suffrage movement, when women wore white to marches as they lobbied for the right to vote. It has since taken on new political meaning as Democrat women wore white to the president's address to Congress last February.
"We wear white to unite against any attempts by the Trump administration to roll back the incredible progress women have made in the last century, and we will continue to support the advancement of all women," Representative Lois Frankel, the Democrat from Florida, said in a statement at the time.
Lewis's account of Bannon's comment as the first lady found her seat is not surprising, given the way his employment ended and how his relationship with the president has soured.
Bannon left his post in August in a decision that White House press secretary Sarah Huckabee Sanders claimed was mutual. In Michael Wolff's book Fire and Fury: Inside the Trump White House, Bannon called a June 2016 Trump Tower meeting between Trump campaign members and Russians, "treasonous."
The president quickly fired back in early January, stating, "When he was fired, he not only lost his job, he lost his mind."