Melania Trump Launches NFT For Sale Called 'Melania's Vision'
Melania Trump is jumping on the NFT craze as the former first lady has announced she will sell her first non-fungible token this holiday season.
Titled "Melania's Vision" the digital asset will be available to purchase for a limited period this month. The token features watercolor art that "embodies Mrs. Trump's cobalt blue eyes, providing the collector with an amulet to inspire."
The wife of former president Donald Trump released a statement explaining that the launch of her NFT is a continuation of her "Be Best" initiative.
"I am proud to announce my new NFT endeavor, which embodies my passion for the arts, and will support my ongoing commitment to children through my Be Best initiative," Melania Trump said in a press release posted to Twitter.
"Through this new technology-based platform, we will provide children computer science skills, including programming and software development, to thrive after they age out of the foster community."
The piece of digital artwork is limited edition and will cost 1 SOL in cryptocurrency, which is approximately $150.
It also includes an audio recording from Melania Trump with a "message of hope."
The announcement confirms that this is not a once-off and that the former first lady plans to release more NFTs at "regular intervals" on the Parler-powered platform.
The tokens will be "a one-of-a-kind auction of historical importance scheduled in January 2022, including three elements: digital artwork, physical artwork, and a physical one-of-a-kind accessory."
Melania Trump stated that a portion of the proceeds will "assist children aging out of the foster care system by way of economic empowerment and with expanded access to resources needed to excel in the fields of computer science and technology."
Trump's foray into the world of non-fungible tokens comes amid a discussion about their potential for political fundraising.
NFTs have become increasingly popular over the course of 2021 as artists and public figures have explored alternative ways to make income or invest during the COVID-19 pandemic.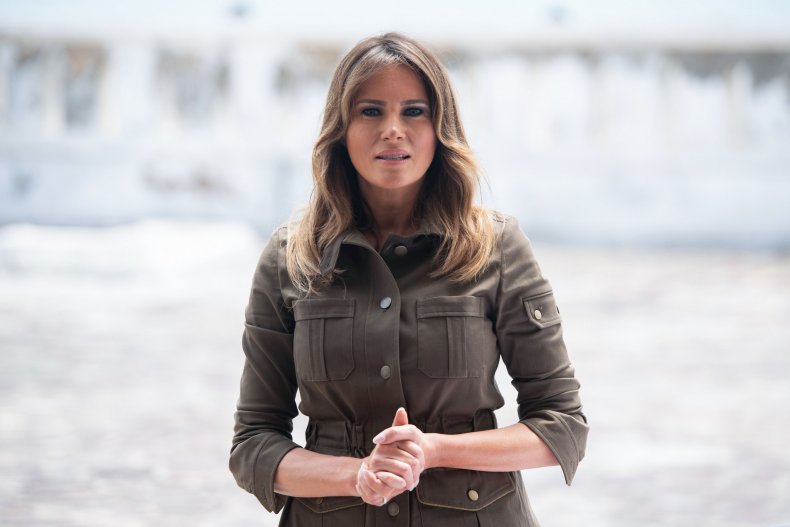 Paris Hilton recently revealed that she is "obsessed" with NFTs, telling Bloomberg: "I launched my first NFT drop in March 2020, and have been obsessed with NFTs and the never-ending possibilities of this technology ever since.
"NFTs are the future for creators, creatives and collectors, and this is just the beginning."
NFTs use cryptocurrency and blockchain technology to sell different assets online, such as concert tickets and pieces.
Upon purchasing, customers are provided with a digital file of the asset connected to their private key which proves the individual's ownership, which allows only them to access the NFT through a particular app or platform.
However, because NFTs have no tangible real-world object, critics say that they can easily be digitally shared and accessed by people who didn't purchase them.