Melania Trump's Parents Used 'Chain Migration' That President Says Brings 'Truly Evil' People to U.S.
After much sidestepping, a lawyer representing Melania Trump's parents has confirmed that they obtained U.S. citizenship on Thursday through "chain migration," an immigration program that allows U.S. citizens to sponsor immediate family members for legal residency and that President Donald Trump has repeatedly said he wants to end.
Michael Wildes, the lawyer for the first lady's parents Viktor and Amalija Knavs, would not comment when reporters outside the Jacob K. Javits Federal Building in New York City asked if the Slovenian couple had become American citizens that morning using chain migration.
But Wildes later told The New York Times, when asked whether that was their route to citizenship, said, "I suppose."
"It's a dirty—a dirtier word," Wildes said of chain migration. "It stands for a bedrock of our immigration process when it comes to family reunification."
Wildes said Melania Trump sponsored her parents so they could be granted green cards, and that the Knavs "then applied for citizenship when they were eligible."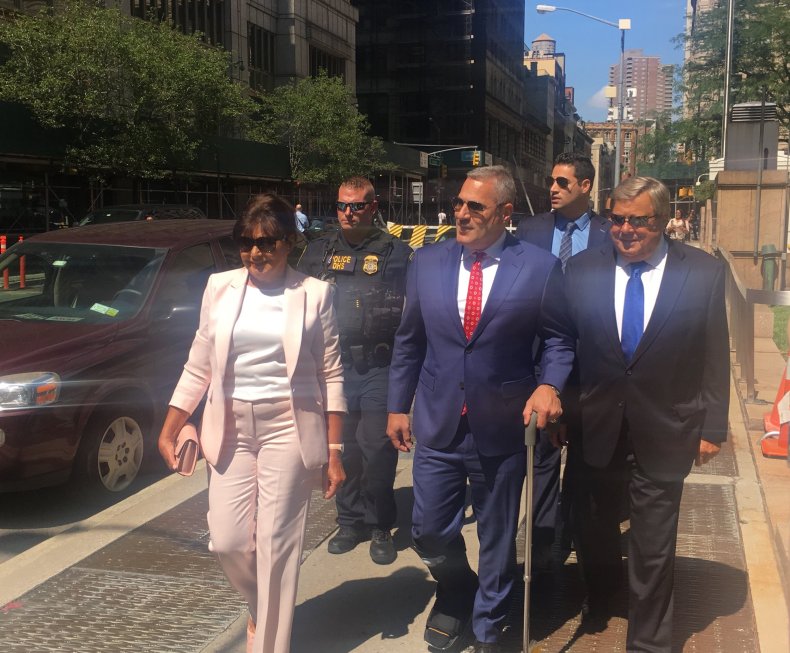 The first lady's spokeswoman Stephanie Grisham declined to comment on the Knavs because they are not members of the Trump administration.
President Trump has repeatedly denounced and called for the termination of the very process that his in-laws used to become citizens.
Shortly after a terrorist attack on Halloween in New York City, allegedly committed by a driver from Uzbekistan, the president tweeted, "CHAIN MIGRATION must end now! Some people come in, and they bring their whole family with them, who can be truly evil. NOT ACCEPTABLE!"
Last September, the president tweeted that he would not accept an immigration bill that includes the process. "CHAIN MIGRATION cannot be allowed to be part of any legislation on Immigration!" he tweeted. And in his State of the Union address in January, the president claimed: "Under the current broken system, a single immigrant can bring in virtually unlimited numbers of distant relatives," and said his administration was working on a plan that would limit such sponsorships.
Wildes had long refused to comment on how the Knavs became legal residents. Outside the federal building after the Knavs became citizens, Wildes said they had "applied on their own," and responded to an inquiry by Newsweek on chain migration in the late afternoon with, "Cannot comment other than the award of citizenship."