Melania Trump Promotes Bitcoin After Launching NFT Platform
Melania Trump has taken to social media to promote Bitcoin just weeks after the former first lady launched her first NFT (non-fungible token) platform.
The wife of former President Donald Trump expressed her support for the cryptocurrency on the 13th anniversary of its launch.
Taking to Twitter, Melania Trump acknowledged that Bitcoin had surpassed $1 trillion in market value.
"It is widely reported that Bitcoin's market cap exceeds USD$1 Trillion. Today marks the 13th anniversary of the Bitcoin Genesis Block. Happy Anniversary, #SatoshiNakamoto #MelaniaNFT," she tweeted.
Satoshi Nakamoto is Bitcoin's pseudonymous creator who launched the cryptocurrency in 2009.
The tweet came as, over the weekend, Bitcoin reached a new milestone as it soared to an all-time high in its hashrate (the metric for the a​​mount of computational power used by miners of new transactions on the Bitcoin network).
The tweet sparked quite the reaction from Twitter users, with many expressing confusion at the former first lady's interest in cryptocurrency.
"Amazing former First Lady stuff here," reads one reaction.
Another joked: "melania embracing her inevitable destiny as the duchess of bitcoin."
Over the holiday season, Melania Trump launched a digital asset titled "Melania's Vision" which was available to purchase for a limited time.
The token featured watercolor art that "embodies Mrs. Trump's cobalt blue eyes, providing the collector with an amulet to inspire" and was launched as a continuation of her "Be Best" initiative.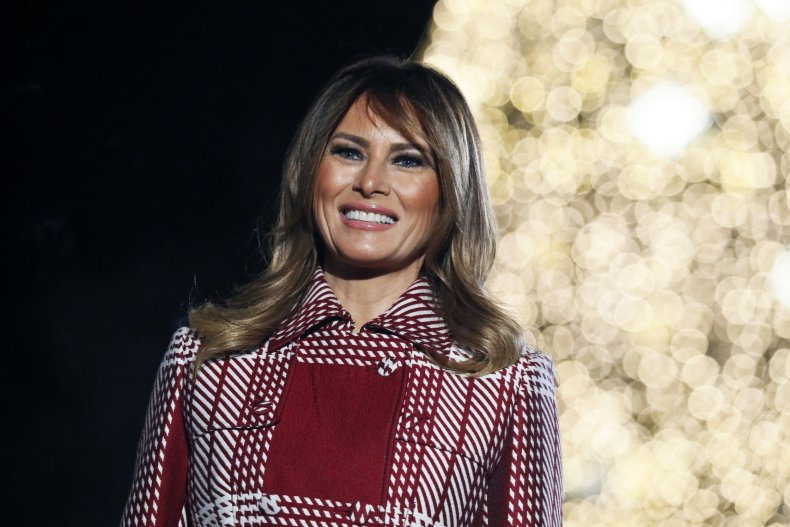 "I am proud to announce my new NFT endeavor, which embodies my passion for the arts, and will support my ongoing commitment to children through my Be Best initiative," Melania Trump said in a press release posted to Twitter.
"Through this new technology-based platform, we will provide children computer science skills, including programming and software development, to thrive after they age out of the foster community."
The announcement confirmed that "Melania's Vision" was not a once-off and that the former first lady plans to release more NFTs at "regular intervals" on the Parler-powered platform.
The tokens will be "a one-of-a-kind auction of historical importance scheduled in January 2022, including three elements: digital artwork, physical artwork, and a physical one-of-a-kind accessory."
She also stated that a portion of the proceeds will "assist children aging out of the foster care system by way of economic empowerment and with expanded access to resources needed to excel in the fields of computer science and technology."
NFTs use cryptocurrency and blockchain technology to sell different assets online, such as concert tickets and pieces.