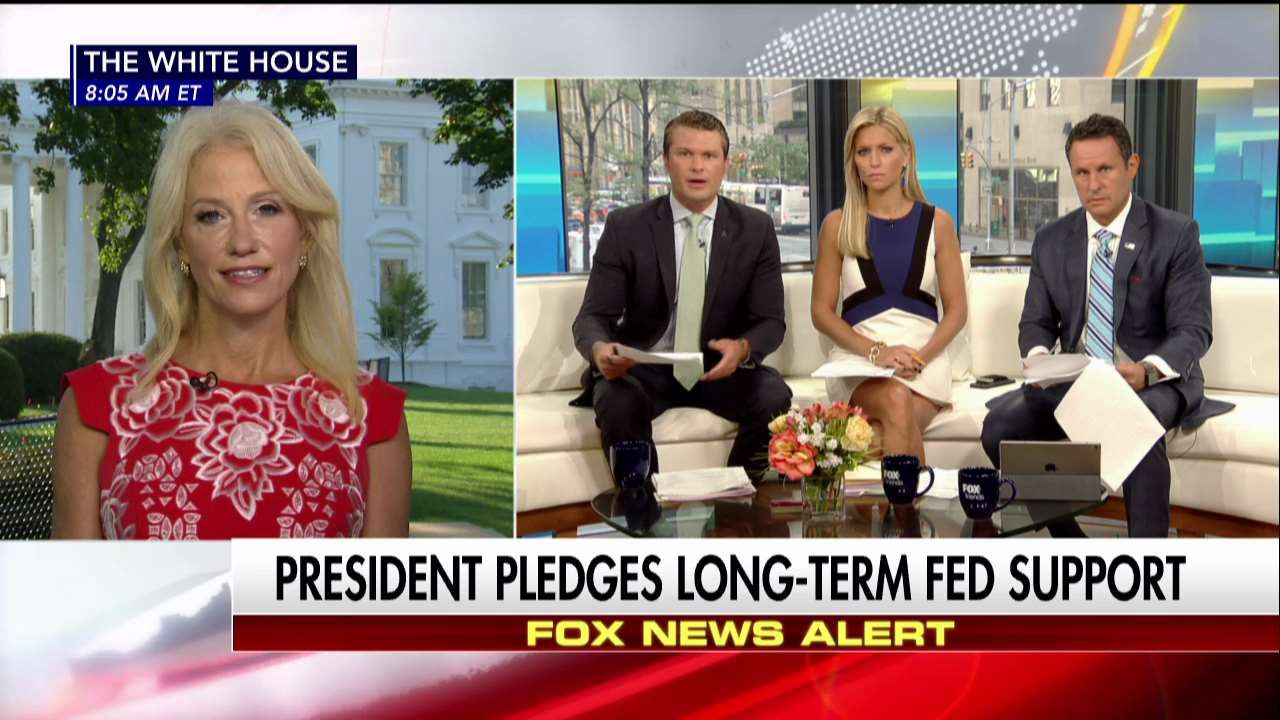 Kellyanne Conway, a senior adviser to President Donald Trump, was doing what she seemingly does best Thursday morning: defending the president and his family on live television with snarky one-liners and scathing sound bites targeting the left.
Conway was offered the opportunity to add her two cents to one of the most trivial stories of the week coming out of the White House, after first lady Melania Trump stepped onto Air Force One in stilettos while en route to visit Texas following Hurricane Harvey.
Related: Fox News was attacking Barack Obama for using Dijon mustard at this point in his presidency
The regular Fox News guest was clearly well prepared for the moment, digging into and magnifying the small minority of folks who were chattering on social media about the first lady's attire, making it appear as if the entire Democratic Party was attacking Melania Trump over her heels.
"We saw what was in the president and the first lady's hearts that day, not what was on their feet," Conway said Thursday on Fox & Friends. "It suggested to me, Ainsley [Earhardt], that the left is really very worried that the president is successfully showing leadership, and compassion, and empathy, and resolve and action."
"By the way, she didn't wear those shoes down in Texas, she wore them onto the plane," Conway continued. "And by the way, she can wear whatever she wants. See, this is what cracks me up about the feminists…they get upset if someone says 'You're wearing a pretty dress' or calls you 'honey,' but they have judgment end on end."
To be clear, the vast majority of the mainstream media was not focused on the first lady's shoes Wednesday afternoon. In fact, a much more notable story about the first family's attire this week was when the White House issued an official press release with a photo of Trump donning a hat that will be part of his 2020 presidential campaign merchandise line. MSNBC Host Joe Scarborough reported that the release included a link to a for-profit sale of the white hat with "USA" written in bold blue letters.
The release drew criticism from Walter Shaub, former director of the Office of Government Ethics, who tweeted a confirmation that the president may have raised ethics concerns by wearing the hat in his press release.
Instead of stilettos and hats, however, most cable news outlets across the country were focused on covering developing reports about where residents affected by the storm can go for shelter, new announcements regarding relief efforts and updates from federal and local agencies.
But if you were to tune into Fox News during Conway's segment, you may have been convinced outlets like CNN, NBC or ABC had a tunnel-vision focus on Melania Trump's choice of shoes.
"The thing about the first lady that everyone should know is that everyone looks at her and immediately sees—quite correctly—elegance, beauty, class," Conway went on. "But they should also know she speaks five languages, she's brilliant, she's incredibly savvy. Those of us privileged enough to know her and work with her a bit see what an important part of this administration she is."