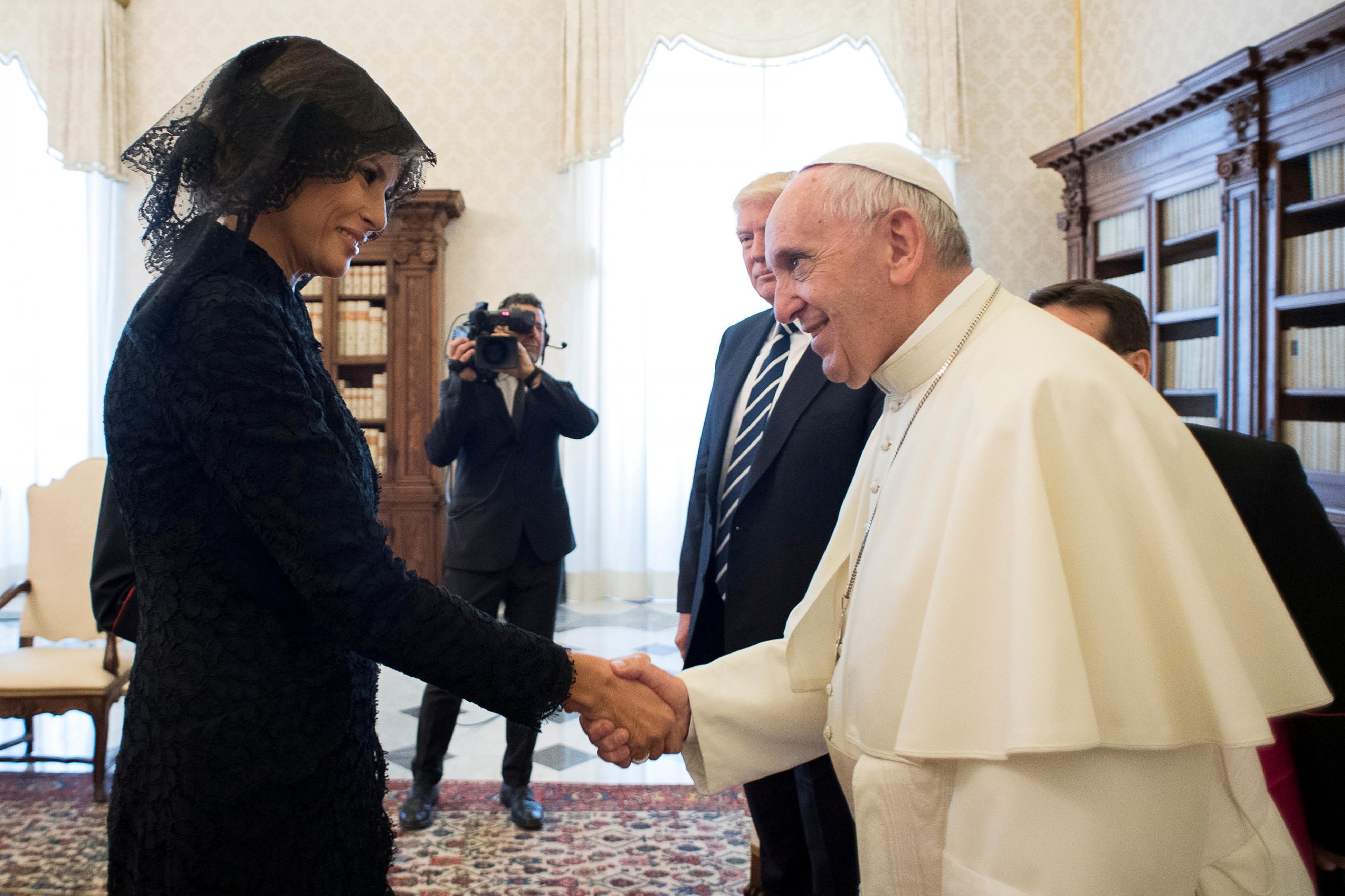 The internet exploded Wednesday morning with commentary on and memes of newly released pictures of Pope Francis' meeting with President Donald Trump. But amid the photo manipulations and caption contests, a few users focused on first lady Melania Trump—and the fact that she was wearing a veil at the Vatican.
Melania Trump and Ivanka Trump, who is the president's daughter and special assistant, both donned head coverings Wednesday as they met with Francis. "Per Vatican protocol, women who have an audience with the Pope are required to wear long sleeves, formal black clothing and a veil to cover the head," first lady spokeswoman Stephanie Grisham told CNN.
Her decision to wear a veil for the pontiff wasn't unprecedented: In 2009, when then-first lady Michelle Obama had an audience with then-Pope Benedict, she, too, covered her head. A quick spin through historical photos on first family blog East Wing Rules shows Laura Bush, Hillary Clinton, Jackie Kennedy and Nancy Reagan with headscarves during their respective meetings, as well.
As Grisham noted, female politicians traditionally wear veils when they address the pope out of respect. It's different for the general public. A 1917 edict required chapel veils for women, but in the 1980s the mandate was not reissued, essentially negating the rule, according to Catholic.com. The trend has since fallen out of fashion.
On Wednesday, however, Melania Trump's compliance with the custom drew scrutiny because of her style choices earlier this week when visiting a different religious epicenter. When the first lady and first daughter traveled Saturday to Saudi Arabia, where Islamic women have to follow harsh dress rules, they did not wear headscarves. Western women aren't required to cover their hair, and often don't, but the president himself took a stance on the issue when Michelle Obama decided to skip the scarf during a 2015 trip there. While publications like the Washington Post praised her for standing up to the Saudi "system of male guardianship," Donald Trump criticized her.
"Many people are saying it was wonderful that Mrs. Obama refused to wear a scarf in Saudi Arabia, but they were insulted," the tycoon tweeted at the time. "We have enuf enemies."