How Melania Trump's Vogue Cover Compares With Jill Biden's
This week it was announced that Jill Biden is Vogue's cover star for August, continuing the magazine's tradition of featuring the first lady on its front page.
This practice went on hiatus during the Donald Trump era, however, with Melania Trump snubbed by the fashion magazine.
Vogue's editor Anna Wintour has never directly explained why she decided not to put Trump on the cover when her husband was in the White House but, in a 2019 interview, she did discuss how the magazine chooses political figures to appear in its pages.
"Obviously these are women that we feel are icons and inspiring to women from a global perspective," Wintour told CNN, referring to Michelle Obama, Hillary Clinton and Jacinda Ardern, the prime minister of New Zealand.
"I also feel even more strongly now that this is a time to try and—I think that one has to be fair, one has to look at all sides—but I don't think it's a moment not to take a stand," she added. "I think you can't be everything to everybody."
In 2018, Melania Trump was secretly recorded expressing her frustration at not being invited for a cover, telling her former friend and aide Stephanie Winston Wolkoff: "Vogue said like, oh, we want to do a profile. Profile? F*** you, profile. I don't need no profile. Yeah, what I need another profile?" It might be a cover. I'm like, might be a cover? I don't give a f*** about Vogue and any magazine."
In her tell-all book Melania and Me, Winston Wolkoff explains that the magazine got in touch early in the Trump presidency.
"Vogue reached out to Melania, hoping to schedule an Annie Leibovitz photo shoot of the first lady in the White House, with writer Rob Haskell shadowing her for a few days to write a profile. All that sounded great, but the magazine could not guarantee that Melania would appear on the cover," Winston Wolkoff wrote.
"For the record, not all first ladies are put on the cover of Vogue. Michelle Obama and Hillary Clinton, yes. Laura and Barbara Bush, no," she went on.
"Melania wasn't going to do anything for Vogue or any other magazine if she wasn't going to be on the cover. 'Give me a break!' she texted. 'Forget it.'"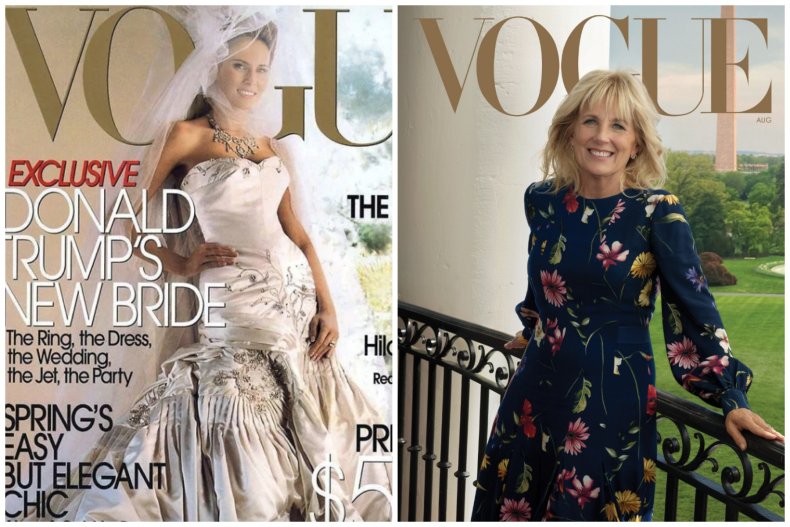 Last December, before his social media bans, Donald Trump shared a tweet from Breitbart News that read: "The elitist snobs in the fashion press have kept the most elegant first lady in American history off the covers of magazines for four consecutive years."
However, Melania Trump has appeared on the cover of Vogue before—back in 2005 and wearing her wedding dress.
The February 2005 issue promised an exclusive with "Donald Trump's New Bride" and showed her in the elaborate Christian Dior couture gown made for their marriage in January that year.
According to Vogue, the dress was made from "300 feet of material and embroidered with 1,500 crystal rhinestones and pearls."
The gown took 500 hours to make and weighed 60 pounds, said Brides.com.
Inside the magazine, there was a 14-page spread about the couple and "the ring, the dress, the wedding, the jet, the party."
Jill Biden's cover is more subdued in tone, reflecting her role as first lady.
The 70-year-old was photographed at the White House by Leibovitz, wearing a navy Oscar de la Renta dress. The headline reads: "Dr. Jill Biden. A First Lady For All Of Us."