Melania Trump's Tennis Pavilion Announcement Brings Outrage: 'How Many ICU Beds Will It Hold?'
First lady Melania Trump announced the completion of a new White House tennis court pavilion on Monday, which was met with a harsh backlash across social media, with many denouncing the timing during the coronavirus crisis.
"I am pleased to announce the completion of the Tennis Pavilion on the White House grounds," Trump wrote in a press release. "Thank you to all of the talented craftsmen who made this project possible and to the generous supporters of the White House."
She continued, "It is my hope that this private space will function as both a place of leisure and gathers for future First Families."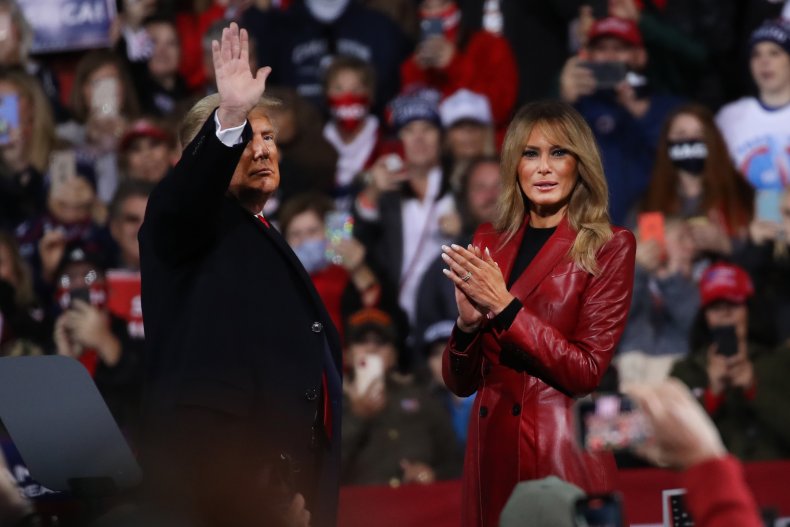 Shortly after the announcement was posted on social media, the first lady became the target of criticism.
Twitter user Andy Daigle wrote, "Americans dying unemployed and melatonin Melania talks about tennis pavilion."
Many other Twitter users also cited figures from the pandemic, as cases, deaths and hospitalizations surge across the U.S.
Twitter user Molly Jong-Fast, an editor at large at The Daily Beast, wrote, "Oh Good, those people in their ICU Beds will feel so much better knowing that Melania has finished her tennis pavilion."
Similarly, Twitter user Kash Ellie Isabelle wrote, "Families can't pay rent or feed their kids right now but yeah that's cool."
David Dorn, a Washington, D.C., bureau chief for Mother Jones magazine, simply wrote the number of Americans that have died from COVID-19: 282,345.
Other Twitter users questioned if the tennis pavilion could be used as a coronavirus testing site and wondered how the money to build it could have been spent differently.
Twitter user PoliticsOhMyGawd wrote, "Good spot for drive-thru covid testing."
Eric Feigl-Ding, an epidemiologist and health economist, wrote, "Good news—WH just announced today that they just completed the WH Tennis Pavilion. WH is so excited that they put out a press release."
He added, "How many PPEs, tests, masks, contact tracers, and ICU beds could that have bought instead? #COVID19."
Some Twitter users compared the first lady's announcement to French queen Marie Antoinette's "Let them eat cake" quote, which she supposedly said upon hearing that her people were starving.
Twitter user Tom Matzzie, wrote, "We are a week away from passing 300,000 Americans killed by COVID and Melania Antoinette over here updated the tennis court as her act of civic service this year."
Twitter user Norm Kent wrote: "Is it just me or is not a good sell or look to be publicizing a new White House tennis court during a pandemic killing thousands of Americans daily? It's a 'Let them eat cake' moment."
Chris Taylor, a senior correspondent for Reuters, wrote, "Strong Marie Antoinette vibez."
Twitter user Laurie Brookins, an editor for Screen Chic, had a similar response, writing, "Yeah, but how many ICU beds will it hold? #LetThemEatCake."
This is not the first time Trump has faced comparisons to Antoinette, which came up following a renovation of the White House Rose Garden.
Newsweek reached out to the White House for comment from the first lady but did not receive a response in time for publication.