Who is Timothy Heller? About Melanie Martinez Rape Accuser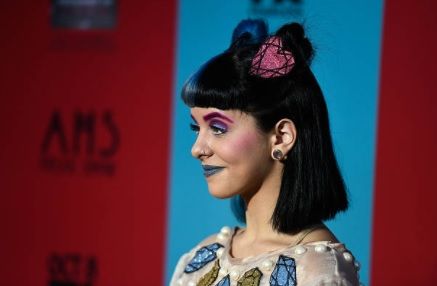 Former Dresses musician Timothy Heller came forward on Monday to accuse The Voice star Melanie Martinez of rape. While Martinez is arguably more famous with 5.1 million Instagram followers, Heller has a relatively strong social media presence too. Her music was also featured in an October write-up Atwood Magazine when she made her solo debut.
Her new song, "Sleep," was described as "haunting and dreaming."
"I wrote this song when I was probably 18," Heller told the publication. "My best friend's boyfriend had just cheated on her. I wrote this song starting from his perspective, trying to win her back. My friend's reaction when she was opening up to me when this happened was that she just wanted to sleep it away. So the chorus is from her perspective."
Heller, 25, revealed in the article that she struggled with mental health issues, and that writing the song was a way for her to cope. The singer claimed she suffered from abuse while in Dresses, which is why she left the group.
"Basically, the reason I'm putting out a song I wrote when I was 18, is me getting back into doing something, music, that ended up being really painful for me the last time around," she said. "My experience in Dresses was a lot darker than anyone let on: I was struggling a lot with mental illness, and had an extremely unsupportive team around me. I was subject to a lot of mental abuse but kept around because they needed my voice for the band. By the end, I had been convinced I was a shitty musician. I eventually couldn't take the stress of working with people like that anymore and cut off Dresses entirely."
When Heller gave the October interview, she was optimistic about her future and music career. "Basically, my solo music career is going to be MUCH more positive than my last experience," she said. "I'm not gonna take shit from people this time and get pushed around by assholes."
Heller cited support from her boyfriend, who she only named as Mikey. "It's really amazing having him here and being an amazing producer," she said, "because while I continue to doubt myself on things I've written, he's super patient with me and brings my songs to life, which makes me feel way better about what we're creating."
Heller has not spoken out since accusing Martinez of rape on Twitter Monday. Martinez promptly issued a statement where she denied the allegations.
"I am horrified and saddened by the statements and story told tonight Timothy Heller," the Voice star wrote. "She never said no to what we chose to do together. And although we parted ways, I am sending her love and light always."
Heller's accusations garnered an immediate response, with her post garnering more than 150,000 likes within hours. "When I wrote this story about my assault, I initially wasn't going to make the abuser. But I think it's important for you all to know this is about Melanie Martinez," she wrote.