Yes, Melissa McCarthy Can Do Drama and No, She Doesn't See What the Big Deal Is
She is one of our most inspired comedians, whether leading a blockbuster comedy like Spy or playing a Barbie-wielding Sean Spicer on Saturday Night Live. Boundaries don't exist—she's full-bore, immersing herself in characters with zero vanity. Why should a dramatic role (her second since St. Vincent) be any different? In Can You Ever Forgive Me?, the Emmy-winner (for the series Mike & Molly) gets under the skin of anti-social Lee Israel, a real-life struggling author. After writing a successful biography her writing career stalled and she turned to literary forgery to make money—until she was arrested by the FBI in the '90s. Israel served six months under house arrest and five years of federal probation.
The film, directed by Marielle Heller and based on Israel's memoir, has just earned McCarthy a Golden Globe nomination, and Oscar buzz is brewing. (Newsweek also featured her in its list of Best Performers of 2018.) The actress saw Israel as "an armadillo. She's cocooning within herself and hoping if she stays still long enough, people will go away." Though the real Israel died of complications of myeloma in 2014, McCarthy hopes to "do right by Lee."
What drew you to Lee Israel?
There was an earlier incarnation of this film that my husband [Ben Falcone] was in. We always read each other things and then talk about them, and I read this one so fast. I was mad at myself for not knowing who Lee Israel was. Her story is heartbreaking and fascinating. She was so unapologetically who she was. Then the movie ended up not going. I was asking about it constantly, to the point where [my husband] was like, 'I don't know what to tell you but you ask about it every week.' Eventually, I said, 'I'm so connected with Lee, I'd love to throw my name into the hat.' Delightfully, that worked out.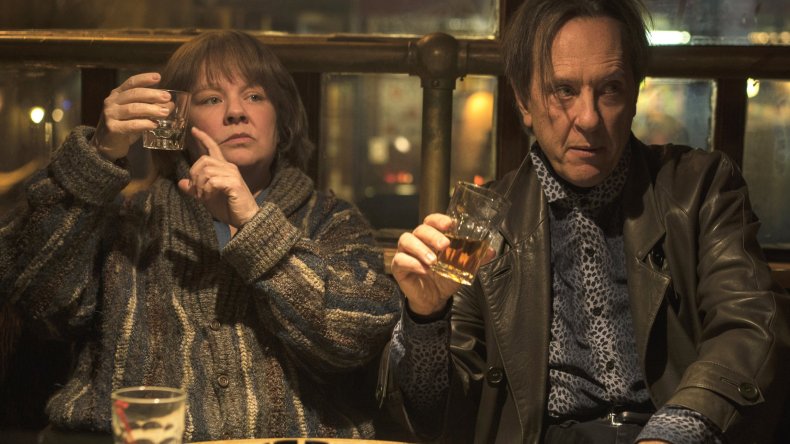 Lee is not easy to sympathize with, but you make us root for her.
Lee was a prickly pear, to say the least. There's very little information on her—not a lot of photos, video or even stories. Luckily, our producer David [Yarnell] knew her for 20 years, and is a big part of the reason she actually wrote her memoir. He says she was a complete pain in the ass about it. [Laughs.] But you can't fake some of the best writers [Dorothy Parker and Noel Coward among them] and not be great at what you do. How many Lees do we pass on the street—women we don't notice who are remarkable?
What do you think she would think of your portrayal?
When we were shooting at Julius' [a New York City gay bar], where she really did hang out, somebody was watching us. I asked him who he was, and he said, "It's hard not to come sit next to you." I wasn't sure what he meant. Then he said, "That was my job. I sat to Lee's left. She was my friend." I was like, "Oh my god, am I doing OK? Would she be happy with what I'm doing?" Without pause, he said, "You know, happy wasn't really Lee's thing." Which totally made me laugh! He said, "But she would love the attention on her work." I think that's probably true.
Was there anything particularly challenging about the role?
I've played a lot of action-forward women, or assertive women, which I love. Lee's the first time I've gotten to play someone—I thought of her as an armadillo. She's cocooning within herself and hoping if she stays still long enough, people will go away. That was a different energy—to keep it in instead of out.
At the same time, there is something comical about her.
Yes, Marielle [Heller] ended up getting even more light moments on screen than I remember doing. I wondered if anyone else would find Lee charming—will they think she's funny, or is she just too prickly? The first time I watched it with an audience and people laughed, first I thought, 'Oh no, they can't be laughing, I did something wrong!' It tickled me that other people found Lee really funny, too.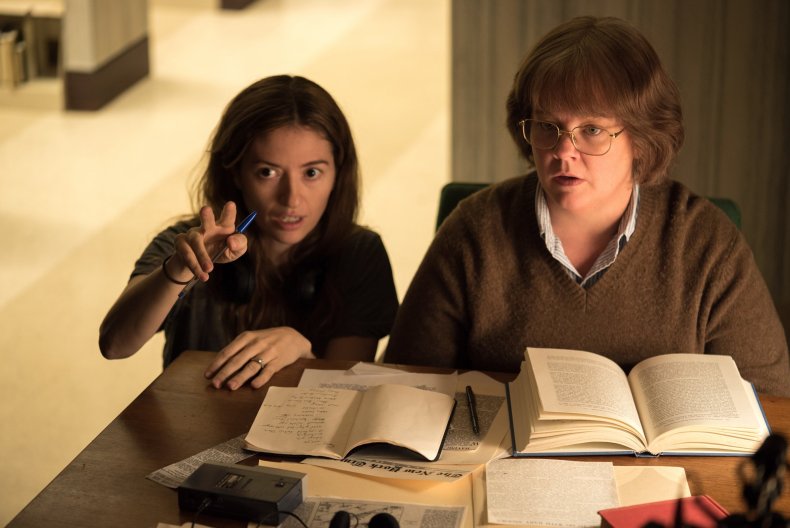 Why do you think the media makes such a big deal about comedy actors moving to drama.
It doesn't make any sense to me. There is something tragic about all the characters I play, even the comedies. There's no difference in how I prepare, how I read a script or how I fall in love with the character.
I feel like this is a recent thing, that you have to pick a side. Look at Planes, Trains and Automobiles. Nobody goes, "Well, what's this about?" Nobody had a problem with that! A great story is like life: You're laughing, crying, angry and happy. As an audience member, I never am thrown off if suddenly there's a more tethered scene in a comedy or a funnier scene in a drama. Just tell the story.
What do you consider to be the defining moments of your career?
Bridesmaids is one of the most fun, fantastic moments of my life. I was amazed we were making a movie that two of our friends wrote [Kristen Wiig and Annie Mumolo]. I didn't know if anyone would go to see it. I mean, I thought it was funny, but you never know going in. And Tammy is very near and dear to me. It's the first movie that I made with my husband, so that was really special. But you know, I've truly fallen in love with the women I get to play.
What do you love about acting?
There's not a lot of professions where the goal is to be able to walk in somebody else's shoes. I get to be braver, or more vulnerable, or smarter, or crazier than I actually am. I hope it makes me a better person. I wish everybody could have that experience. We're all here together to think about how things feel for other people. My point of view changes and morphs because I spend so much time thinking, "How would she perceive this?"
This interview has been edited and condensed.