Watch Melissa McCarthy Threaten the Press as Sean Spicer on 'SNL'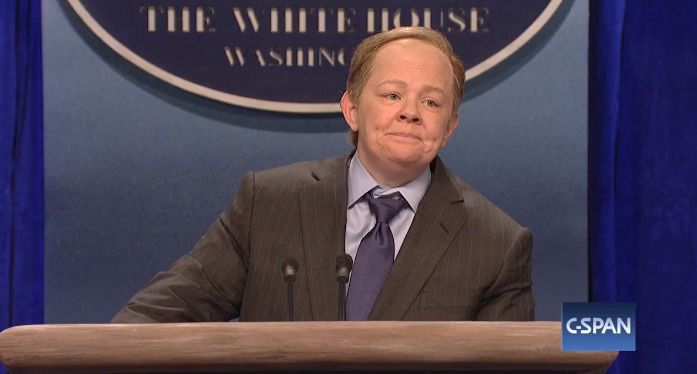 The sharp-tongued, sputtering rage actress Melissa McCarthy deploys to hilarious effect in a slew of Hollywood hits turns out to be perfect to lampoon the already toxic relationship White House Press Secretary Sean Spicer has with the media.
RELATED: Ansari hits 'lower-case KKK' backing Trump on 'SNL'
McCarthy was a surprise performer on this weekend's edition of "Saturday Night Live," which also featured the return of Alec Baldwin as Donald Trump in a sketch satirizing the president's missteps with foreign leaders under the guidance of the Grim Reaper—strategist Steve Bannon.
McCarthy yelled, threatened and physically assaulted reporters in a sketch making light of Spicer's daily briefings, where he has the admittedly unenviable task of explaining Trump's tweets, fabrications and policies that have sparked protests in cities around the globe. Although the daily briefings have settled down a bit from a disastrous opening two weeks ago where Spicer berated the press over inauguration coverage, McCarthy still "came out here to punch you in the face.
"I'd like to begin today by apologizing on behalf of you to me for how you have treated me the last two weeks. And that apology is not accepted," she said as Spicer.
Her Spicer was embattled, defensive and aggressive in his defense of the president's policies. When asked about Trump's temporary immigration and refugee ban (on hold after the Department of Justice lost a request for a stay of a judicial order suspending the directive) she said, "The travel ban is not a ban which makes it not a ban." Asked for clarification, McCarthy's Spicer asked the reporter if he wants "me to get my nuts out so you can get a better kick in."
The sketch touched on several controversies of the past week or so, including the criticism the White House received on Holocaust Remembrance Day for issuing a statement that inexplicably failed to acknowledge Jewish suffering. The reporter got doused with a water gun filled with "soapy water" to wash "that filthy, lying mouth" for having the audacity to question the sentiment.
"How would the statement be anti-Semitic?," McCarthy's Spicer asked. "The guy who wrote it was super Jewy."
Utility standout Kate McKinnon was a highlight in a brief appearance as education secretary nominee Betsy DeVos, who is in danger of being rejected by the Senate for a perceived lack of knowledge and hostility to public education. Asked about growth versus efficiency in assessing education, McKinnon's DeVos replied: "I don't know anything about schools but I do know that there should be a school. Probably Jesus school. And I do think it should have walls. And roof. And guns for potential grizzly."
'Prepare to Go to War'
Baldwin's Trump took advantage of son-in-law Jared Kushner and daughter Ivanka Trump's absence as they observed Shabbat—"when the Jews are away the goys will play"—to make calls to world leaders as Bannon, reported to be the architect of Trump's "America First" policies, encouraged him.
The news of Trump's adversarial phone call with Australian Prime Minister Malcolm Turnbull, in which the president reportedly was angered by a pre-existing refugee swap deal, was dealt with quickly. "No refugees. America First. Australia sucks. Your reef is failing. Prepare to go to war," Baldwin's Trump said.
Mexico's Enrique Pena Nieto got the same treatment. "You're paying, loser. You're a bad hombre. Here come our tanks. Prepare to go to war," Baldwin said, over Trump's insistence that Mexico pay for a border wall.
McKinnon was a visibly uncomfortable German Chancellor Angela Merkel, desperately trying to hang up on Trump. But Baldwin's Trump, usually portrayed as a jabbering dupe, unwittingly invoked a far different leader from history in their brief chat.
"One day I'm going to write a memoir about this struggle and call it...My Struggle," Trump says. "What would that be in German, Angela?"