Who is Melvin Williams? Dallas Cop Filmed Punching Man in the Face
A Dallas police officer has been placed on administrative leave after video showed him seemingly punching a man in the face during a brawl in the city.
The Dallas Police Department is said to be conducting a criminal review of the incident after officers responded to a fight involving around 20 people in the Deep Ellum neighborhood.
In the video, a disturbance is underway while several officers attempt to separate the crowd.
A man then speaks to the officer, who begins to restrain him before repeatedly punching him.
The officer is seen straddling the man and punching him half a dozen times, with several punches making contact with the man's face.
Two police officers quickly attempt to pull the officer away from the man.
The city's police department has not yet officially identified the officers involved in the incident, which is said to have taken place on July 21.
The officer in question has been named in multiple reports as Melvin Williams, a member of the SWAT team.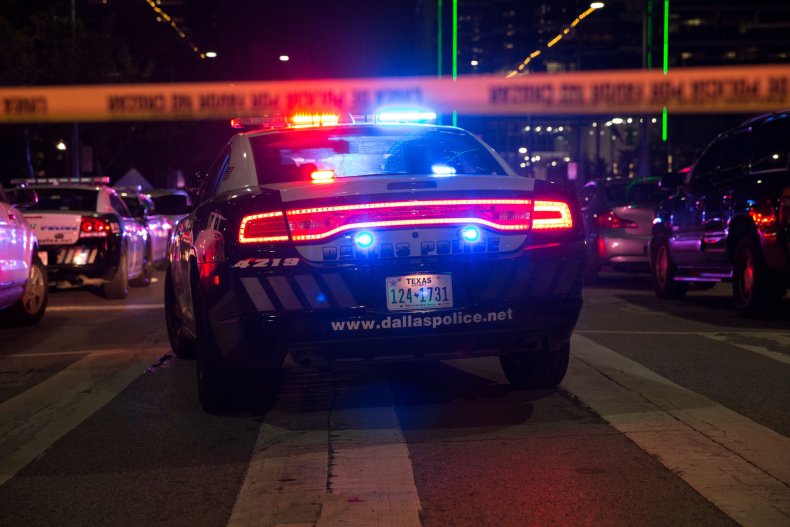 Mike Mata, president of the Dallas Police Association, said the officer had "some explaining to do." He added: "I think the citizens deserve an investigation, and the department is investigating."
But Gil Cerda, a former Dallas Police spokesman, told NBC DFW said it was too early to jump to conclusions about the incident.
"Striking him in the face was a little bit rough, but only the officer knows how much this guy, I'm talking about the suspect, was resistant," he said.
Dallas news station WFAA reported that the officer has been investigated over his use of force previously.
In one case, 21-year-old Vincent Doyle was allegedly left with limited vision after being shot in the eye with a sponge round. That incident has been referred to a grand jury by the Dallas District Attorney.
He is under separate investigation over a similar incident said to have involved Brandon Saenz. Doctors had to remove his left eye after he was shot with a sponge round.
Daryl Washington, who is representing both men, told WFAA: "He's not someone who should be wearing a badge and have a gun in his possession.
"If they have that much anger and they can't de-escalate situations then they should not be a police officer."
A spokesman for the Dallas Police Department said chief Eddie García "would like to commend those officers [who pulled the offending officer off of the man] who recognize their duty to intervene in this incident and deescalated the situation."
Newsweek contacted the Dallas Police Department for comment.