Citing Costs, Memphis Officials Hesitant to Provide Escort for Donald Trump
Two Memphis, Tennessee City Council members are urging the city's police to decline to provide security for Donald Trump's campaign rally in Southaven, Mississippi, raising concerns about spending money to escort the former president to an event in another state.
Trump is scheduled to be in Memphis on June 18 as part of his "American Freedom Tour," which will be hosted at the Landers Center in Southaven, less than 20 miles from Memphis. "It's time for conservatives to get motivated and defend freedom," reads a description of the event on its website.
Memphis Councilman JB Smiley Jr, a Democrat who is running for governor of Tennessee, and Councilman Martavius Jones are set to present a resolution to the City Council at the next council's meeting on June 7 requesting that the Memphis Police Department (MPD) decline escorting Trump from Memphis International Airport to the event just over the state line in Mississippi.
"I'm sure many Memphians have seen the billboards advertising former president Donald Trump's visit on June 18th," Smiley said in a statement. "The fact of the matter is that he will not be coming to Memphis, but to Southaven, Mississippi, and he will most likely be flying into Memphis International Airport.
"As we know, the Memphis Police Department is already experiencing a shortage of officers to patrol our communities," Smiley said. "I do not believe that it is a prudent use of police manpower and Memphians' taxpayer dollars to escort the former president to an event in Mississippi."
The former president has reportedly had previous issues with high security bills that he has reportedly failed to pay.
In 2020, Newsweek reported Trump's re-election campaign had then hit nearly $2 million in unpaid police and public safety bills in 14 cities across the country, from Pennsylvania to New Mexico.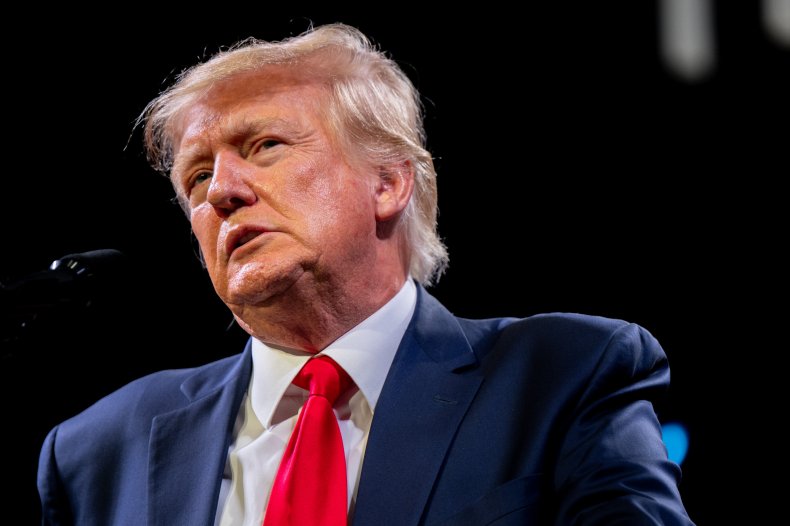 The city with the highest unpaid bill was El Paso, Texas which has yet to receive the $569,204 that the former president reportedly owes the city for a rally at El Paso County Coliseum in 2019. According to a report from Austin, Texas news station KXAN last month, the city has still not been reimbursed by Trump's campaign, and the city has hired lawyers to collect the debt after "multiple invoices sent to the Trump campaign went unanswered," the report said.
In the same year, the Albuquerque Journal reported that in October the city sent Trump an invoice for over $211,000 to cover security costs for a Rio Rancho rally in 2019. In April 2021, the newspaper wrote that the city was still chasing repayment.
But an event of the American Freedom Tour in May this year in Austin, Texas, was apparently paid in full, according to what the Austin Convention Center Department told KXAN.
It's unclear whether Trump will require the support of the MPD, as the former president is expected to be already accompanied by Secret Service officers, as is customary for all former presidents.
Todd Mastry, executive director of the Landers Center, confirmed with Memphis' Action News 5 that the Secret Service will be in charge of the security operations on June 18, as it was in 2018 - although there's the difference of Trump now being a former president.
Ticket prices for the event go from $9 to $3,995. The "patriot" ticket option offering a photo op with Trump and a seat at a roundtable with Mike Pompeo, among other such perks, does not have pricing but invites interested buyers to contact the organization for further information.
The Memphis City Council will vote on the resolution on Tuesday, but their decision will not be binding for the Memphis Police Department. Newsweek reached out to the MPD for comment.
American Freedom Tour's spokesperson Larry Ward said trying to deny Trump's security during the Southaven's event was a "mean-spirited, partisan, preposterous and penurious," The Post Millenial writes.
Newsweek has reached out to the American Freedom Tour and Trump's office for comment.