Men Twice As Likely to Die From COVID-19 Than Women, Study on Chinese Coronavirus Patients Suggests
The risk of men dying of COVID-19 is double that of women, according to a study on patients in China.
The authors of the paper published in the journal Frontiers in Public Health looked at three sets of data for their study. The first was on 43 patients with COVID-19 whom they treated at Wuhan Union Hospital between January 29 and February 15. The second included figures on the first 37 people to die of the disease in China and 1,019 who survived, released by the Chinese Public Health Science Data Center.
Finally, they examined information on 524 patients who had severe acute respiratory syndrome (SARS) in Beijing in early 2003, including 139 who died.
SARS is one of the diseases caused by the large coronavirus family of pathogens that are also known to cause COVID-19, Middle East Respiratory Syndrome (MERS), and some common colds. The virus that causes SARS enters the body using the same receptor, known as ACE2, as the bug that causes covid-19.
In the study, a "mild" COVID-19 case was defined as a person having mild symptoms and no sign of pneumonia; moderate patients had a fever, symptoms affecting their respiratory tracts, and signs of pneumonia. Severe cases met at least one of a number of criteria, such as having respiratory distress, respiratory failure that needed mechanical ventilation, and or being admitted to an ICU.
Mirroring previous studies, the team found older people, men, and those with underlying conditions were found to be vulnerable to serious COVID-19.
On average, the participants treated had an average age of 62, with most being between 51 and 70. Fever and cough were the most common symptoms, at 95 and 65 percent, respectively, while 16 percent had diarrhea. Of the total, 37 percent had at least one underlying condition, such as hypertension, diabetes, cardiovascular diseases, and or chronic lung disease. There was no significant difference in the average age of the men and women, and their symptoms and underlying conditions were comparable, the team said.
Of those in this group, 13 (30 percent) had mild or moderate pneumonia, 14 (32 percent) and 16 (37.2 percent) had severe or critical pneumonia. Men's cases were more severe than women's, on average.
In patients from the public data set who died, fever and cough were the most common symptoms, at 86 percent and 67 percent of cases, respectively. Again, diarrhea was less common, at 18 percent. Most patients died 13 days after their symptoms first developed. 64 percent had at least one other condition.
Compared with patients who survived, those who died where "significantly older" with an average age of 70 versus 47.
Similarly to the patients who the team treated, the ages of men and women in the public dataset were comparable.
A total of 70 percent of the 37 patients who died were men, and 29 percent were women.
Both men and women both had an equal chance of catching COVID-19, the team found, but "the number of men was 2.4 times that of women in the deceased patients."
Similarly, a higher proportion of the men in the SARS group died, making up 53 percent of the deceased versus 42 percent of those who survived. "Survival analysis showed that men had a significantly higher mortality rate than women in this hospital-based cohort," the scientists wrote.
The authors concluded: "While men and women have the same prevalence, men with COVID-19 are more at risk for worse outcomes and death, independent of age."
They continued: "Although the deceased patients were significantly older than the patients who survived COVID-19, ages were comparable between males and females in both the deceased and the patients who survived. Therefore, gender is a risk factor for higher severity and mortality in patients with COVID-19, independent of age and susceptibility."
The "gender factor" could be explained by the lower life expectancy of men compared with women in China and the world, the team surmised.
The ACE2 receptor might also play a part, they argued, as it circulates at higher levels in men than women, and patients with diabetes or cardiovascular disease. In addition, the team has "previously reported that high protein expression of ACE2 receptor in specific organs correlated with specific organ failures."
The team acknowledged their study was limited for a number of reasons, including the relatively small data sets. In addition, they had to take data from two places "due to the urgent circumstances we are living in." More research is needed to understand why certain people, like men, appear more vulnerable to COVID-19.
In light of the findings, co-author Jin-Kui Yang, of the Beijing Tongren Hospital in China, said: "We recommend that additional supportive care and prompt access to the intensive care unit may be necessary for older male patients.
"Early in January we noticed that the number of men dying from COVID-19 appeared to be higher than the number of women.
"This raised a question: are men more susceptible to getting or dying from COVID-19? We found that no-one had measured gender differences in COVID-19 patients, and so began investigating."
Jeremy Rossman, honorary senior lecturer in virology at the University of Kent who did not work on the paper, told Newsweek, "This is the first published report specifically investigating gender differences. The report provides good additional confirmation that men are in fact at a greater risk of severe disease or death from COVID-19."
Rossman said the risk of men dying shown in the study is higher than that found in other reports, "For example, there appears to be a 1.7x risk in New York City. This could be a consequence of looking for gender differences in different countries."
He said: "It has been suggested that men are at a greater risk because they tend to have higher rates of co-morbidity conditions that increase the risk of severe COVID-19 disease. The rates of these high-risk conditions differ between countries and so could affect the risks of severe disease for men."
Rossman continued: "The study also shows no significant difference in the number of COVID-19 cases in men and women. This is different from what we've seen in other areas where there is a small but consistent increase in the number of cases in men (1.2x the rate in men in New York City).
"Additionally, other reports from China have shown a small increase in the number of cases in men compared to women. It is possible that the gender balance in COVID-19 cases varies even within China or within different datasets. One important aspect that this study includes only a small number of deceased (37) and severe cases (43). This limited the power of their analysis and may explain some of the variation from other studies."
In light of the findings, Rossman said: "Being male does not count as a high risk condition and no different precautions are needed for men. However, for men in high-risk groups (e.g. those over 80 or with other diseases such as high blood pressure) it is especially important to exercise good precautions (hand washing, physical distancing, staying at home) to prevent being infected with the virus."
Past studies have also found a link between being a man and dying of COVID-19, the team noted. This is echoed in data collected by The Global Health 5050 initiative based at The UCL Centre for Gender and Global Health, U.K., which shows more men are dying from COVID-19 than women in many parts of the world.
Writing about this trend for The Conversation, Jenny Graves, distinguished professor of genetics at Australia's La Trobe University, asked: "Is it genes, hormones, the immune system—or behavior—that makes men more susceptible to the disease? I see it as an interaction of all of these factors and it isn't unique to the SARS-Cov-2 virus—the different response of men and women is typical of many diseases in many mammals."
Graves explained that the male Y chromosome may speed up aging, and men may also be disadvantaged by higher testosterone and lower estrogen levels. Meanwhile, the X chromosome holds over 1,000 genes associated with functions including the metabolism, blood clotting and brain development. Having two may benefit women, she said. Differing lifestyles between men and women, such as lower smoking rates in the latter, man also contribute, according to Graves.
Rossman said: "We do not yet understand why the virus is more deadly to men. This could be a consequence of increased rates of high-risk conditions (e.g. high blood pressure) or could be because men have higher levels of the ACE2 protein that the viruses uses to infect cells. Many studies are now looking at the relationship between ACE2 levels and COVID-19 but this is a relationship that we are just beginning to understand."
More than three million cases of COVID-19 have been diagnosed worldwide, according to Johns Hopkins University. The death toll stands at 217,193, and almost 929,000 have recovered. The U.S. is the country with the most confirmed cases, as the Statista graph below shows.
This article has been updated with comment from Jeremy Rossman.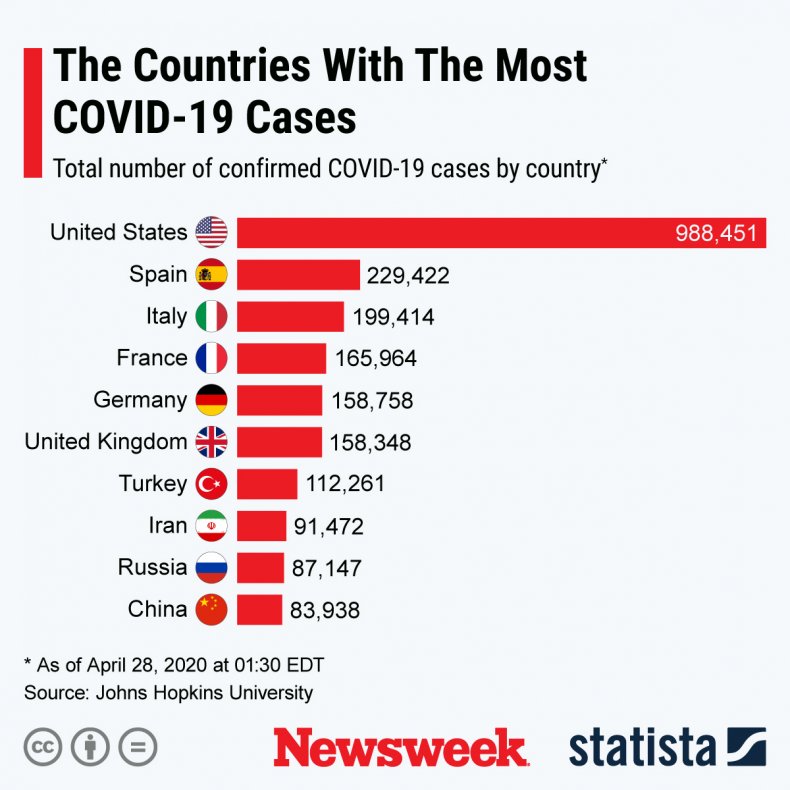 Centers for Disease Control and Prevention Advice on Using Face Coverings to Slow Spread of COVID-19
CDC recommends wearing a cloth face covering in public where social distancing measures are difficult to maintain.
A simple cloth face covering can help slow the spread of the virus by those infected and by those who do not exhibit symptoms.
Cloth face coverings can be fashioned from household items. Guides are offered by the CDC. (https://www.cdc.gov/coronavirus/2019-ncov/prevent-getting-sick/diy-cloth-face-coverings.html)
Cloth face coverings should be washed regularly. A washing machine will suffice.
Practice safe removal of face coverings by not touching eyes, nose, and mouth, and wash hands immediately after removing the covering.
World Health Organization advice for avoiding spread of coronavirus disease (COVID-19)
Hygiene advice
Clean hands frequently with soap and water, or alcohol-based hand rub.
Wash hands after coughing or sneezing; when caring for the sick; before, during and after food preparation; before eating; after using the toilet; when hands are visibly dirty; and after handling animals or waste.
Maintain at least 1 meter (3 feet) distance from anyone who is coughing or sneezing.
Avoid touching your hands, nose and mouth. Do not spit in public.
Cover your mouth and nose with a tissue or bent elbow when coughing or sneezing. Discard the tissue immediately and clean your hands.
Medical advice
Avoid close contact with others if you have any symptoms.
Stay at home if you feel unwell, even with mild symptoms such as headache and runny nose, to avoid potential spread of the disease to medical facilities and other people.
If you develop serious symptoms (fever, cough, difficulty breathing) seek medical care early and contact local health authorities in advance.
Note any recent contact with others and travel details to provide to authorities who can trace and prevent spread of the disease.
Stay up to date on COVID-19 developments issued by health authorities and follow their guidance.
Mask and glove usage
Healthy individuals only need to wear a mask if taking care of a sick person.
Wear a mask if you are coughing or sneezing.
Masks are effective when used in combination with frequent hand cleaning.
Do not touch the mask while wearing it. Clean hands if you touch the mask.
Learn how to properly put on, remove and dispose of masks. Clean hands after disposing of the mask.
Do not reuse single-use masks.
Regularly washing bare hands is more effective against catching COVID-19 than wearing rubber gloves.
The COVID-19 virus can still be picked up on rubber gloves and transmitted by touching your face.