Merrick Garland Adds GOP Senator Thom Tillis' Support for AG, Likely Assuring Confirmation
North Carolina Senator Thom Tillis said on Tuesday he will support Merrick Garland's confirmation as the new head of the U.S. Department of Justice.
Tillis' support for Garland's confirmation joins that of fellow Republican Senator John Cornyn of Texas. Cornyn first indicated his support for President Joe Biden's decision to nominate Garland as the new U.S. attorney general in late January, at which time Cornyn commended Garland's "extensive legal experience" and "commitment to keep politics out of the Justice Department."
With Tillis also supporting Biden's attorney general nominee, the chances that Garland will be confirmed are only increasing. Tillis praised Garland's record and history of working across the aisle in a statement his office released Tuesday about his decision to support Garland's confirmation.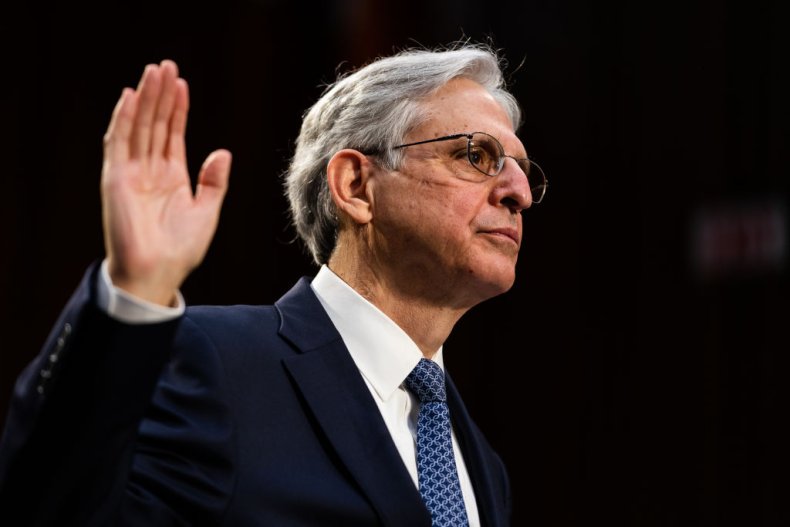 "Merrick Garland has an outstanding record serving our country and has a deep understanding of the law," Tillis' statement said. "He served as Deputy Assistant Attorney General for the Criminal Division at the Department of Justice as well as 19 years on the U.S. Court of Appeals for the D.C. Circuit where he eventually served as Chief Justice. His experience reflects his wide-based legal knowledge and his unbiased application of the law, with a longstanding reputation of bipartisanship, which is why he has earned the respect from both Democrats and Republicans.
"After talking to him and participating in his confirmation hearing, I have no doubt he will serve with integrity, keeping the best interest of our great country in mind with every decision he makes, and will respect the constitutional rights and liberties of all Americans. Given his outstanding record and commitment to the rule of law, I look forward to supporting his confirmation."
Tillis is one of many Republicans who opposed Garland's nomination to the U.S. Supreme Court five years ago. Following the death of Associate Justice Antonin Scalia in February of 2016, former President Barack Obama nominated Garland to fill his seat. Kentucky's Mitch McConnell, then serving as the Republican majority leader in the Senate, blocked Garland's nomination from moving forward, keeping Scalia's seat vacant until former President Donald Trump stepped into office to nominate a successor.
Like his Republican colleagues who objected to Garland's Supreme Court nomination, Tillis cited the impending 2016 election as the main reason for the decision, which he said at the time was "about the principle, not the person."
This time around, Garland seems likely to be confirmed as a new member of Biden's Cabinet. In testimony Garland presented on Monday as his confirmation hearing began, he said the U.S. attorney general was to be an attorney "not for any individual, but for the people of the United States." He emphasized that point when Cornyn said during the hearing that his "sole criterion" for voting to confirm Garland was making sure the politics of the moment would not impact his performance in the role.
"I would not have taken this job if I thought that politics would have any influence over prosecutions and investigations," Garland said. He added that he would resign his post if he were asked to do something illegal or unethical but said he did not expect to run into that problem with Biden's administration.
The Senate Judiciary Committee is expected to hold a vote on March 1 to move Garland's nomination out of committee and send it to a full vote, according to Senate Judiciary Chair Dick Durbin of Illinois.
Newsweek reached out to the White House for comment but did not receive a response in time for publication.
This story has been updated with additional information and background.