Using his likely, soon-to-be powers as the nation's top law enforcement official, will Merrick Garland investigate whether President Donald Trump and Senator Lindsey Graham (R-S.C.) violated laws when they pressured Georgia officials to overturn the state's election result?
That is what the non-partisan watchdog group Checks and Balances Project wants lawmakers to ask President-elect Joe Biden's nominee for attorney general when he goes before the Senate Judiciary Committee for a confirmation hearing.
Trump pressed the Peach State's top election official to "find" enough votes to overcome his 11,779-ballot deficit to Biden. Graham allegedly mounted a similar pressure campaign against the same official, Republican Georgia Secretary of State Brad Raffensperger, to throw out legal absentee ballots.
Graham has been the chairman of the Senate Judiciary Committee since 2019, but will relinquish the top Republican spot back to Senator Chuck Grassley (R-Iowa) once Democrats take control. Graham's membership on the very committee where Democrats may question Garland about his actions would undoubtedly produce an "awkward" but necessary scenario, the head of Checks and Balances told Newsweek.
"If the next administration doesn't hold them accountable, who will?" said Scott Peterson, the watchdog group's executive director. "It might seem extraordinary for senators to ask the attorney general nominee if a president and a colleague senator should be investigated and held accountable, but we live in extraordinary times and the Senate Judiciary Committee has the ability to put justice and democracy back on the right path."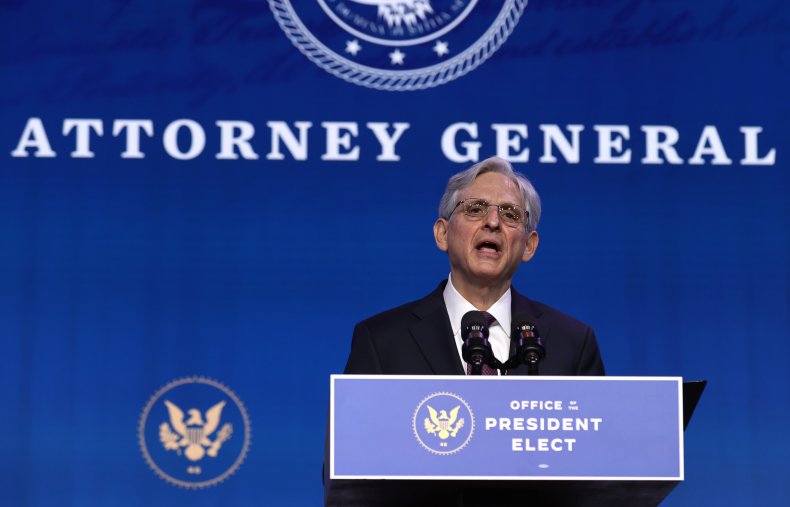 In a letter he sent on Thursday to members of the judiciary panel, Peterson cited federal statute 52 U.S. Code § 20511 that Trump and Graham may have violated. The law makes it a felony for anyone who "knowingly and willfully deprives, defrauds or attempts to deprive or defraud the residents of a State of a fair and impartially conducted election process" by "the procurement, casting, or tabulation of ballots that are known by the person to be materially false, fictitious, or fraudulent."
Trump and Graham, one of the outgoing president's most loyal allies in Congress, have denied any wrongdoing. But legal experts have suggested they have exposed themselves to potential legal liability. Had Raffensperger or others taken such actions that Trump and Graham advocated, they would have amounted to criminal election fraud.
In a recorded phone call between the two earlier this month, Trump told Raffensperger to "find 11,780 votes." The Georgia secretary of state rebuffed the president's pressure.
"So, what are we going to do here, folks?" Trump said. "I only need 11,000 votes. Fellas, I need 11,000 votes. Give me a break."
Graham urged Raffensperger to toss out legal absentee ballots, according to Raffensperger, an allegation that Graham has denied and labeled "ridiculous."
Many aspects of Garland's nomination remain uncertain, not the least being what questions may be thrown at him.
A date has yet to be set for a hearing, which could be impacted by the Senate's schedule for Trump's second impeachment trial.
And it's unclear whether Democrats will want to push for new probes into Trump-era moves as the Biden administration tries to turn over a new leaf with a newfound Senate majority. Asking Garland to investigate one of their own fellow committee members and the former president could open the door for fresh accusations of being driven by political retribution.
Peterson sent the letter to each Judiciary Committee member minus Senators Josh Hawley (R-Mo.), Ted Cruz (R-Texas) and Graham. The endeavor by Hawley and Cruz for Congress to overturn the election last week, along with rhetoric from Trump and his allies, has been blamed for the violent Trump mob that stormed the Capitol building that same day.
The duo's fate on the esteemed panel could also be in jeopardy.
"The fact that both of them wanted to subvert the will of the people, wanted to tell the whole world and the United States that we did not have an honest election—I can't imagine any senator doing that, and then serving on Judiciary," Senator Patrick Leahy (D-Vt.), a longtime member of the Senate, said earlier this week.