Mesmerizing Video of Cats Mirroring One Another Goes Viral: 'Cutely Weird'
A video showing two cats mirroring one another's movements went viral on the popular Reddit forum "Aww," where it amassed more than 38,000 votes.
"When you realize it's not a mirror," read the title of u/oniree's post.
The clip shows two cats pawing at one another, though it looked as if one cat stroked a mirror, that is, until the brief moment that their movements didn't quite align.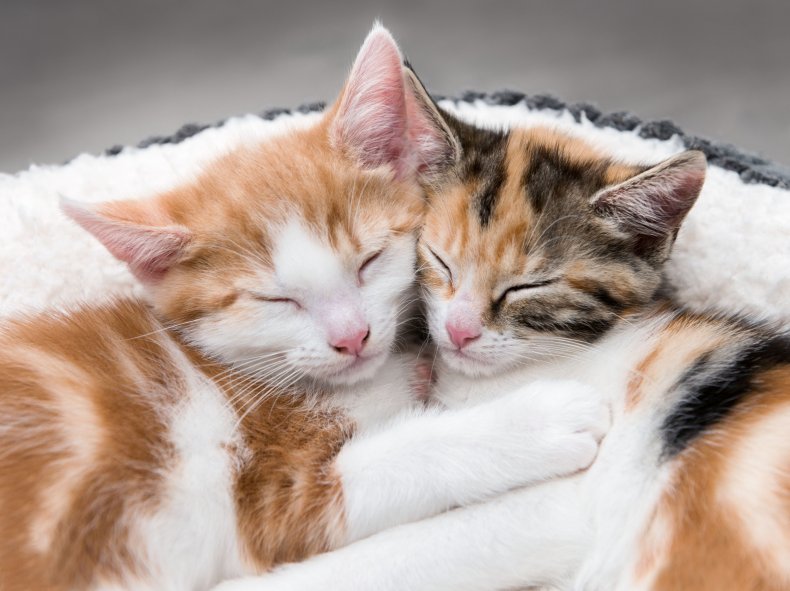 Cats may display behavior that owners don't completely understand, but many of these habits can be completely normal, according to The Spruce Pets.
Some common behaviors include rolling over, kneading and licking its owner's face.
"Any time a cat licks you, it's a gesture of affection," the piece stated. "Your cat is also letting you know it owns you."
In the video, the cats are facing one another—one standing in a cabinet while the other stands outside of it—and they bring their paws to each other.
One cat then leapt toward the storage space and the two cats raised both of their paws up and down in a climbing motion.
This continued until the video ended.
Viewers took to the comments section to share their delight over the clip.
"I took a theater improv class and they made us do [this] exercise," a Redditor wrote. "We couldn't go as fast as these cats though."
Another shared their surprise when they realized they were watching two cats and not just one.
"At the beginning of the video I was like, but it is indeed a mirror, wait it's not...or is it?" they wrote.
That commenter was not the only one who was surprised to learn there wasn't a mirror.
"I didn't read the title, just watched the video till I was like what, wait a min that's not a reflection?" another wrote.
One complimented the cats and said they "sync" pretty well.
"They share a brain cell," a Reddit user joked.
Quipped another, "He went through the mirror dimension to fight his lost soul."
"Lmao that's cutely weird," a viewer commented.
Newsweek reached out to u/oniree for further comment.
Cats have long been popular subjects for viral content.
An 8-week-old kitten name Sméagol went viral on Reddit after a photo of him following a bath was posted. Many suggested the kitten looked eerily similar to a gremlin.
Another photo, this time shared on Twitter, left people searching for a cat hidden among chainsaws.
One sweet video that was shared on TikTok showed a cat mom running home when she heard her kitting crying.