Met Gala 2022: 11 Memes and Reactions to Kylie Jenner, SZA, and More
Met Gala 2022, the hottest party on the fashion (and celebrity) calendar has taken place at the iconic Metropolitan Museum of Modern Art. This year's theme was "In America: An Anthology of Fashion" and the dress code was Gilded Glamour, coinciding with the museum's current exhibition showcasing American fashion through the ages.
As per usual, the stars did not disappoint, even if they did not follow the dress code.
From Kim Kardashian wearing Marilyn Monroe's famous 1962 dress that she wore to sing "Happy Birthday" for then-President John F. Kennedy, to Blake Lively's double dress reveal fit for a princess, there is a lot to unpack from last night's (Monday, May 2) extravaganza.
But of course, for everybody watching at home, there were plenty of moments that have been turned into some hilarious and heartwarming memes and reactions. Newsweek has the top 11 below.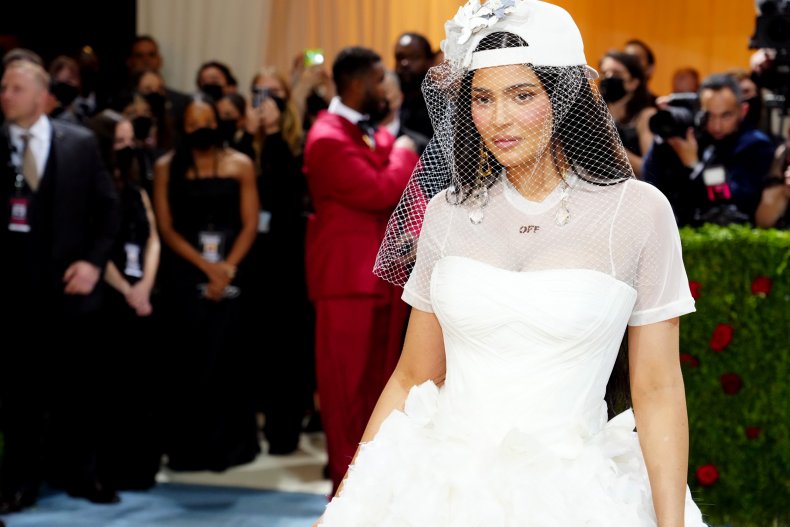 Met Gala 2022: 11 Memes and Reactions to Kylie Jenner, SZA, and More
Kylie Jenner
Kylie Jenner honored the late Virgil Abloh by wearing a custom bridal ensemble complete with a T-shirt with the Off-White logo and a backward baseball cap with a veil.
The look was similar to the iconic wedding dress that closed out his fall 2022 show but some thought her look was a little... interesting.
SZA
Dressed head to toe in bright purple Vivienne Westwood, singer and songwriter SZA stood out from the crowd and Twitter users loved it. She understood the assignment.
Blake Lively
The Queen of the Met Gala, Blake Lively did not disappoint this year. Not only was she wearing one dress, but two and there was a dramatic reveal alongside it.
Lively's flowing Versace gown changed from copper to green, representing the Statue of Liberty, the Empire State Building, and the constellations painted on the Grand Central Terminal. She completed her outfit with a Lorraine Schwartz tiara and matching earrings.
Her husband Ryan Reynolds looked on in shock, which was delightfully caught on camera.
Kim Kardashian
Kim Kardashian looked elegant in the iconic dress Marilyn Monroe wore in 1962 to sing "Happy Birthday" to President John F. Kennedy. Complete with more than 6,000 hand-sewn crystals by Jean Louis, Kardashian walked hand-in-hand with boyfriend Pete Davidson.
Fans of the Met Gala took to Twitter to poke fun at Kim's look compared to her four sisters who were also in attendance and for some, there was one perfect Kim Kardashian word to sum it up: "tragic."
Wait, What Theme?
The general consensus among spectators so far is that a lot of famous faces did not follow the event's dress code of Gilded Glamour, a nod to the Gilded Age which was a time of rapid economic growth and industrialization in the U.S. from 1870 to 1890.
The term "Gilded Age" was coined by authors Mark Twain and Dudley Warner in the 1873 book, The Gilded Age: A Take of Today, referencing a time when the upper classes covered their flaws and societal issues with the appearance of fortune.
Ahead of the event, spectators could expect famous faces' over-the-top outfits to feature a lot of corsets, structured dresses, white ties and plenty of jewels.
One fan tweeted: "I just think that there should be SOME kind of penalty instituted for being invited to the met gala yet completely missing the theme."
A second viewer added: "I just feel like the met gala should be conditional upon arrival like an outfit check at the door and if ur not on theme ur getting sent home! sorry the local mall is down the street let's try again."
The Viral Reporter
Met Gala fans have agreed on one thing so far, a Met Gala reporter stole the show with her look.
Photos of the reporter in question, dressed in a stunning golden Lucia Rodriguez gown, went viral as the event unfolded. The reporter in question was revealed to be Genesis Suero, a news anchor for the Spanish-language broadcaster Telemundo and former Miss New York USA winner.
Viewers who spotted Suero took to Twitter demanding to know who she was, all agreeing she was one of the best-dressed of the night.
Suero took to Instagram to share some photos of her working the red carpet, writing: "I am beyond blessed with all those who've made this magical moment a full reality."