Met Gala Clip of Ryan Reynolds Staring Adoringly at Blake Lively Goes Viral
One of the internet's favorite celebrity couples, Ryan Reynolds and Blake Lively, shared another viral moment at the 2022 Met Gala.
Both actors attended the star-studded event together which saw celebrities go all out for this year's theme — gilded glamour. While they walked the red carpet, Reynolds watched on as the crowds and photographers took note of Lively's viral moment where her dress changed color. His reaction in this moment has gone viral with millions of people viewing the video and thousands of people liking and commenting on it too.
Reynolds, 45, and Lively, 34, have three children together and will be celebrating their tenth wedding anniversary in September this year.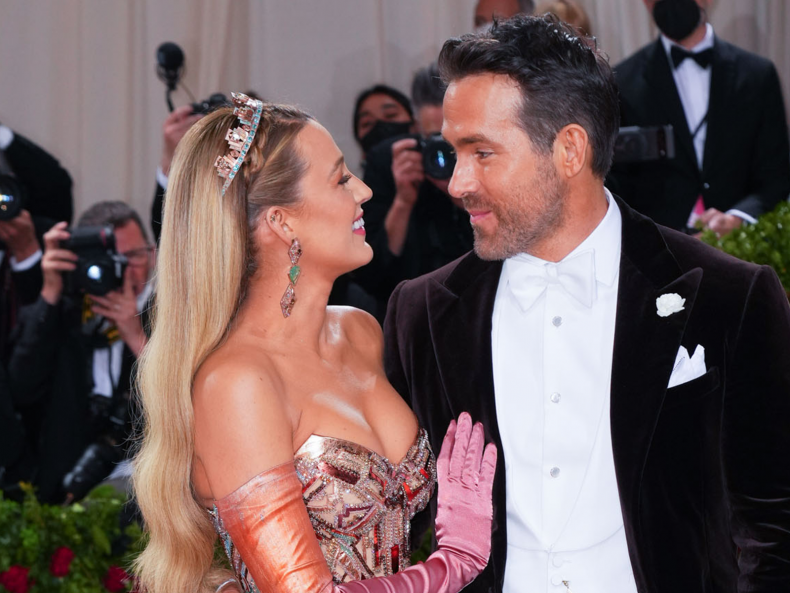 The married couple arrived at the event together with Reynolds wearing a black suit while Lively turned up in a Atelier Versace pink, rose-gold-hued dress. Reynolds walked up the steps while Lively continued to pose on her own on the carpet.
While all eyes were on her, she had help changing the color of the dress from pink to an icy blue which drew comparisons to Elsa from Frozen.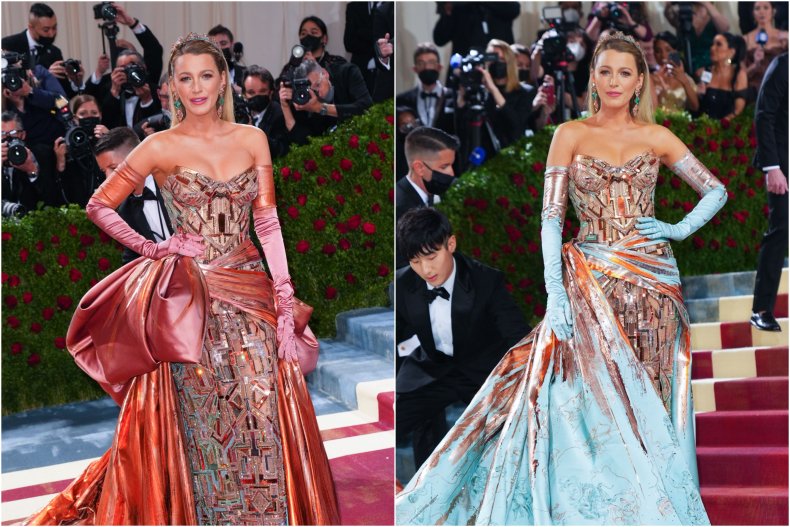 The cameras watched the transformation and continued to capture the moment, but some videos have emerged of Reynolds who stood and watched his wife from the other side of the carpet. The iHeartRadio TikTok account got over four million views for their coverage.
He was visibly beaming and started applauding as he proudly watched on as his wife took all the attention. Over six hundred thousand people have liked the video with thousands more leaving comments about the "look" that he's giving Lively.
Variety also captured Reynolds' reaction on the red carpet and shared a short clip on Twitter. Their 20-second clip also sees Reynolds stare and applaud at his wife as she unveiled her "second outfit at the Met Gala." Over 1.5 million people viewed that one on Twitter with over six thousand retweets of the moment.
Lively and Reynolds are often discussed on the internet for their funny pictures and comments they make about each other. For years Reynolds would often share pictures of himself and purposefully cut his wife out of the pictures. He'd also often purposefully post pictures where he looks great, and she has her eyes closed or isn't ready for a picture. He used this technique with a collage of photos of Lively on her birthday in August 2019.
Reynolds has eased up on the joke in recent years and appears to feature more heartfelt posts relating to his wife. At the Free Guy premiere in 2021, he included a clear picture of the two of them on the red carpet and commented how they are surely now "Instagram official."
Lively and Reynolds made headlines earlier in 2022 when they pledged to donate up to $1 million to a Ukrainian refugee fund. Other celebrities like Mila Kunis, J.K. Rowling and Gigi Hadid made similar promises.