Video Showing Moment of Ohio Metal Factory Explosion Viewed 200K Times
An industrial plant in Ohio was ripped apart by a deadly explosion that spewed molten metal and debris so far that it rained down on to neighboring buildings.
A 46-year-old man was killed and more than a dozen workers were taken to hospital, mostly suffering from burns, after the blast at the I. Schumann & Co. metals plant in Bedford.
The explosion, which happened at around 2:00 p.m. on Monday, was captured from a traffic camera a significant distance away. The footage, which showed the full force of the explosion, has already been viewed more than 200,000 times after it was shared on Twitter by the RawsAlerts account.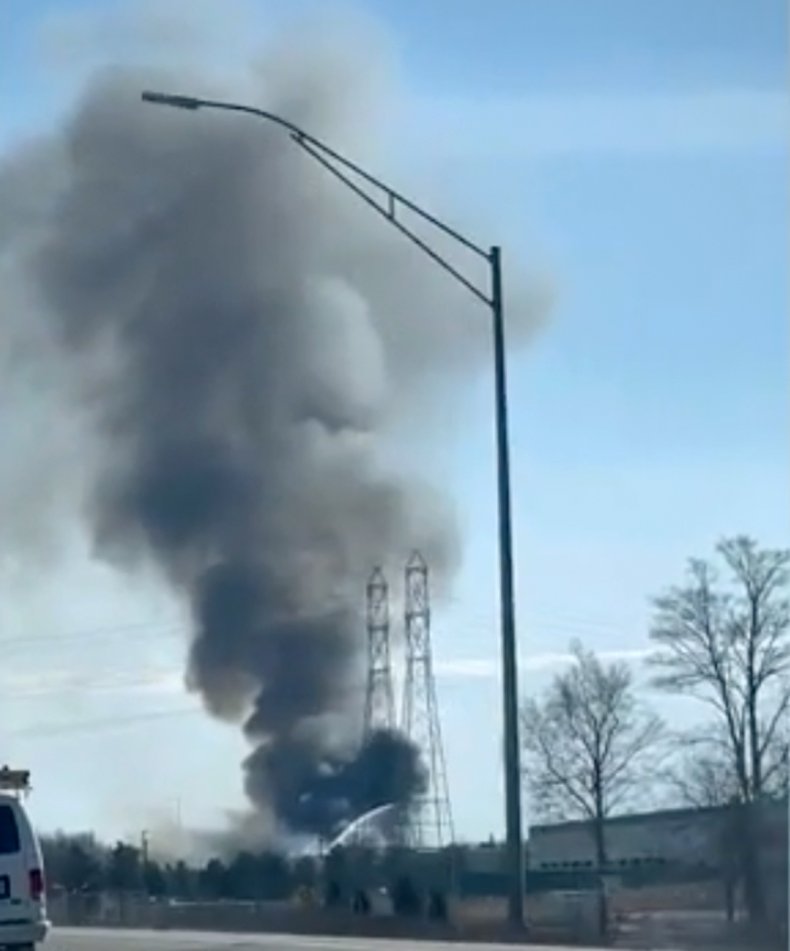 It shows the moment the plant blows up, with a plume of thick, black smoke immediately engulfing the site and filling the air. The plume could be seen for miles around the damaged plant, which lies about 15 miles southeast of Cleveland.
The camera was positioned above lanes of traffic, and the clip begins by showing an apparently ordinary afternoon, as vehicles drive along with the plant visible in the background. Suddenly, a bolt of smoke shoots up from the building as it explodes.
Oakwood Fire Department Captain Brian DiRocco told Reuters that 13 people were taken to hospital, with one other being treated on site. At least one patient was in a critical condition, he added. Another had to pulled from the wreckage.
"The people were mostly walking wounded," DiRocco said. "I'm sure there's a lot of people that work here that were in shock." All of those injured had been on-site at the time. Workers at neighboring businesses were reportedly unharmed.
Later in the day, a spokeswoman for Cuyahoga County confirmed that a 46-year-old man had died, The New York Times reported. No further details about the victim were released.
DiRocco said he had inspected the site previously and found it to be safe, "except for the fact that it's a foundry." He said: "You are dealing with molten metal, so there's always an inherent danger."
I. Schumann and Co., which produces copper, brass and bronze alloys, released a statement saying the damage to the plant was "significant." It added: "We will work alongside investigators in their search for answers as part of our commitment to Northeast Ohio, where we have been operating for more than 100 years."
The cause of the explosion remains unknown, and an investigation is underway.
Newsweek has reached out to the company for further information and comment.
Matthew Wiggins, the owner of a neighboring business called Rose Colored Gaming, told Ohio broadcaster WOIO that he was working when his building was rocked by the explosion. "Within a second or two, it sounded like large amounts of debris were hitting the roof. Things were falling off the walls, falling off shelves. We went out front and there was like smoldering rocks and molten metal in the yard. Tons and tons of smoke. Fire billowing out of the building across the street," he said.
Another witness, Joe Sarconi, said a brick wall enclosing the property was obliterated. "A beam flew across the street. That other beam flew across the street and blew out our window," he said, describing the events as "horrible."
The explosion comes just weeks after another major industrial incident in Ohio, after a train loaded with toxic chemicals derailed. A controlled fire was set to try to burn up the chemicals, and a plume of toxic fumes and smoke forced thousands of people to evacuate the town of East Palestine.
Residents, who have been told its now safe to return home, have said they have been suffering from a range of health problems. Several have claimed their pets have died, while a mom said her baby needed medical treatment after developing breathing difficulties. Other locals have complained of breathing problems, rashes, sore throats, and migraines.
Even before Monday's metal plant explosion, recent industrial accidents have sparked conspiracy theories as some internet users have claimed the events are connected.