Revenge of #MeToo? How Sexual Assault, Child Molestation Claims Destroyed Roy Moore In Alabama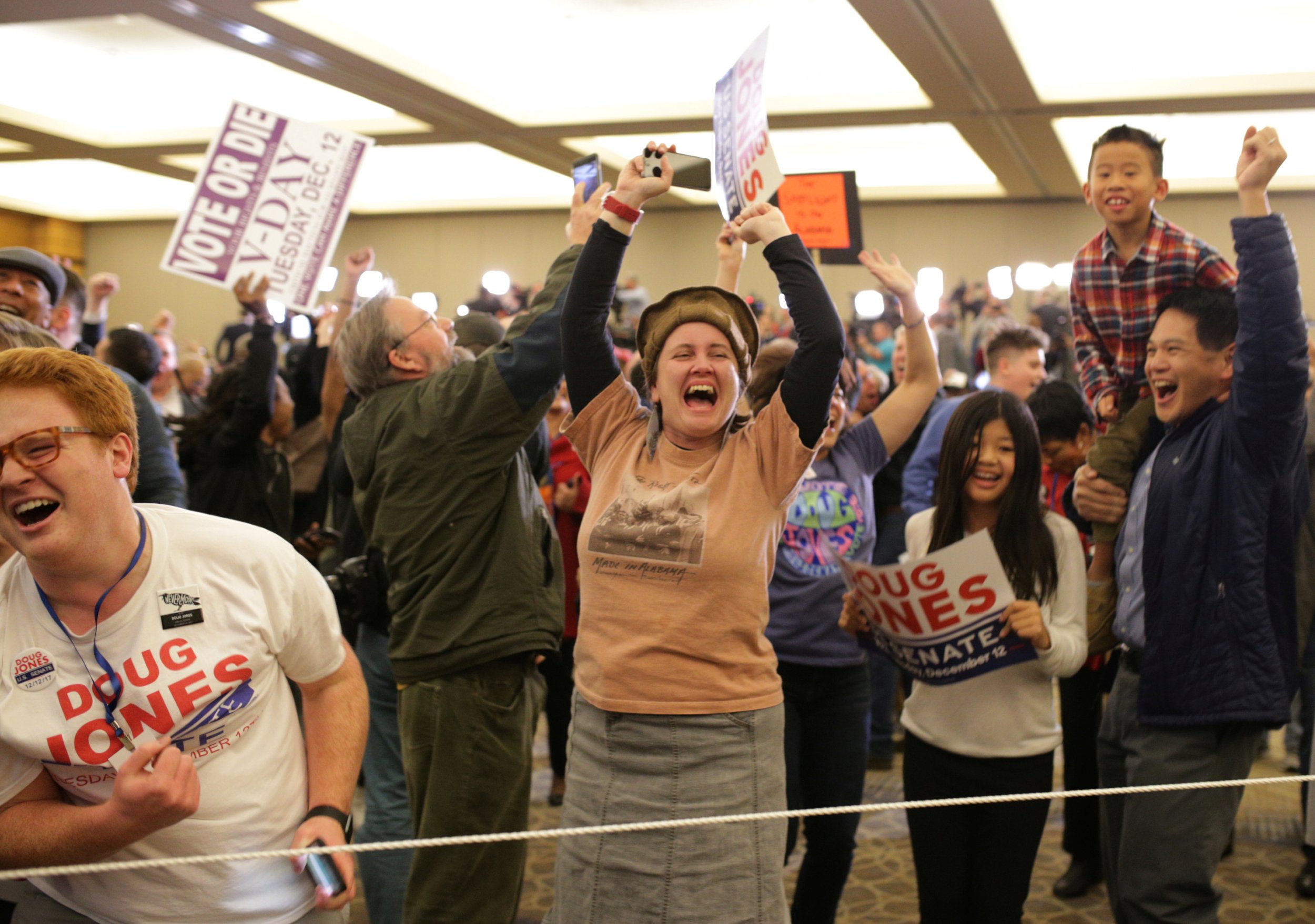 Democrat Doug Jones has women and the #MeToo movement that inspired them to thank for his upset victory Tuesday night over accused sexual assaulter and Republican Roy Moore for Alabama's critical U.S. Senate seat.
Exit polls and initial reactions following Jones' previously unthinkable win in a historically deep red state show that women, in particular, black women, were the key voting bloc while the 70-year-old Moore toiled against allegations of child molestation and inappropriate conduct with teenage girls when he was a local prosecutor in his 30s.
Overall, Jones racked up 58 percent of women voters compared to 41 percent for Moore, according to ABC News. The 17-point difference represented something of a 180-degree flip from the results from the 2012 presidential election and 2008 Senate election in Alabama, when Republicans earned, respectively, 12- and 21-point strangleholds over women voters.
Furthermore, Jones benefited from women voters who have children currently under the age of 18, claiming 66 percent of their votes compared to Moore's 32 percent, exit polls.
And, in particular, black women voters propped Jones up in a state that hadn't elected a Democrat to the Senate in decades. Ninety-eight percent of black women selected Jones, and 96 percent of black voters altogether voted for Jones, the same post-vote questionnaire showed.
Jones only got 35 percent of white women voters, with Moore handily winning that demographic, but that number was significantly higher than the 16 percent of white women Barack Obama won in Alabama in 2012, according to NBC News.
As Republicans reel from the loss and deal with a now razor-thin one-vote majority in the Senate, Moore has already seen his fair share of detractors who claimed his candidacy was doomed from the start—like President Donald Trump, who made a huge campaign push for Moore in order to keep his fledgling conservative agenda alive.
Trump tweeted Wednesday morning that the "deck" was stacked against Moore and that he never thought the former Alabama Supreme Court Justice could win in a general election.
But based on the actual voting results, it was clear Moore's campaign was significantly wounded after nine total women came forward with their claims of his alleged misdeeds. One of whom said Moore knew she was 14 when he was in his early 30s, and other reports of Moore being banned from a local mall.
Moore's accusers, though, likely would not have come forward at all but for the numerous reports of rape and sexual harassment and assault from Hollywood to Washington D.C. and seemingly everywhere in between that renewed after the scores of allegations against filmmaker Harvey Weinstein.
Rumors of sexual assault and misconduct by Weinstein, and many others persisted for decades, but it wasn't until his accusers came forward that the whispers became earth-shattering cries that kicked off a national movement that eventually bled into national politics and gave women the safety necessary to challenge their abusers.
The stories were so powerful and enveloped the nation so much Time magazine made the movement its Person of the Year last week, dubbing the accusers "The Silence Breakers."
Indeed, the #MeToo movement spread across the country and directly infiltrated a hardline, conservative state like Alabama because it empowered women.
AL.com columnist John Archibald described late Tuesday night how women across Alabama wanted their voices, stories and abuses at the hands of men finally heard
"They looked on this moment in America and Alabama as a time when they could open themselves up, when they could muster strength to show their weakness. When they could finally be believed. Most, by the way, were not interested in naming names of those who did them wrong. They were not obsessed with vengeance or retribution or notoriety," Archibald wrote. "They just wanted to stop hurting.
"They wanted to believe the world they live in had changed," he added. "They wanted to think that finally, we've come to a place in society where sexual abuse is condemned, where the line of harassment is drawn and the consequence is real, where there's power for the powerless, hope for those who dared have none, a genuine climate of safety."