#Metoo Movement Could Turn Women Into 'Snowflakes' and Make Men Resent Them, Condoleezza Rice Says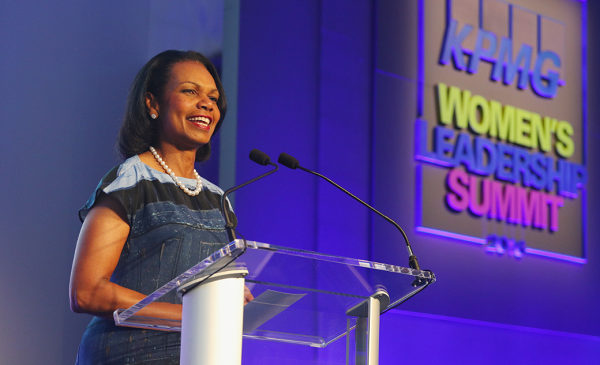 The public needs to be "careful" about how it responds to the #MeToo movement because it could turn women into "snowflakes" and make men resentful of them, former Secretary of State Condoleezza Rice said Saturday.
Rice said she sees the crusade against sexual harassment as a "good thing," but has noticed the cultural conversation taking unsettling turns and believes advocates need to be "a little bit careful" about it.
"Let's not turn women into snowflakes. Let's not infantilize women," she told CNN.
Rice said she feared the movement would "get to a place that men start to think, 'Well, maybe it's just better not to have women around.'"
"I've heard a little bit of that," she said. "And it worries me."
Rice, who was the first African-American woman to serve as secretary of state, acknowledged that she had "never had anyone" in her own life "do anything that I would consider assault." But she said she had "certainly had people say inappropriate things" to her, and that she and all other women she knows have endured some of the misconduct that has been outed as part of #MeToo.
"I don't know a woman alive who hasn't had somebody say or do something that was inappropriate at best and aggressive at worst," she said.
In the past three months, the #MeToo movement has outed dozens of prominent men, mostly in Washington and Hollywood, for alleged misconduct and assault that had been kept quiet for years. One of those men is former President George H.W. Bush, the father of Rice's one-time boss, President George W. Bush. About 10 women have accused the elder Bush, who is 93, of groping them in public or making inappropriate comments. Bush's spokespeople apologized for the behavior but said the former president, who has been confined to a wheelchair for years, mostly acted that way as an attempt at humor to put women "at ease" when meeting them.
Rice did not mention the accusations against Bush or any other man in particular.
Bashlash against #MeToo has started to bubble up this month as the movement spreads worldwide. Actress Catherine Deneuve joined 99 other French women last week in signing a controversial open letter that condemned the movement, calling it too puritanical and saying it was morphing into outright censorship.
"As women, we do not recognise ourselves in this feminism, which beyond denouncing the abuse of power takes on a hatred of men and of sexuality," the letter said.