Mexican Singer Vicente Fernández in ICU After Falling Accident
Mexican singer Vicente Fernández was reported to be in a "serious but stable" condition, according to an update on his social media accounts. He underwent surgery at a hospital in Guadalajara in western Mexico following a fall.
Mexico's Excélsior reported Tuesday that his son said the 81-year-old—a Grammy Award-winning artist described as "Mexico's greatest living singer," with a career spanning five decades—is semi-sedated and stable.
His condition has not become more serious and he is responding well to treatment, according to this son, the Mexican daily newspaper reported.
According to a "medical report" shared Tuesday as an image post on the singer's official Instagram and Facebook accounts, the singer was reported to be on a ventilator and receiving critical patient care in the ICU (intensive care unit) following his surgery.
The post also noted members of his family will not be giving interviews. The media were asked to refrain from insisting on interviews and to allow the family members to freely access the hospital.
"We emphasize that all information will be by these means [social media] through the communications issued by the medical team," the post advised.
What Happened to Vicente Fernández?
Excélsior reported Fernández was hospitalized on Friday after he suffered a fall at his ranch (Los Tres Potrillos) near Guadalajara.
According to the aforementioned post on his social media feeds, Fernández suffered trauma to his spinal cord. His son said he injured his cervical vertebrae, CBS Los Angeles reported Tuesday.
About a month ago, Fernández was reported to have left a hospital after recovering from a urinary tract infection, as noted by the singer in a video message posted on his Instagram account, according to ABC7 in Los Angeles.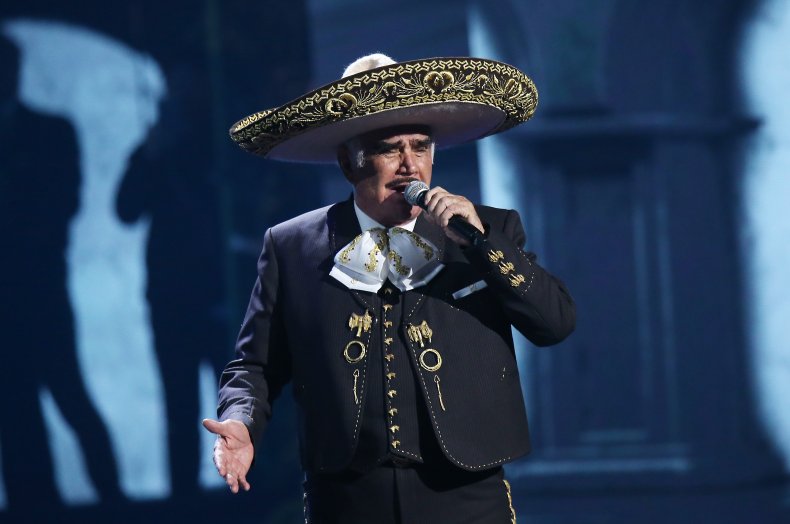 Fans Saddened By Vicente Fernández News
The news about Fernández and his latest condition has seen fans flood Twitter with messages of support and well-wishes for the Mexican singer.
Sharing a gif of a woman appearing to faint, user @AngelHuracha tweeted: "My Mom, Grandma and Tias [aunts] tomorrow when I tell them Vicente Fernandez is in the hospital." The post has had over 900 likes since it was first shared.
User @DealinRugs tweeted: "Vicente Fernández is on a ventilator in the ICU after a fall Crying faceFolded hands hopefully he recovers." The post has had nearly 700 likes since it was shared.
A news anchor at ABC13 in Texas, Mayra Moreno, tweeted: "Prayers for legendary Mexican singer #VicenteFernández #chente #sigosiendoelrey," sharing an image of the singer performing. The post has had over 250 likes since it was first shared.
User @LadyMayra wrote: My amigo Vicente Fernandez is in the hospital. Let's keep him in our prayers!" in a tweet that has received over 200 likes since it was first posted.
User @joeyrdz81 tweeted: "Please don't die Chente, not this year, not now #VicenteFernandez." The post received over 100 likes since it was shared.