Mexico, Brazil Leaders Ignore Their UN Delegates, Refuse to Sanction Russia
While Putin's invasion of Ukraine has received unilateral condemnation from Latin American nations like Argentina, Colombia and Chile, other leaders in the region have expressed sympathy, or even support, for the Kremlin's cause.
On Wednesday, Four Latin American countries — El Salvador, Cuba, Bolivia and Nicaragua— abstained in the United Nations General Assembly vote to condemn Russia's invasion of Ukraine, opting not to directly denounce Putin's actions.
Just one day earlier, Venezuela's President Nicolás Maduro, on a phone call with Putin himself, offered his "full support" to the Kremlin, and openly criticized Western sanctions.
"The U.N. vote shows the complexity of politics in Latin America," said Dr. Evan Ellis, a research professor of Latin American Studies at the U.S. Army War College Strategic Studies Institute, told Newsweek.
"You have Venezuela, Nicaragua and the regime in Cuba that are going to go with the Russians to the end," he said. "Then you have pro-U.S. actors, for example, Guatemala or Ecuador, who are champions for democracy and have language condemning Russian aggression against the Ukrainian people."
"And then you have this unusually broad range of countries in the middle," he added.
And that "unusually broad range" holds the key to the future of Putin's influence in the region.
Russia's relationship with Latin America varies by country, but diplomatic meetings between leaders, large-scale shipments of Sputnik V vaccines and the growing influence of social media have all helped to strengthen Moscow's position in the region, said Vladimir Rouvinski, Director of Interdisciplinary Research Center at Icesi University, who currently lives in Colombia.
"The idea the Russian government is selling to Latin Americans is, 'Look, we are entering a new kind of world.'" Rouvinski told Newsweek. "'We don't know what the rules will be, but let's be partners in the construction of this new world order.'"
Some of these Russian tactics have proven very effective, particularly in countries where American popularity is low.
"With the level of Anti-Americanism that still exists here in Latin America," Rouvinski said, "this narrative is very attractive for some parts of our society."
While some Latin countries rush to align themselves with either the West or the Kremlin, others have taken a more measured approach.
Despite public statements made in support of Ukraine, Latin America's two biggest democracies, Brazil and Mexico, have been slow to take decisive action against the Russian invasion.
Mexican diplomats publicly condemned the invasion and voted in favor of the U.N. resolution earlier this week. But to-date, Mexico has refused to impose any economic sanctions on Moscow.
In a news conference on Tuesday, Mexican President Andrés Manuel López Obrador shared his position on the invasion.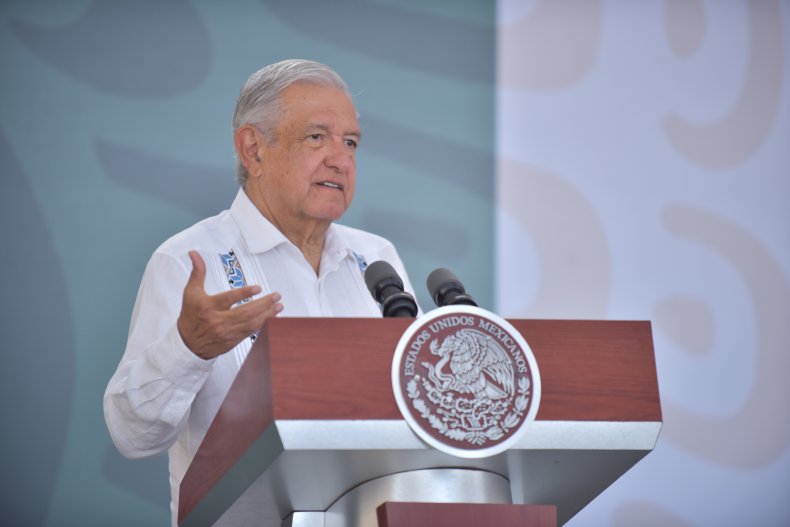 "We do not consider that [the war] concerns us," he said, "and we think that the best thing is to promote dialogue to achieve peace."
"We are not going to take any sort of economic reprisal," he added, "because we want to have good relations with all the governments in the world."
Ellis said that Brazil, with the region's largest economy, faces a similarly complex political dynamic.
Breaking from condemnation voiced by citizens and his own country's diplomats in the United Nations, Brazil President Jair Bolsonaro said he backed an even-handed approach to the situation, saying that his country was "not going to take sides."
"We are going to continue to be neutral and help, however possible, to find a solution," he told reporters.
While neutrality might be an attractive short-term strategy, Ellis said that as the conflict intensifies, refusing to pick a side in this crisis is a geopolitical risk.
"To a certain degree, Latin Americans genuinely feel that the U.S. is a bully too," he said, "so there is a shade of gray in terms of that moral ambiguity."
"When there is a lot of money at stake and things are unclear, some countries want to say, 'the U.S. is bad and Russia is bad too," he added. "Everyone is bad, so just let us do what we want to do.'"
Despite these political and historical complexities, countries that decide to express support for Russia are likely to see significant negative effects.
The sanctions recently imposed from the West could be among the harshest imposed against a nation in modern times and will do serious damage to the Russian economy, severely limiting its ability to import and export goods, experts say.
The decision to sanction Russian banks over the invasion of Ukraine could also end up punishing some of Moscow's closest allies in Latin America — like Nicaragua, Cuba and Venezuela — given their dependence on the Russian financial system to bypass their own U.S. sanctions.
Juan González, national security council director for western hemisphere affairs, said those secondary consequences of the sanctions are likely — and intentional.
"The sanctions on Russia are so robust that they will have an impact on those governments that have economic affiliations with Russia," he told Voice of America, "and that is by design.
"So Venezuela is going to start to feel that pressure, Nicaragua is going to start to feel that pressure," he added. "Just like Cuba."