Mexico City Coronavirus Test Lab Draws Line-Ups as Government Urges Citizens to Continue Life as Normal
A private testing laboratory in Mexico City has reportedly seen dozens of people line up in vehicles and on foot in hopes of being able to pay to get tested for coronavirus, despite the government's message that not all people with concerns need to be tested.
Alejandra Quintero, 46, was one of many waiting outside the Biomedica lab in Lomas de Chapultepec on Wednesday, hoping to pay the roughly $137 fee to find out whether or not she has COVID-19, according to Reuters.
"My body hurts, I don't have energy, I climb the stairs and I feel like I can't breathe," Quintero said, wearing a surgical mask and speaking from the driver's seat of her vehicle. As a yoga teacher, the 46-year-old told the news agency that she had been in contact with many people in recent weeks and was concerned that she might have unknowingly passed on the virus.
Quintero said she was disappointed that the Mexican government was not doing more to roll out public testing, instead forcing Mexican citizens to turn to private facilities to find out whether or not they have the virus.
If President Andres Manuel Lopez Obrador "really cares about this people," Quintero said, "he should protect them.
Calls for Mexico's president to expand public testing for COVID-19 have been growing in recent days, with protesters blocking the southbound entrance at the U.S.-Mexico border in the twin cities of Ambos Nogales on Wednesday to call on the government to take further measures to address the outbreak at the border and across the country.
López Obrador, however, has sought to quell concerns, with the populist president encouraging citizens in a video message earlier this week to continue life as "normal."
"We'll continue normal life," he said in the video. "Don't stop going out."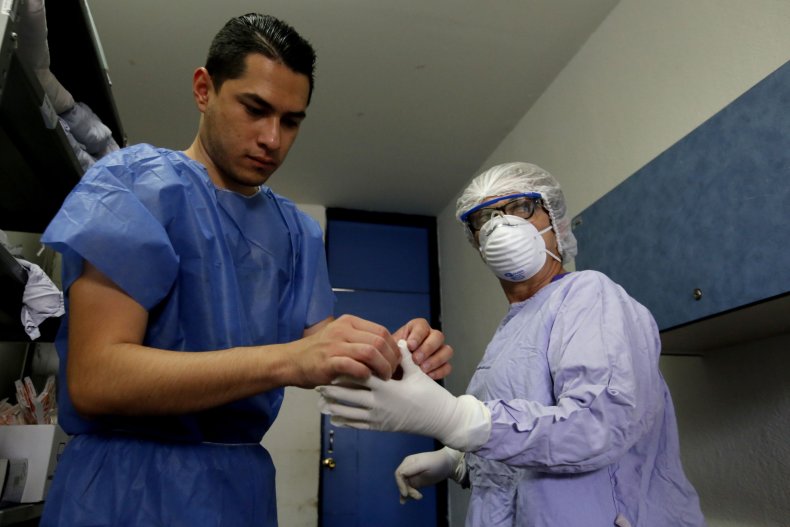 "If you can afford it, keep taking your family out to eat," he said. "It strengthens the popular economy."
Mexico has reported 475 confirmed cases of coronavirus, with five cases resulting in death, since infections first came on the radar in late February. However, there are concerns that number would be higher if public testing were expanded. According to the country's health ministry, by Wednesday, Mexico had tested 2,445 people who had negative results for coronavirus. It also said it was monitoring another 1,656 cases.
Mexico City Coronavirus Test Lab Draws Line-Ups as Government Urges Citizens to Continue Life as Normal | World