Mexico City Earthquake: Children Dead After School Collapses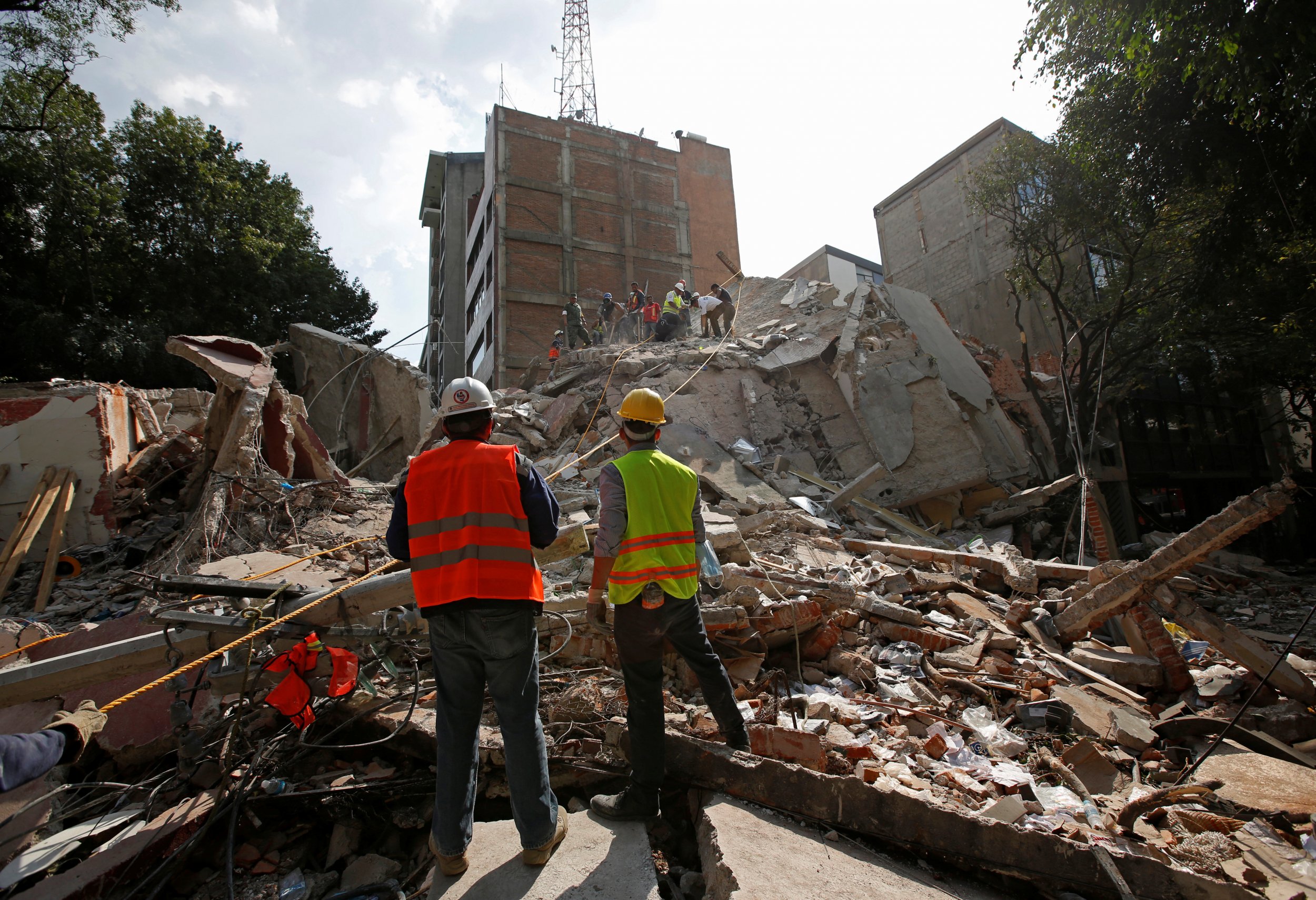 A huge earthquake that struck central Mexico Tuesday destroyed a school in the south of the capital, leaving dozens of children dead or missing amid a death toll that runs to the hundreds.
The center of the quake, which had a magnitude of 7.1, was in Puebla state, about 75 miles from Mexico city, according to the U.S. Geological Survey (USGS).
But it also caused significant damage and left scores of casualties across Morelos State, Mexico City, Mexico State, Guerrero, and Oaxaca. The total death toll stands at well over 200 and is likely to rise. A state of emergency has been declared in the affected areas.
The Enrique Rebsamen school in Coapa, a southern district of Mexico city, was wrecked by the incident, with the country's President Enrique Peña Nieto saying more than 20 children and two adults had been found dead, while around 30 more children and eight adults were missing.
Buildings in 44 locations in the capital have collapsed or been badly damaged, with a six-storey blocks of flats, a supermarket and a factory said to be among them. Some two million people in the capital have no electricity, while many phone lines are down.
Residents have been told not to smoke on the streets for fear of igniting gas from ruptured mains pipes.
Emergency services are working through the night to search collapsed buildings for survivors or casualties.
John Vidale, a professor of Earth Sciences at the University of Southern California, wrote in an article for CNN that "Mexico City's downtown area is notoriously vulnerable to earthquakes because of the very soft and wet ground underneath."
He added that Mexico's "entire Pacific coast is a large and fast moving (that is, moving as fast as fingernails grow—speedy in plate tectonics terms) plate boundary, often suffering large and great earthquakes."
The quake follows another of 8.1 magnitude that hit 400 miles off the Mexican coast two weeks ago. It is not clear whether Tuesday's was an aftershock or a separate incident, although aftershocks would normally appear closer to the original event.
By coincidence, Thursday had seen residents of the capital taking part in earthquake drills to mark the 32nd anniversary of a quake with a magnitude of 8 that rocked the country in 1985, killing 10,000 people and injuring 30,000.
More than 20 million people live in Mexico City, one of the most densely populated areas in the world.