Mexico Elections: Who Is the Front-Runner, When Will We Know the Results, and What Does It Mean for the U.S.?
Mexicans are voting today in the biggest election in their country's history.
More than 18,000 positions are up for grabs at the local and federal levels, however the campaign trail has been marred by violence, ballot tampering and attempts to influence public opinion with "fake news." Gangs and cartels have sought to maintain their grip throughout the country by killing adversarial politicians, stealing and burning ballots and threatening those who take a stand against their control.
At the same time, Mexicans are fed up with the status quo. After six years under the governance of President Enrique Peña Nieto, Mexicans have seen little done to address the violence racking their country or rampant corruption.
Analysts believe Mexicans will be motivated by anger and discontent with the current system when they head to the polls. "It seems clear to me that it is a reasoned, democratic vote, of punishment fundamentally to [the traditional political parties] that have succeeded each other in recent years, which have been completely disastrous," Mexican writer Jorge Volpi told BBC Mundo.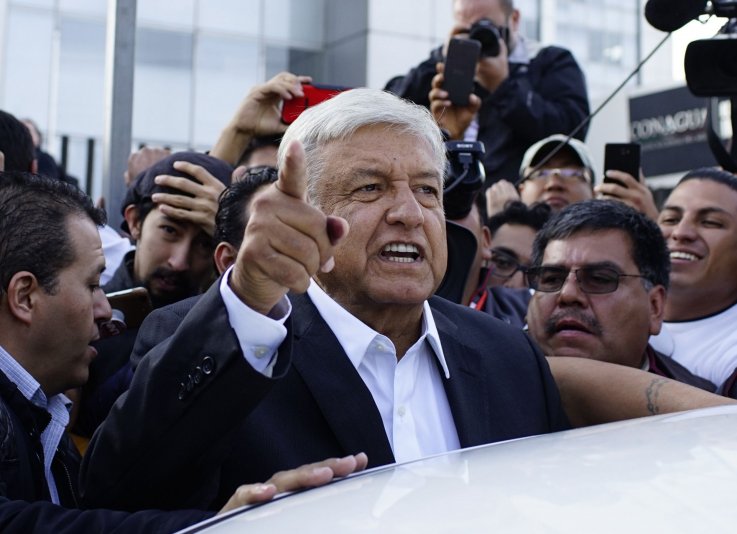 Who is the presidential front-runner?
In the presidential race, former Mexico City Mayor Andrés Manuel López Obrador, 64, has come out as the clear front-runner, with recent polls showing he has the support of 51 to 54 percent of the electorate, a lead of more than 20 percent over his closest rivals. A leftist nationalist candidate, López Obrador is running with the Regeneration Movement (known as Morena), which he founded four years ago.
Although they trail far behind in the polls, Ricardo Anaya, 39, of the For Mexico in Front coalition and José Antonio Meade, 49, of the Institutional Revolutionary Party have been competing for second place.
This marks the third time López Obrador runs for president. He has campaigned on defending Mexico's poor and on other leftists policies. At the same time, he has been criticized for habitually changing his positions, and has even been compared by some to President Donald Trump. If he wins the election, the former mayor will be the first leftist politician to rule the country in decades. Since 1929, centrist and conservative parties have held Mexico's top post.
Many see López Obrador as a candidate of change, after the traditional ruling parties have failed to curb violence and corruption in the country. "This is our chance to bring about change in the country," Meinardo Perez, 25, an engineer voting for the left-wing politician, told Reuters. "We have to start somewhere. We need to upset things."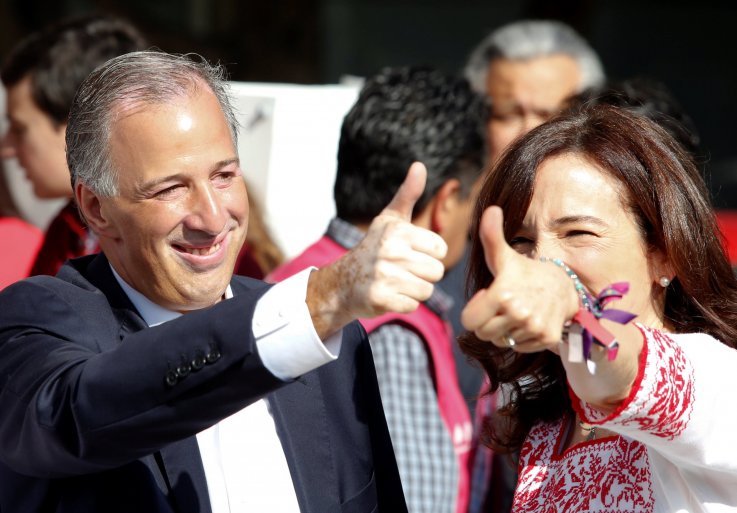 When will we know the results?
Polls opened at 9 a.m. EST and are scheduled to remain open until 9 p.m. Results are expected by sometime Monday.
In addition to the presidential race, voters will be choosing thousands of elected officials at the national and local levels. Some 89 million eligible voters will be able to cast ballots in the polls, with 628 members of the national congress, nine governors, about 1,600 mayors and thousands of state and local lawmakers running for office.
What does it mean for the U.S.?
A major issue that Mexico's future leader will likely grapple with Trump over is the North American Free Trade Agreement. The U.S. president has demanded for the pact to be rewritten, calling it unfair to the U.S.
Meade and Anaya both support NAFTA, as does López Obrador. However, the Mexican front-runner has also said his country could do just fine without it. During his campaign, he called for replacing many U.S. agricultural and energy imports with Mexican products.
"What you do see with [López Obrador] are mixed signals," Marco Antonio Fernandez, a professor at the School of Government of Tecnologico de Monterrey, told CBC. "[He is] pushing ideas that are not compatible with NAFTA and free trade — like ... the idea that Mexico must become self-sufficient in food production."
With President Donald Trump's policies regarding immigration, a border wall and critical comments toward Mexican immigrants, all of the leading candidates have taken a strong stance against the U.S. leader. However, López Obrador has shown a particular knack for taking an aggressive stance against opponents. If he becomes president, analysts suggest his opposition to Trump could increase diplomatic tensions between the two North American neighbors.
Mexico Elections: Who Is the Front-Runner, When Will We Know the Results, and What Does It Mean for the U.S.? | World