The Mexican government is preparing to deploy militarized police forces to detain illegal migrants amid a growing surge of people attempting to cross the border into the United States.
Sources familiar with the matter told Reuters that Mexico will send in authorities at its border with Guatemala, in order to cut migration from the so-called "Northern Triangle" countries of Guatemala, El Salvador and Honduras.
At the forefront of the security drive will be the National Guard militarized police, which previously led efforts to bring down the number of illegal immigrants entering Mexico from Central America in 2019, the outlet reported Wednesday.
"The operations will be more frequent, more continuous and we will be taking part," by next week, a member of the National Guard, who spoke on condition of anonymity, told Reuters.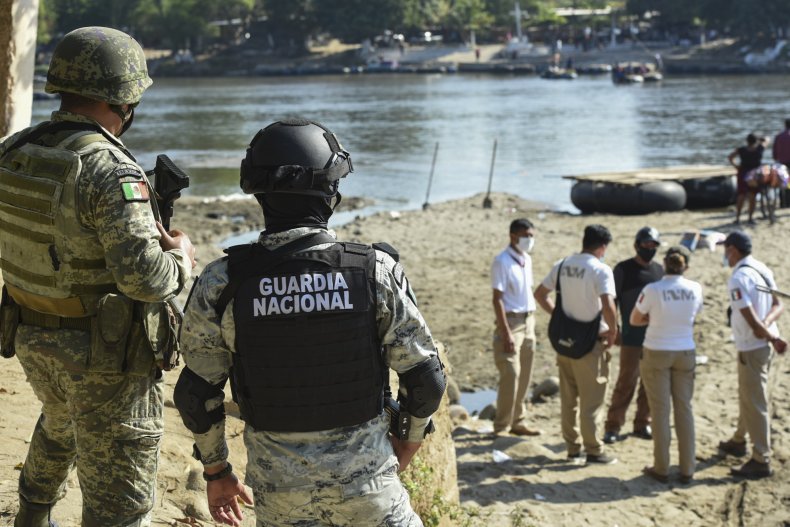 Mexico's security response comes amid a growing wave of immigration attempts at the U.S. border. The surge has already reached a 20-year high, and is expected to get even worse throughout the month of March.
The surge has also included a large number of unaccompanied minors. According to U.S. Customs and Border Protection, the number of unaccompanied children crossing the border increased by 63 percent in February. The agency reported 9,297 arrivals of these minors last month.
The historic numbers have left President Joe Biden grappling with his immigration policies during his first few months in office.
Early in his administration, Biden vowed to take a more humanitarian approach at immigration and reverse former President Donald Trump's hard-line border policies. Most notably, Biden put an end to Trump's plan of expelling unaccompanied migrant children without allowing them to request humanitarian refuge in the U.S.
Republicans have since blamed the surge of new migrants on Biden's decision to rollback Trump's efforts.
During an interview with ABC News host George Stephanopoulos on Tuesday night, Biden addressed the growing immigration problem. He said that the government was "sending back" many of the adults who are now attempting to reach the country.
The president also encouraged others who may be considering illegal migration to refrain from doing so, while promising that those seeking asylum in the U.S. would soon be able to apply.
"I can say quite clearly: Don't come over," Biden said. "What we're in the process of getting set up, and it's not going to take a whole long time, is to be able to apply for asylum in place. So, don't leave your town or city or community. We're going to make sure we have facilities in those cities and towns... to say you can apply for asylum from where you are right now."
Reports on how Mexico will aid the U.S. in securing its borders have not yet been detailed in full, according to Reuters.
However, similar operations in the past have focused on catching migrants in the south of the country, instead of trying to stop all crossings on the Guatemalan border.
A U.S. State Department official declined to give specific details on Mexico's operation, but said that the country appreciated the efforts to help contain the flows of migration, according to the outlet.
Newsweek contacted representatives from the Mexican government and the White House for additional comment, but did not hear back in time for publication.