Mexico President-Elect Condemns U.S. Border Wall, Donald Trump Militarization Threats
Mexico's President-elect, Andrés Manuel López Obrador, rejected U.S. President Donald Trump's border plans, declaring Monday the Mexican government will not allow its northern neighbor to build its proposed border wall.
Speaking at a security meeting involving Mexican engineers, Obrador, also known as AMLO, took a tough stance against the Trump administration's multibillion-dollar border wall construction and "zero tolerance" immigration directive, Telesur reported. The newly elected leftist party politician won a landslide victory last month and will replace current Mexican President Enrique Peña Nieto on December 1. The president-elect also stressed his government will review all security agreements with the United States and move away from the U.S. strategy of isolating socialist Venezuela.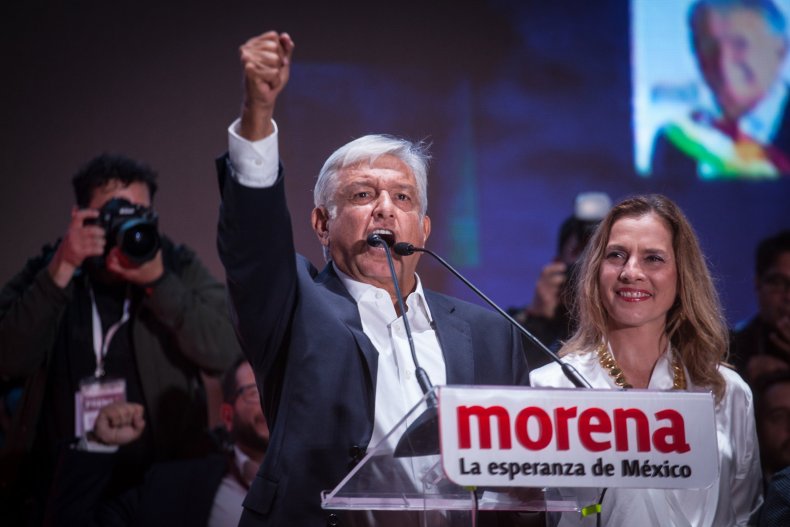 "Our goal is to make Mexico a powerful country, nobody will threaten us that they will close or militarize the border or build a wall," Obrador told attendees at the Peace and Security forum in Ciudad Juárez on Monday.
Although Obrador did not mention Trump by name, the U.S. president has repeatedly vowed to "build the wall" on the U.S.-Mexico border with the hope of curbing illegal immigration. A Government Accountability Office report on the Customs and Border Protection agency released Monday found that closing the nearly 2,000-mile border could waste billions of dollars in tedious construction costs. The report noted the Department of Homeland Security "faces an increased risk that the Border Wall System Program will cost more than projected, take longer than planned or not fully perform as expected."
In May, Mexican President Nieto responded to Trump's oft-repeated campaign promise to build the border wall, saying the country "will never pay for a wall." And former Mexican President Vicente Fox has been particularly public in his rejection of Trump's plan, declaring twice, "I am not paying for that f***ing wall."
Obrador told the security forum attendees he plans to stem migration by focusing on the country's infrastructure and funneling foreign aid to domestic social and economic projects. He said the creation of jobs and enhancing of transportation will help to slow migration. Last month, Bloomberg reported Obrador's future chief of public security, Alfonso Durazo, plans to create its own border force to stem the flow of undocumented immigrants, guns and drugs going north of the border.
"We're going to create a border police force that will be highly specialized," Durazo said, noting that Obrador received an election boost by pledging to protect Mexicans against a U.S. immigration crackdown. "They need to apply the law."
In another break from U.S. strategy, Obrador told the security forum that his foreign policy stance toward Venezuela will remain neutral. The U.S. has long supported isolating the South American socialist country's economy.