Miami Beach Mayor Warns Arrests 'Only' Option Amid Police Crackdown on Spring Breakers
Dan Gelber, the mayor of Miami Beach, warned that arrests are the "only" option as police have cracked down on crowds of spring breakers in the popular Florida tourist hotspot.
More than 1,000 people have been arrested as police were deployed to enforce an 8 p.m. curfew over the weekend, after Miami Beach officials imposed a state of emergency due to out-of-control crowds amid the COVID-19 pandemic.
Local officials have said that the thousands of largely maskless partiers—some of whom have become violent—represent a major threat to public safety. In response, police cracked down with pepper spray balls and in crowd control gear as they rounded up and arrested many in the streets.
"It's become a very dangerous mix of multiple challenges. We have—we're the only real destination, it seems like, open across the country. So, tens of thousands of people are flocking here," Gelber, a Democrat, said in a Monday interview with ABC News' Good Morning America.
The Miami Beach mayor raised concerns that most of the visitors are not wearing masks or taking social distancing precautions, despite the ongoing pandemic.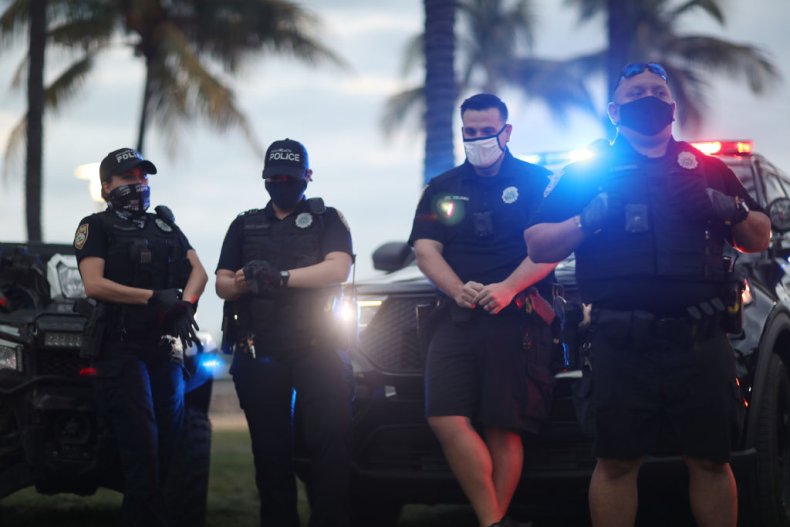 "We don't want to be in a position where we are arresting our way out of this, but that's really the only thing we have," Gelber said.
Gelber said that nearby municipalities have been sending in extra police to help handle the crowds.
"It's just a very unmanageable situation. And our city commission and our city leaders are really, like me, are very concerned. They're not sleeping at night, either," the mayor said.
Videos and photos from the police crackdown show people running as police shoot pepper spray. Military-style vehicles driven by police were seen making their way down the iconic Ocean Drive, a major thoroughfare in the city's South Beach neighborhood. The scenes of chaos look more like something from a rowdy protest than tourists enjoying spring break.
The majority of the arrests so far have been people from out of state, according to City Manager Raul Aguila. He said Sunday that many have come "to engage in lawlessness and an 'anything goes' party attitude," the Associated Press reported.
"If you have 50 or 100,000 people coming there and just half of 1 percent are rowdy or drunk or high to the point where they need to be controlled, it becomes a situation which is truly chaotic and unmanageable," Gelber said during a virtual city commissioner meeting last Wednesday.
Meanwhile, Florida had the nation's second-highest average of new daily COVID-19 infections over the past seven days, according to The New York Times tracker. The state saw an average of more than 4,500 daily new infections. But new infections have declined by about 12 percent over the past two weeks, as new deaths have dropped by 41 percent. In the past week, Florida has averaged about 70 deaths from COVID-19 per day.
Newsweek reached out to the Miami Beach police for comment but did not immediately receive a response.