Miami Keeps In-Person New Year's Eve Celebration as 1 in 4 Positive for COVID in Miami-Dade
COVID-19 continues to spread through Florida at a record-setting pace with an average of one in four people testing positive for the virus in Miami-Dade County and the state reaching its highest number of reported cases on Thursday at 77,848.
Despite the virus' rapid spread, community leaders in Miami have stated that the city will push forward with its planned New Year's Eve celebration at the city's Bayfront Park, an event that the city describes as the "largest (New Year's Eve party) in the United States after the Times Square event in New York."
While excitement continues to surround the event, New Year's Eve in Miami has seen an overall curbing of its scope after the city announced that it would not drop the "Big Orange" ball at midnight due to the rising COVID rates. Concerns over the virus have led some to criticize the continuation of the New Year's Eve party, with pop singer and Latin Billboard Award winner Noelia Lorenzo calling the event "irresponsible" in an interview with Miami New Times.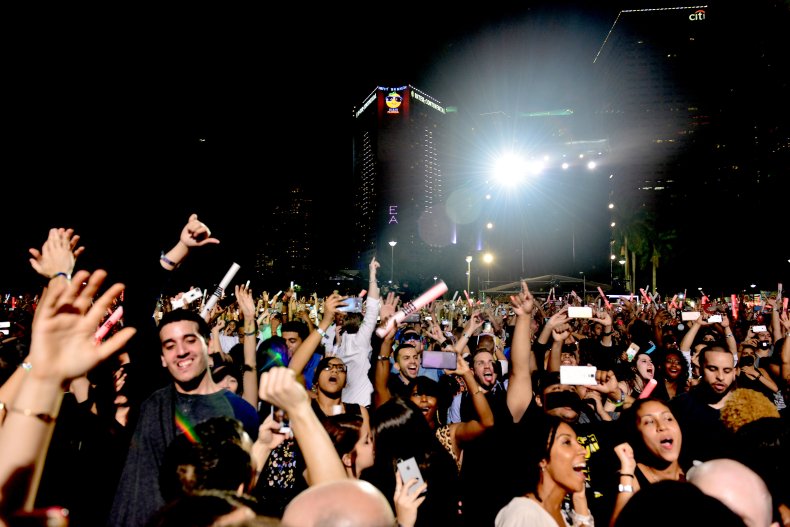 Nonetheless, Joe Carollo, city commissioner and chairman of the Bayfront Park Management Trust, has brushed off that criticism, voicing his commitment to the event's continuation.
"This event, as you can see, is in open air. We're right by the water with a breeze. It's a big difference being an open air," Carollo told reporters during a Thursday press event. "We have 50 sanitizing stations throughout the park and, of course, everyone is encouraged to wear a mask, if they choose. It is not mandated in the city, in the state, but that's up to every individual."
Florida's Republican Governor Ron DeSantis has been a vocal opponent to mask mandates and has fought to keep his state's businesses open amid the pandemic, even as the state experienced a record number of COVID-19 hospitalizations over the summer.
Touting the safety of the event, Miami's interim Police Chief Manny Morales said the Bayfront Park party would be overseen by organizers and police to support safety measures and crowd control, Miami's WPLG Local 10 news reports. Carollo believes with the measures in place, the event will be more than safe.
"Bayfront Park will undoubtedly become the safest place in the entire State of Florida to await the new year," he said in a statement. "Dozens of stations will be available for disinfection and hand washing and we will give away masks to those who request them and while they last."